'Lockdowns are not the only tool in the fight against COVID-19'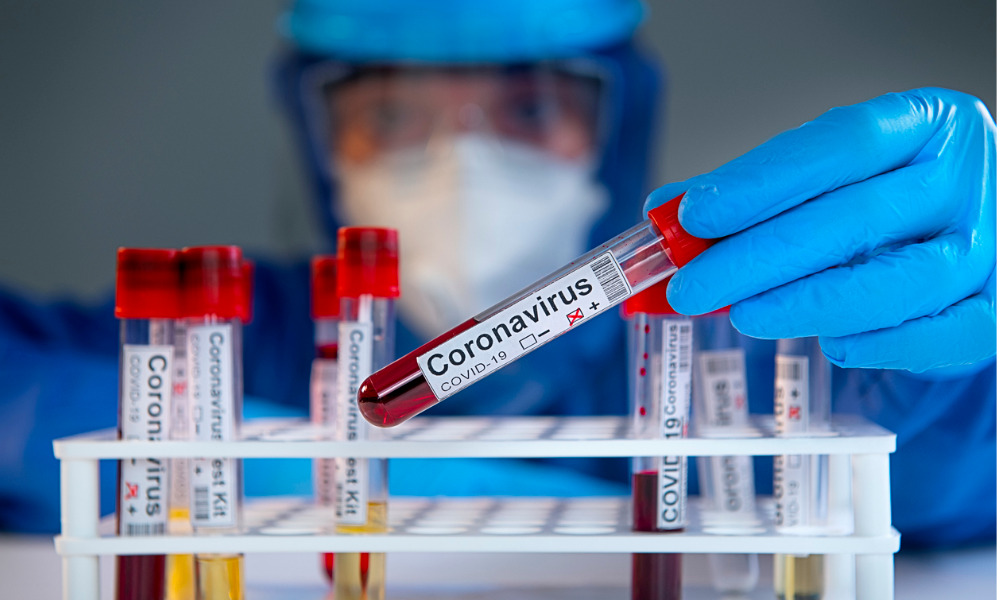 More than three in five (63 per cent) small businesses are considering using COVID-19 rapid screening in their workplace if it would help their business stay open, according to the Canadian Federation of Independent Businesses (CFIB).
The idea is most popular among dentists, chiropractors and others in the social services sector (71 per cent) followed closely by those in the hospitality sector (69 per cent), finds the survey of 3,290 respondents conducted earlier this month.
Small employers in wholesale (68 per cent), construction (66 per cent), personal services (66 per cent) and arts and recreation (66 per cent) also support the idea.
"Small businesses have willingly adopted every new safety measure and protocol recommended by governments, and it is encouraging that so many are willing to consider using rapid screening in their workplaces," says Dan Kelly, CFIB's president.
"While it is deeply disappointing that it has taken nearly a full year of the pandemic for governments to get serious about using rapid screening, CFIB believes it can be another tool in our arsenal, allowing small firms to remain open and helping us avoid further lockdowns."
Recently, Quebec said it is giving employers access to a kit of rapid antigen detection tests to help fight the spread of COVID-19. In November, Nova Scotia and Ontario started rolling out rapid testing at select workplaces.
Expanding testing
CFIB is also calling on the federal and provincial governments to expand rapid testing pilots at large enterprises' workplaces to benefit small businesses.
CFIB is urging governments to allow small employers to use Canada's pharmacies and private labs to screen for COVID-19 cases, as per the advice of the federal government's Industry Advisory Ad Hoc Roundtable on COVID-19 Testing and Screening.
In such a model, small employers could ask staff to visit a local pharmacy for a rapid screening test once or twice a week, with the data shared with both the employer and employee.
"One of the many critical elements to speed up rapid screening is removing provincial red tape, including restrictions on which professionals can participate in the screening process," says Kelly. "Lockdowns are not the only tool in the fight against COVID-19 and their frequent use has caused massive unintended consequences on small businesses and their employees. Allowing workplaces to reopen with safety measures, including the expanded use of rapid screening, can help us avoid further lockdowns on Canada's long road to an economic recovery."
Accuracy concerns
Rapid COVID-19 testing may not be as accurate as gold-standard clinical tests. However, weekly rapid testing that is cheaper and has a quicker turnaround would drive the virus toward elimination within weeks, according to a study published in November 2020 by Harvard T.H. Chan School of Public Health and University of Colorado Boulder researchers.
According to the study, in one scenario in a large city, widespread twice-weekly rapid testing reduced the infectiousness of the virus by 80 per cent. Meanwhile, twice-weekly testing with a more sensitive PCR (polymerase chain reaction) test – which takes up to 48 hours to return results – reduced infectiousness by only 58 per cent.
In other scenarios, when the amount of testing was the same, the rapid test always reduced infectiousness better than the slower, more sensitive PCR test.
"When it comes to public health, it's better to have a less sensitive test with results today than a more sensitive one with results tomorrow," says Daniel Larremore, an assistant professor of computer science at the University of Colorado Boulder and lead author of the study "Test sensitivity is secondary to frequency and turnaround time for COVID-19 screening."
"Rather than telling everyone to stay home so you can be sure that one person who is sick doesn't spread it, we could give only the contagious people stay-at-home orders so everyone else can go about their lives."
In December, Toyota Canada said it was offering on-site rapid testing for COVID-19 to employees in the Ontario cities of Woodstock and Cambridge.