'We are making less than minimum wage': Uber driver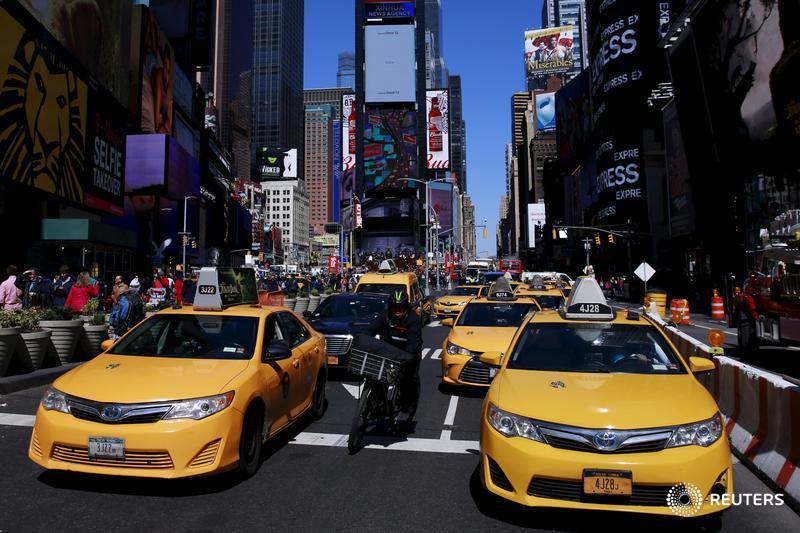 NEW YORK (Reuters) — New York's yellow taxi drivers on Wednesday joined with drivers for Uber and other app-based ride services at a rally to call for guaranteed minimum pay and limits on growth in the number of cars for hire in the largest U.S. city.
In a steady drizzle outside City Hall in lower Manhattan, dozens of drivers carried signs with slogans such as "Respect the Drivers," and "Stop the Race to the Bottom," before presenting their demands to Mayor Bill de Blasio and the city council.
"We want regulation that will create a ground so that people have a chance to stand on something and not just sink into a miserable poverty," said Bhairavi Desai, executive director of the 19,000-member New York Taxi Workers Alliance. The group represents all categories of for-hire drivers.
Its demands include limiting the number of for-hire vehicles and ensuring that pay rates and regulations are the same for Uber, Lyft and other app-based ride services as they are for yellow cabs, whose numbers are limited to about 13,600.
Since Uber and other app-based services came on the scene about five years ago, their category has swollen to more than 100,000 cars, according to Taxi and Limousine Commission chair Meera Joshi. About 2,000 cars a month are being added, she said.
Uber and Lyft said their services have improved travel options, while offering new jobs to New Yorkers. "Uber has grown the transportation pie, ensuring all New Yorkers can get a ride in minutes, particularly in neighborhoods outside of Manhattan yellow taxi have long ignored," said spokeswoman Alix Anfang.
Lyft is in "ongoing conversations" with New York about its operations in the city, spokesman Campbell Matthews said in an email to Reuters.
Drivers, including those with Uber and Lyft, said they were working longer and making less, and four drivers have committed suicide in recent months, some saying heavy debts drove them to despair.
Inder Parmar, who has been driving for Uber for nearly five years, was among about a dozen cabbies who appealed to City Council Member Brad Lander for relief in a meeting shortly before the rally.
"We are making less than minimum wage," said Parmar. The city's legal minimum is US$13 an hour and will rise to $15 by the end of the year.
Lander, a Democrat, hopes to propose legislation on Monday that would ensure a $15 hourly minimum for all drivers of for-hire vehicles.