Freshii sees success in people-first strategy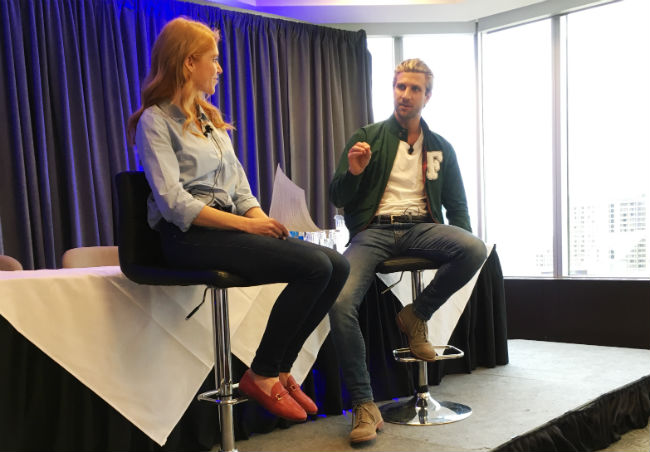 (Note: This article originally appeared in Canadian HR Reporter Weekly, our new digital edition for subscribers. Sign up today to make sure you don't miss future issues: www.hrreporter.com/subscribe.)
When launching his first Freshii restaurant in 2005, Matthew Corrin set in place a handful of guiding principles.
Alongside goals aimed at fostering rapid ideation and agility, his business would aim to "build a company with a killer culture, not a culture that kills your company," he said.
From his initial launch in downtown Toronto to hundreds of locations across the globe, that focus on employees has helped drive successful expansion, said Corrin, speaking at HR Summit, an event hosted by the Human Resources Professionals Association (HRPA) in Toronto on June 7.
"We're not perfect, but the point is we know that those (Freshii franchisees) who focus on people culture are by far the happiest, most profitable and most successful within our network," he said.
Corrin's choice to ingrain workplace culture within the company's founding philosophy was "quite meaningful," according to Freshii chief people officer Ashley Dalziel, also speaking at the event.
"By making a culture, and a people-first strategy and approach, you have people who work for you who feel something greater than 'This is just a job,'" she said. "They feel like owners and they do want to change lives, and want people to be educated and eat healthier."
Culture as strategy
Freshii culture includes a variety of perks, such as standing desks, free food, gym memberships and unlimited vacation, according to Corrin.
However, having an unwavering dedication to the brand is also an expectation, he said.
"You can do it from a beach, you can do it from a surfboard — whatever," said Corrin. "But be on call for this business, because we're in Australia and Vancouver and Toronto; we operate 24 hours a day and our partners need to be able to lean on us."
Giving employees command of their space has also proven to be a successful tactic, he said.
"Everybody's the CEO of their role, right down to the store level… We absolutely want to empower our team members. That's how they become the best versions of themselves."
Alongside efforts towards employee empowerment, each franchise holds a weekly "huddle" session with a brief discussion of "bad stuff first, good stuff last" to promote organizational transparency, he said.
Recruiting tactics
And while much of the employee base is made up of millennial-aged workers, that's not necessarily by design, according to Corrin.
"We never hire for age. It's not like we just want to go out and hire a certain age bracket."
But Freshii's recruiting tactics — including hiring for diversity — have attracted younger employees, he said.
The organization does cater to millennials with focused messaging and training through short videos or mobile-friendly training opportunities.
Staff were invited to design the Freshii uniform, and are constantly polled for opinions, said Dalziel.
"We are constantly asking for feedback," she said. "We have an online community where we are constantly listening to our franchise partners and their ideas."
Drawing ideas from your staff is a "double benefit," said Corrin.
"You get closer to being right, and you inspire a workforce from a culture perspective."
"We view ourselves very much as an idea meritocracy," he said. "It's not about who has the most tenure or the greatest salary or the highest title. It's who has the best idea, so long as you're a believable person in that domain."
Long-term thinking
With minimum wage increases being legislated in many jurisdictions, Freshii has resisted short-term fixes, such as dismissing break times, in favour of long-term gains.
"Those are short-term savings but long-term culture degradation, and that has long-term effects on profitability," said Corrin.
Employers focused on the long-term should never compromise on their team, he said.
The company also requests honesty in the employer-employee relationship with a "move up or move on" mantra, freely acknowledging that not all staffers intend to spend their entire career at Freshii, said Dalziel.
"What 'move up or move on' has allowed for is people to be honest about what their goals are," she said. "When you're in that honest conversation, we find that people do actually tend to stay longer, or at least they're contributing the best possible work. They know it's OK to not want to be at Freshii forever."
"Why people stay is that they're doing meaningful work," said Dalziel. "People love that they get to come to work every day and do something that's meaningful, but also surrounded by people that they enjoy and would spend time with otherwise."
"Outside of work, we have these spin classes and sushi nights and different things. I think that people are making real genuine connections with the people that they work with, and I think that's meaningful. You spend a lot of time at work."