'We've made it OK for them to tell us the things that are going well, as well as the things that we need to pay attention to and improve on'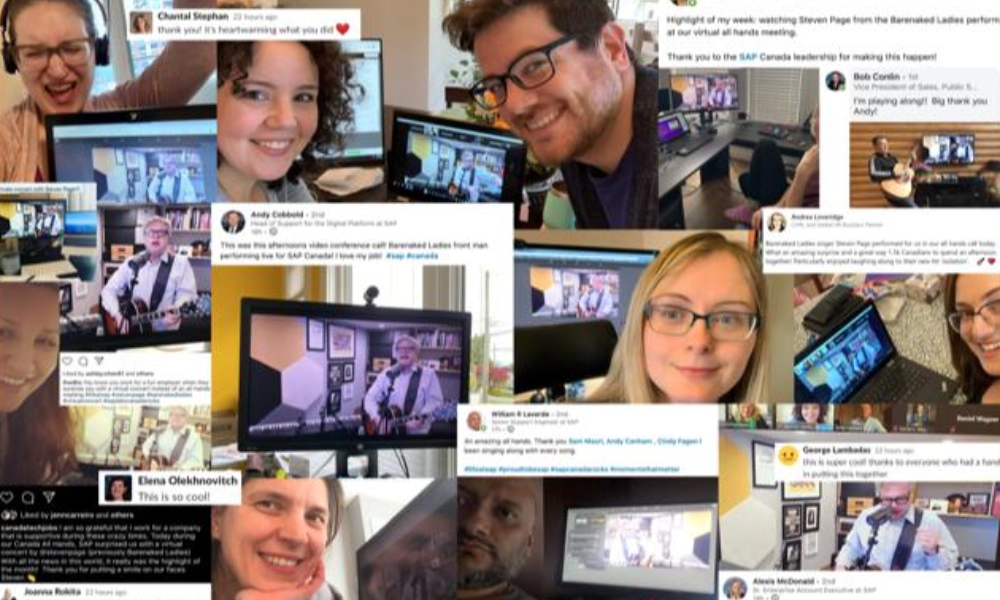 When SAP Canada wanted to maintain its corporate culture despite many of its more than 3,000 employees working remotely across the country, it looked to a musical star for inspiration during a quarterly virtual meeting.
"We had over 2,000 people that logged on for the meeting that didn't realize that Steven [Page, one of the cofounders of the Barenaked Ladies] was going to be playing for us. We had a little dance-off virtually across the country and all of our locations and got superb feedback from the employees," says Cathy Tough, chief customer officer at SAP Canada in Calgary. "We had him do a 20-minute concert for the employees."
"They really enjoyed it; it made them feel special and it was something a little bit out of the ordinary," says Tough.
But keeping spirits elevated while managing workers in SAP's offices in Vancouver, Calgary, Toronto, Montreal, and Waterloo, Ont., was challenging at first, she says.
"We had negative feedback as well as positive when they told us that they felt like they were less connected; we made a point of trying to create fun, light-hearted, social opportunities for the virtual community to get together to share experiences and create some social opportunities as well as opportunities to give back to the community."
The variety of social events proved "very valuable in making sure that we understand the emotional state of some of our employee base and that they understand that we remain very committed to them," says Tough.
Biophilic design, which incorporates natural elements in workspaces is seen as another way to keep employee stress down during tough times, while companies that have agility, use tech and digital tools key may better survive during the new normal, according to another expert.
Other activities have included a hackathon to develop technological solutions to respond to the COVID crisis.
"There was a real desire on the part of the employees to get involved. We reached out to our partner community and ended up with eight technology partners in Canada, who wanted to participate in a hackathon to see if we could identify potential solutions that would help as we went through the COVID crisis," says Tough.
"We had 700 employees from eight organizations in Canada who got together over a four-day weekend and designed potential solutions to help the community and governments start to deal with some of the issues coming out of COVID."
As well, the company hired a professional fitness teacher to motivate its workforce to develop an exercise regimen.
"Every week or two, she does a fitness training regime for employees who want to log on," says Tough.
The company also raised funds to fight COVID after an employee was diagnosed with cancer.
"Three members of our leadership team decided they were going to shave their heads in solidarity so we turned it into a charity fundraising event in 48 hours and we asked people to pay $5 to log on and witness the head shaves. We don't have that many employees but in two days, we raised just under $16,000 for the frontline fund, so people are very committed to give back to the community and they also wanted to contribute in some way to the COVID fight in Canada."
Despite the continuing remote situation, SAP employee engagement remains strong, says Tough.
"According to our pulse surveys, the level of trust in the leadership team and the actions that we are taking to make sure that we're able to function as a cohesive team and continue to build the culture are actually working very well."
"We've managed to continue a very high level of engagement with our employees. We've made it OK for them to tell us the things that are going well, as well as the things that we need to pay attention to and improve on," she says.
SAP also extended leave time and boosted its healthcare offerings to reflect the new reality, says Tough.
"We were advised last week that the benefits programs will reimburse employees for PPE for dental visits, just as an example," she says.
"HR is trying to find ways that we can more effectively support the employee base as well as their families as we go through this together; they have a tendency to get involved more at a broader level than on the day-to-day basis and the communications coming out from the local leadership team as well as their global leadership team."