Unionization is definitely a factor when it comes to injury rates, but the size of the employer also matters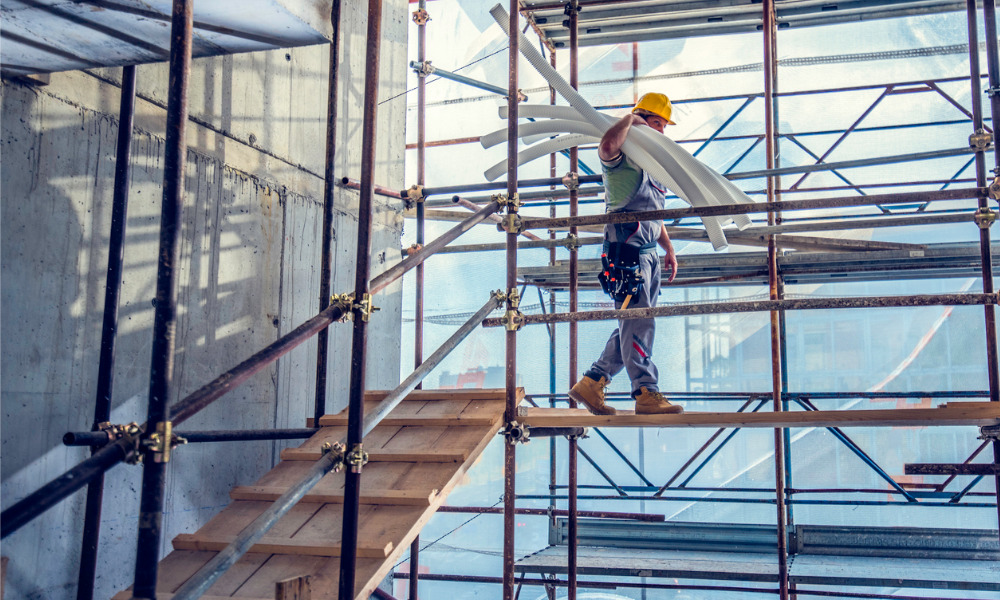 The union safety effect is real — at least in Ontario's major construction sector.
Unionization is associated with a 25-per-cent lower rate of injury, according to a study by the Institute for Work and Health, which focused on the institutional, commercial and industrial (ICI) construction sector and used workers' compensation injury data from 2012 to 2018 (updating a 2015 report on the same topic).
For the organization that financially contributed to the research, the results are gratifying.
"They concluded that the industry itself actually got safer [and] the gap between the two sectors [union and non-union] widened," says Robert Bronk, CEO at the Ontario Construction Secretariat (OCS), a joint labour-management organization, in Toronto.
The study also showed positive numbers in the rates of musculoskeletal injuries and critical or severe injuries, being 23 per cent and 16 per cent lower, respectively, at unionized workplaces.
However, there are still mysteries to be solved, says lead author Lynda Robson, a scientist at the Institute for Work and Health (IWH) in Toronto.
"The general finding was that unionization was associated with a lower fatal injury rate, but it was actually associated with a higher non-fatal injury rate. That was kind of a puzzle and not what people were expecting because they expect unions to generally make conditions safer."
Why the difference?
The findings point to the work that unions do to promote safety and prevent injuries on the jobsite.
"One can infer that union members do benefit from the combined effort of management and union when they work to provide access to training. We have a training department that provides a whole suite of safety and skills training, and so it's not a surprising outcome," says Ian DeWaard, Ontario director of CLAC union in Lynden, Ont.
"That's an advantage that not all non-union companies would have access to because there's just a greater availability, accessibility and more focused programming for workers."
A lot of funds are allocated each year by the industry, according to Robert Bronk, CEO at the Ontario Construction Secretariat (OCS), a joint labour-management organization, in Toronto, which leads to a better-educated workforce and, thus, greater safety.
And a 2016 Statistics Canada report found that union workers are three times more likely to have their Certificate of Qualification than non-union workers, he says.
"The ICI unionized sector invests $40 million annually in apprenticeship and health and safety training at over 90 union training centres across the province. This is an ongoing investment that has been taking place for decades and it's bound to have some effects."
While more training does influence safety, it's not the only factor, says Carmine Tiano, director of occupational health services at the Provincial Building and Construction Trades Council of Ontario, a group that represents 12 unions, in Toronto.
"I strongly believe that the unionized workers, through their apprenticeship, are trained better and are trained better to identify risks. But there's a little bit more policing that the union does through the representatives to ensure that… there's safe practices at the workplace."
Unionized workplaces also have a more robust injury reporting system, says Robson.
"There's a greater chance of people being more likely to report an injury when it happens and we even see that in surveys… So what happens is that with no lost-time injuries, they're more discretionary," she says.
"Knowing that there's a difference in the empowerment of workers, we would expect unionized workers to be more comfortable refusing unsafe work, more comfortable reporting minor injuries. They're probably more comfortable reporting unsafe conditions to supervisors [and] to managers and expecting some change and improvement. That should drive safer working conditions."
Size does matter
Another big factor beyond unionization is the size of the company, finds the study, with the overall effect being 25 per cent lower for lost-time allowed (LTA) injury claims at larger companies. The largest unionized employers have a 44-per-cent lower risk of lost-time injury, whereas, with smaller employers, there's no difference, says Robson.
That finding makes sense when it comes to the regulatory environment, says DeWaard.
"The larger the company, the more robust are the Occupational Health and Safety Act requirements. A project with more than five employees requires that there's an appointed health and safety worker represented. And at large or long-term projects, where the employer has more than 20 employees, [a] joint health and safety committee must be in effect and two of its members certified in health and safety training," he says.
"The more employee engagement that a firm experiences in the internal responsibility system, the greater impact on safety culture."
The contrast in the injury numbers around company size also points to different conditions based on their scale, says Bronk.
"The probability of getting hurt on a small site, where the foundation might only be one-storey deep, versus a major office tower where the foundation could be 50 metres down, the risks are higher. There's fewer risks on those job sites than there is on a major [one]: There's tower cranes, there's a lot more possibilities for injuries."
The combination of unions and large workforces provides more opportunity for an injured worker to be put on modified work duties, which means less lost time and could be part of the reason for the numbers, says Tiano.
"They're managing it, but the risk is still there. We need to have a bigger discussion when it comes to the true accident burden in Ontario, but we have a long way to go."
The level of worker experience also plays a role in promoting safety, especially among union shops, according to Robson.
"On average, workers have a longer tenure within unionized companies compared to non-unionized… which means they have more experience. We have other research at the institute that shows when you're new to a job, you're a lot more likely to be injured and non-unionized companies tend to have more lower-tenured workers so that could be one of the reasons driving the difference."
Benefits to safety
The benefits to companies that are safer are clear, says Bronk.
"Your costs are lower with WSIB [Workplace Safety and Insurance Board]; your productivity is higher. If you're losing a couple of key employees, and you're replacing them with people who are newer, there's a learning curve so the productivity is higher."
And the benefits don't always show up on the bottom line, he says.
"There's studies that show that it does affect the morale and productivity. If your close friend is working by your side and some accident happens, and he gets really hurt and he's got a family, it does have an impact on your morale and productivity."
In construction, in particular, "a good safety record is now a requirement for bidding on some projects," says Robson.
But for more answers, phase two of the study will look at why there are these differences, says Bronk.
"This is strictly a study on looking at the lost time due to injuries, and we are going to do a phase two [and] we're going to have to find out why is there a difference: What are the best practices and how can we share that to the industry? Because, at the end of the day, we want the whole industry to be safer, union and non-union."