'Right now, talent and culture is definitely one of our strategic ambitions'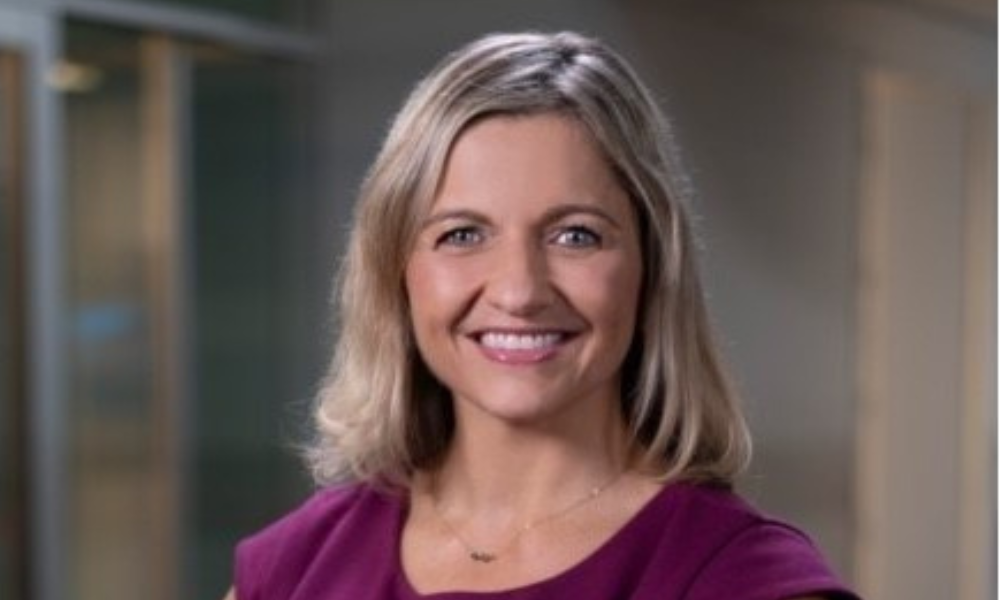 Krista Pell's background has always included coaching. That primarily started as a teenager in sports, but continued into university and her early career.
For the first eight years, she worked in the hospitality industry training others.
"It was probably a bit more tactical than qualitative, but that quickly shifted into leadership development and leadership training. And that evolved itself into culture, although I don't think it was quite called culture, in 2004, 2005," says Pell, who was recently appointed CHRO at the Alberta Investment Management Corporation (AIMCo).
In the early 2000s, Pell was trying to figure out the next step in her career path when someone suggested she was already in the human resources industry in focusing on talent improvement, talent development and talent management.
"That embarked me on an opportunity to really dig into the human resources profession, really get an understanding of not just the training or learning and development environment or that talent development environment, and really start to look across at 'How do we deliver organizational strategies with… people as our primary asset? And, really, what is the role that human resources and I can take on? And what are the ways that we can really... support an organization or really deliver an organization's strategy through people?'"
Belonging and psychological safety
Diversity, equity and inclusion (DEI) has become a major theme in HR over the years, which is about enabling individuals to bring their whole selves to work, says Pell, who values the importance of psychological safety, and belonging.
Five to 10 years ago, employee engagement and experience was a nice-to-have at many organizations, she says.
"What was a potential differentiator five years ago is, in my opinion, table stakes now. And that encompasses all of that: What is it like to truly work somewhere? And how are we evolving and adapting to ensure that it's aligned to our organizational brand and our values?"
Whereas before engagement may have been as simple as offering a service award, now that employee experience is really "Are we as an organization truly providing a safe place where the best results can be achieved?"
Read more: HR leader profile: Carolyn Meacher of Dentsu
One of the reasons Pell decided to join AIMCo is its commitment to DEI, which appealed to her "personal and professional aspirations around really operationalizing that within cultures, like how do we ensure leadership programs are supporting those intentional plans?" she says.
The last two years of the pandemic have "shone a light on what matters to people most and those that are feeling psychologically safe in their organization have been able to be transparent, talk about what is a high priority to them, and find a way to be successful. And I think some organizations have really struggled with that."
Massive M&A
One major highlight of Pell's career involved Cenovus Energy's acquisition of the much larger Husky Energy in 2021.
"I've been involved in a large amount of mergers and acquisitions transactions throughout my career, but this one was absolutely massive," says Pell.
What was exciting about the move was not only the need for a very clear culture definition, and then moving through the values and purpose in bringing this large organization together, but the need to almost rebuild an HR organization, right down to: "How do we do payroll? What are our methodologies, our principles, our policies?" she says, "because they were such large organizations being brought together, and we didn't want to just move to one organization's previous approach — it wasn't fit for purpose any longer.
"Rarely in human resources or in our careers do we have the opportunity to almost build something from the ground up that's so large, while running the ship."
Rewards of HR
One of the most rewarding parts of working in HR is watching people develop through a talent strategy, says Pell.
"Whether that be hiring new graduates from university and watching them 10 or 15 years later be at the level they want to be, in the role they want to be — I've been really fortunate to… implement people management systems and strategies to allow that to really happen," she says.
"When you're part of an organizational strategy that really commits to that, that's absolutely one of the top rewards."
Another rewarding part of the profession is taking an organization on a journey through a culture transformation, says Pell.
"It doesn't need to be that the first culture was a bad culture... It's more that... strategic piece of defining where we want to go, and really engaging the organization around what that good next step looks like, and being quite purposeful in that."
To that end, AIMCo has a very clear purpose to help clients build better financial futures for Albertans, she says.
"When you work in an organization that's very purpose-driven, it allows you to not only set what that culture is going to be and what those values and what you expect, but it allows you to also be very clear in 'What is the type of employee we're attracting? What are their priorities? How do they want to make an impact on the communities in which they live and work?'
In her new role at AIMCo, Pell says she is looking forward to listening to as many people as she can in the organization, and getting their input on: "Where have we been? How have we really embodied our purpose, both internally and externally? And how do we form that right strategy?"
"So, right now, talent and culture is definitely one of our strategic ambitions."