'I will never stop looking at ways we can promote wellbeing'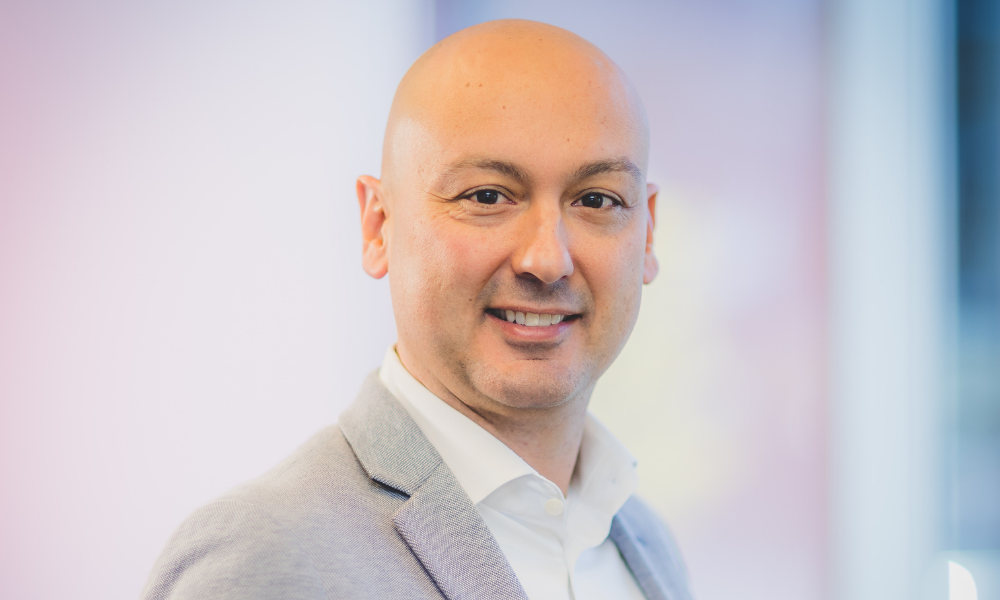 Unlike many HR professionals, Peter Pontone knew early on that he wanted to work in human resources.
Back in high school, he remembers flipping through a catalogue of college courses and was immediately drawn to HR.
"None of the traditional business areas appealed to me, like accounting, finance… marketing," he says. "But then I started reading about it — and I honestly didn't know what HR was until I read the description — and what appealed to me was the people side of business… hiring and development and [labour relations], all those types of things caught my eye. And… the rest of history."
Pontone started working in recruiting but then moved into heavily unionized environments at manufacturer Kohler and then food services company Aramak.
"I started labour relations at a pretty young age… when I was 23, I was already at the negotiating table," he says.
Chemtrade then welcomed Pontone for seven years as a director of HR, before he joined Ricoh Canada, provider of digital workplace solutions, in 2014.
And just over a year ago, he was promoted to vice president of HR in Toronto, heading up a team of 25, with roughly 1,500 employees overall.
Of course, with the pandemic, it's been "all hands on deck," says Pontone, and that's included a strong focus on workplace safety, mental health, communications, and employee engagement, he says.
"It was really a full cycle. It started from bare safety essentials and making sure everyone's safe, and everything they do every day, to basically how we engage and take care of our team members from a wellbeing perspective overall."
4 priority areas for HR
And now, looking ahead, there are four priority areas for HR, says Pontone. The first? Employee wellbeing.
"It all starts there. We've enhanced our wellbeing platform over the last year. We've widened the net on different practitioners that our team members can go see through our benefits package on mental wellbeing, and we increased the amount, so we went with [Sun Life's] top-tier program around mental health."
No-meetings Friday afternoons were also introduced, he says.
"It's been successful overall; not everyone can enjoy them but I've personally seen a culture shift."
In addition, the company is planning to offer employees a series of three apps centred on well being, says Pontone..
"I will never stop looking at ways we can promote wellbeing, so anything from how we do things day to day within the organization to what we can partner with externally. That's priority number one, and I don't think that will ever leave as a priority number one for me."
Read more: HR leader profile: Janeen Speer of Benevity
Also on the agenda is employee engagement around the "new world of work," says Pontone. Before the pandemic, Ricoh offered employees a lot of flexibility, with many people working from home. Now the company is undergoing a return to work,
"My team is aggressively working on looking at potentially coming back to the office around May [so it's about] the new hybrid work model: what does that look like? Those are the types of things that we're going to try to plan and really look at partnering also with our strategy as an organization — we empower our customers to operate digitally and look at how they can be flexible, so we're going to lead the way and be a model of that, and see how hybrid we can get in certain aspects."
Diversity, inclusion and belonging is a third area of priority, in "looking at areas where we're underrepresented and seeing what we can do as far as programs and commitments to try to build diversity within the organization," he says.
"That also helps with our transformation; I think we need diversity of thought, diversity of leadership; there's a lot of different diversity topics we can talk about."
A fourth item on the agenda is team member attraction, development and retention, says Pontone.
"We're calling it our 'employer of choice' strategy. I do firmly believe we are an employer of choice already but we're going to keep going at it, we're going to look at continuous improvement, we're going to evaluate what we can and cannot offer in the marketplace, and we're going to continue to build on that and improve."
It's also about looking at how to develop talent outside of the standard promotional things, and instead lattice-wise or cross-functional growth stretches, he says.
"We're going to really look at development over 2022 because I think we've lost a little bit that over the last couple of years."
Read more: HR leader profile: Laura Muir of Polaris Transportation Group
All this work reflects HR's evolution. Years ago, HR may have been strategic but that was more about "making it look nice" as a visual type of exercise, says Pontone, such as cascading down goals.
"Now I think what I'm seeing — and it's not just at Ricoh, I'm seeing this from peers across the practices — is that the business group leaders are proactively seeking HR's input into strategies and sitting together to develop them," he says.
"HR professionals are starting to challenge the status quo with certain things that are occurring in the business, and strategizing around priorities. Even from an internal customer experience — we always look at external customer experience; I think we also look internally within ourselves, and pick that one team environment and look at how we're servicing each other. So I think there's a big a big shift towards that as well from the profession."