'The screaming and yelling are because people are just so thrilled to be together again'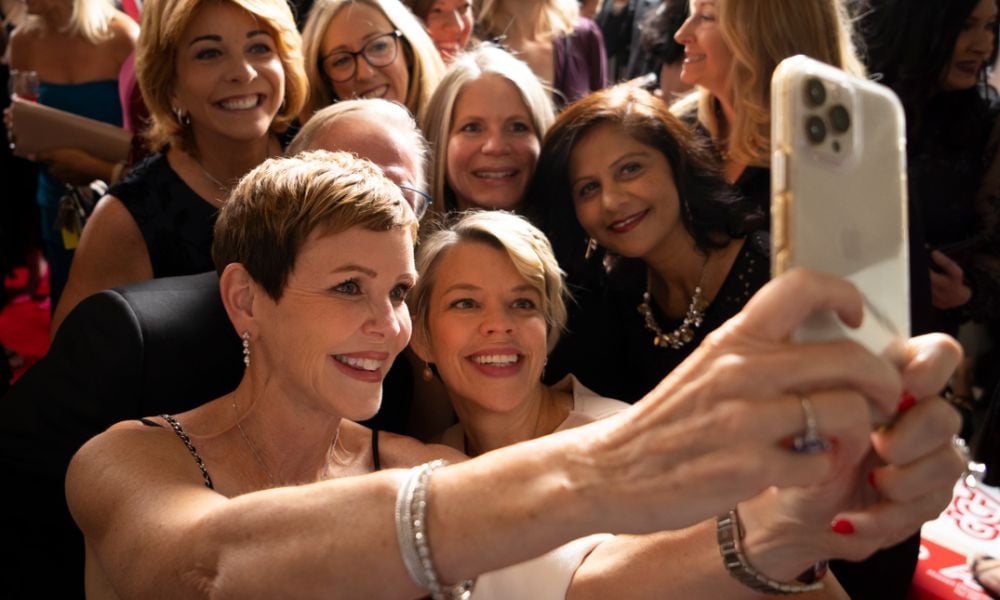 After two years of virtual events, HR professionals from across Canada were thrilled to return in person to celebrate outstanding achievements in HR at the Canadian HR Awards 2022.
Taking one of the most prestigious accolades – The Leadership Agency Award for HR Leader of the Year – Sanita Alias, vice president of people, culture and brand at CIRA, said she was both honoured and surprised.
"I'm so glad that all the sponsors and organizers put this event on in-person — it just makes such a difference. And it's great to be here IRL, with all these people."
As for her team's success, Alias says they've been really focused on culture and employee engagement.
"And we've focused on creating an inclusive environment where all of our employees feel supported. And that's really been beneficial to me, especially to lead this team through that."
Read more: Winners of Canadian HR Awards 2022 revealed
In the glamorous setting of the Liberty Grande in Toronto, there were plenty of evening gowns and sharp suits among the near 1,000 attendees who gathered to cheer on their colleagues and reflect on what has been a challenging year for the profession.
Brigid Pelino, senior vice president and chief people and culture officer at Definity Financial, said she was shocked — and really pleased — to receive the HRPA Award for Woman of Distinction.
"There was such a list of some incredible women. And some of them I know, and I know the types of accomplishments that they've done in their career. So kudos to all of them… I see a lot of my role, as I've grown in my career, to help other women in their careers so to have this just really makes me feel like I've accomplished some of that."
And being able to receive the award at the downtown Toronto event made a big difference, said Pelino.
"You can just feel the energy here tonight. I mean, the amount of screaming and yelling is because people are just so thrilled to be together again. And it makes it so much more special, frankly, to win an award tonight in this environment. So what a special time, it just feels really good to be together again."
The Canadian HR Awards 2022, presented by Canadian HR Reporter and HRD Canada, celebrated excellence in the HR profession in a night that recognized individuals and teams in 20 prestigious categories.
Mary-Anne Cedrone, senior manager of communications at AstraZeneca, winner of both the Lifeworks Award for Excellence in Financial, Physical & Mental Wellness and the Venngo Award for Best Workplace Culture, revealed her shock and delight landing two accolades.
"It feels so amazing. We're so happy – and so proud of both our employees and our organization. I have to say, the foundation of our business is our people. I know that sounds cliché, but it's true. At AstraZeneca, we're at our best when our people are at theirs – it's programs like LifeWorks that aligns to our key pillars, which are mental, physical, and financial health."
For Susan Margles, chief people and safety officer at Canada Post, winner of the Canadian HR Team of the Year (500 Employees or More), this award only cemented their focus of delivering a stronger Canada.
"After so many tough years, this feels great," she says. "Coming through COVID, just looking at what our team was able to do, it feels fantastic to have been recognized. We're a large HR team but we support a larger team of 70,000 employees across the country, each of which delivered every single day for Canadians throughout the pandemic."
Kristen Ruttgaizer, chief people officer at Igloo Software, was keen to put her focus on her team – and how their commitment to each other saw them thrive in the past few year.
"We won the Canadian HR Team of the Year (Fewer Than 500 Employees) award – and it feels amazing. There's been so many changes at Igloo and so much growth. I'm most proud of how we've all stuck together – we believe in each other and respect each other. We're committed to really seeing our employees really prosper in the company."