Hundreds of HR professionals gather in Toronto to celebrate successful year and recognize best of the best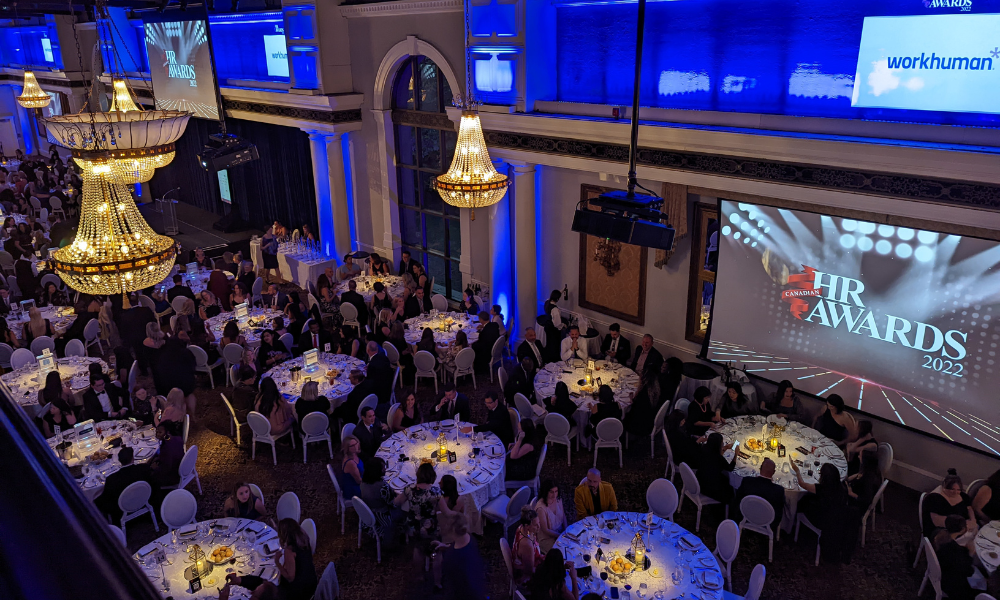 After much anticipation, the 2022 winners of the annual Canadian HR Awards have been revealed.
For nine years now, our awards have honoured the very best of the best in HR, recognizing those who displayed outstanding practices and leadership within their field.
This year is no different. Professionals in the HR industry convened at the Liberty Grand in Toronto to not only celebrate a successful year, but to give a big hand to those who won their respective categories.
As chief people and safety officer at Canada Post, Susan Margles says she's so proud of her HR team of 800 in winning the award for Canadian HR Team of the Year (500 employees or more).
"This team supports a team of 70,000 employees that, over the past year and two years, went through so much with COVID, and just continuing to deliver to Canadians every single day has been a huge challenge for us," she says. "Recruiting, retaining people, keeping people safe has been a top priority."
Winner of the Canadian HR Team of the Year (fewer than 500 employees), Igloo Software has grown so much over the years, says Kristen Ruttgaizer, chief people officer.
"My team is just absolutely amazing. We've done so many programs dedicated to the company, to the employees," she says, and looking ahead, they hope to continue to grow more programs, including one focused on diversity, equity and inclusion, along with keeping employees engaged.
Among those who walked away with a trophy was Sanita Alias, vice president of people, culture and brand at the Canadian Internet Registration Authority (CIRA), who received The Leadership Agency Award for HR Leader of the Year.
"The HR Leader of Year Award is not about the person's job title, seniority level, or years of experience. It's more than the quantifiable measurements of leadership," said the Leadership Agency, sponsor of the award.
"A great HR leader is someone who can demonstrate and prove that they continuously put people first and instil values, mission, and opportunity for growth in their people."
Here's the full list of winners:
Best Employer Branding
Winner: Sephora Canada
Best HR Communication Strategy
Winner: Top Hat
Best Labour & Employment Boutique Law Firm
Winner: MacDonald & Associates
Best Remote Work Strategy
Winner: CIBC Mellon
Best Talent Management Strategy
Winner: Tata Consultancy Services Inc
Canadian HR Team of the Year (500 Employees or More)
Winner: Canada Post
Canadian HR Team of the Year (Fewer Than 500 Employees)
Winner: Igloo Software
Canadian HR Team of the Year (Finance/Insurance)
Winner: Prospera Credit Union
Canadian HR Team of the Year (Retail/Hospitality)
Winner: Rexall Pharmacy Group ULC
Excellence in Diversity & Inclusion
Winner: City of Vaughan
Most Effective Recruitment Strategy
Winner: IPEX
Most Innovative Use of HR Technology
Winner: Accenture
The ADP Canada Award for Rising Star of the Year
Winner: Jack McCormick - Microsoft Canada
The CPHR Canada Award for HR Champion (CEO)
Winner: Linda Seymour - HSBC
The HRD Readers' Choice Award for Best Service Provider
Winner: Industrial Relations Centre (IRC), Queen's University
The HRPA Award for Woman of Distinction
Winner: Brigid Pelino - Definity Financial
The Lifeworks Award for Excellence in Financial, Physical & Mental Wellness
Winner: AstraZeneca Canada
The O.C. Tanner Award for Lifetime Achievement in the HR Industry
Winner: Jim Reid - James Reid Board and Executive Advisory Services
The Payworks Award for Best Corporate Social Responsibility Strategy
Winner: Air Canada
The Queen's University IRC Award for Best Learning & Development Strategy
Winner: TransAlta
The University of Waterloo Award for Next Generation Employment Innovation
Winner: Centurion Asset Management
The Venngo Award for Best Workplace Culture
Winner: AstraZeneca Canada
The Workhuman Award for Best Reward & Recognition Strategy
Winner: CAA Club Group