In 7th annual competition, 24 prestigious categories will once again recognize HR excellence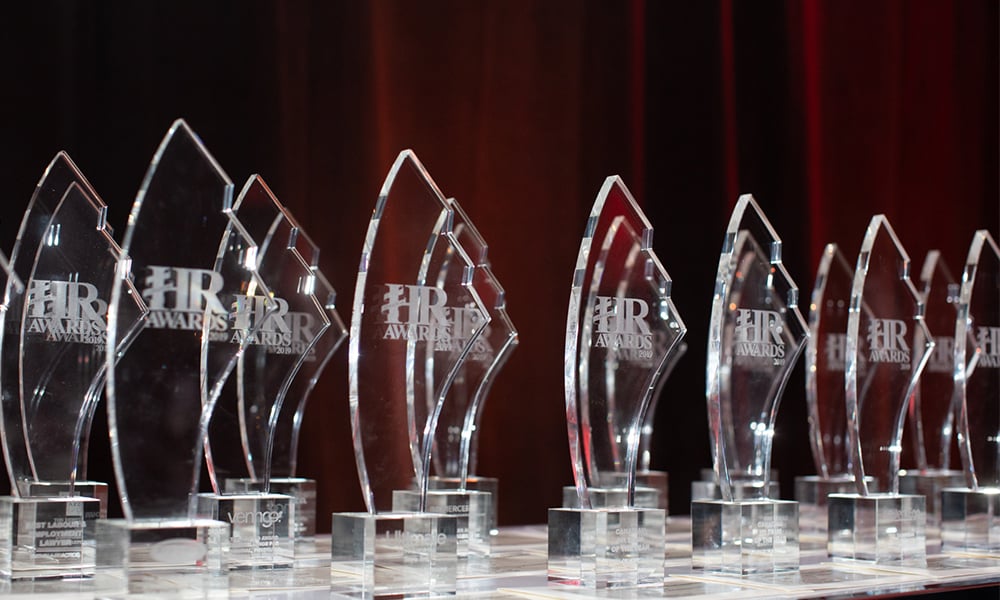 The 7th annual Canadian HR Awards – presented by HRD Canada and supported by Canadian HR Reporter – will once again celebrate outstanding HR teams, individuals, and employers across Canada for their exceptional HR strategies and initiatives. Are you one of them?
In this unique time, the great work of HR professionals has never been more impressive – so if you want to honour their achievements (or your own), then we encourage you to submit a nomination.
Nominations are open until June 29, but you can save up to $100 per nomination with Early Bird pricing until May 31.
Finalists will be announced in HRD Canada and Canadian HR Reporter magazine. Finalists will also receive an annual subscription to Canadian HR Reporter and an exclusive press kit to promote their achievements.
Gold, Silver and Bronze winners will be revealed during the highly anticipated award show on Sept. 23 in Toronto and profiled in Canadian HR Reporter magazine.
Being showcased here is the best way to guarantee industry-wide recognition and a true acknowledgement that you or your organization are at the very top of their game. Watch last year's highlights featuring winners AstraZeneca Canada, IBM Canada, Mattamy Homes, CAA Club Group, and the Department of National Defence.
The full list of categories can be found below:
ORGANIZATION/TEAM AWARDS
The Ultimate Software Award for Best Workplace Culture
The Mercer Award for Excellence in Diversity & Inclusion
The TalentEgg Award for Best Employer Branding
The Accompass Award for Canadian HR Team of the Year (500 Employees or More)
Canadian HR Team of the Year (Fewer Than 500 Employees)
Canadian HR Team of the Year (Finance/Insurance)
Canadian HR Team of the Year (Retail/Hospitality)
The Dentsu Aegis Network Award for Best HR Communication Strategy
The Workhuman Award for Best Reward & Recognition Strategy
The Seneca Award for Best Learning & Development Strategy
The University of Waterloo Award for Next Generation Employment Innovation
The Venngo Award of Excellence for Financial, Physical & Mental Wellness
The Achievers Award for Most Innovative Use of HR Technology
The Payworks Award for Best Corporate Social Responsibility Strategy
Most Effective Recruitment Strategy
Best Talent Management Strategy
Best Labour & Employment Boutique Law Firm
The HRD Readers' Choice Award for Best Service Provider
INDIVIDUAL AWARDS
The Leadership Agency Award for HR Leader of the Year
The ADP Canada Award for HR Rising Star of the Year
The KPMG in Canada Award for HR Champion (CEO) of the Year
The O.C. Tanner Award for Lifetime Achievement in the HR Industry
The HRPA Award for Woman of Distinction
Best Labour & Employment Lawyer (Within A Practice)
For full information, visit www.hrawards.ca or contact the team at [email protected].