Guide promotes inclusive workplaces, accommodation of cultural differences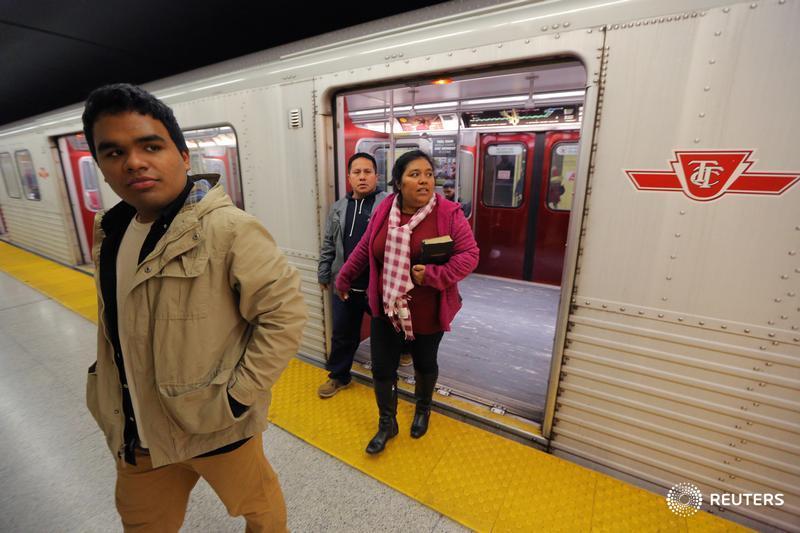 In the midst of a growing labour shortage, more companies are looking to refugees to flesh out talent pools, according to experts.
"Both Canada and the United States have a long tradition of resettling refugees and the motivation for the Canadian government to do so has in principle been humanitarian," said Gideon Maltz, executive director of the Tent Partnership for Refugees in New York.
"But what the government and companies have found increasingly over time is that (refugees) are also real economic assets and really contribute to the economy."
In partnership with Deloitte, the Tent Partnership for Refugees released a guide to help employers hiring refugees in fostering inclusive workplaces.
An Employer's Guidebook to Fostering Inclusion for Refugee Employees draws on research from 90 private companies in North America, Europe and Australia.
Canada is currently the top refugee resettlement country in the world — a "remarkable demonstration of leadership," said Maltz.
"There is a very significant pipeline of refugees that are resettling in Canada, and businesses are increasingly attuned to that, increasingly thinking about them as a source for employees."
Going forward, immigrant talent is expected to be the main driver of Canada's economic growth, said Debroy Chan, director of immigrant inclusion strategies at the Toronto Region Immigration Employment Council (TRIEC).
"We need newcomer talent to grow Canada's economy and compete in global markets," he said. "The skills and talents (refugees) bring are as diverse as you will see among economic immigrants."
Starbucks Canada committed to hire 1,000 refugees in 2017, said Chan. IKEA Canada and Paramount Fine Foods have made similar commitments.
"We need newcomers and refugees to bring skills and talent, as well. Businesses recognize this and are going after them — particularly the large businesses."
Overcoming challenges
Successfully employing refugees takes much more effort than simply deciding to hire, according to the guide. It is also important to foster a culture of inclusion.
The guide offers several inclusion initiatives and case studies for organizations to consider, including adapting pre-boarding and onboarding programming to ensure refugee employees are given every chance to succeed.
Roles made available to refugees vary greatly, but are often retail or manufacturing positions, said Maltz.
"There's been a particular interest in entry-level roles, which I think is often what companies are struggling to fill with a tightening labour market."
But opportunities for higher-level positions are not out of the question for refugees, and their diverse backgrounds and skills must be considered, said Olga Stachova, CEO of MOSAIC, an immigrant service organization in Vancouver.
"You don't want to label them," she said. "They bring a lot of skills."
"Just because they come based on humanitarian grounds, they might have the skillset that we are looking for when we look for highly skilled workers through other immigration streams. I think it's very smart for companies to do that."
Refugees are "terrifically dedicated, hardworking employees that have a high rate of entrepreneurship" and a "very valuable potential source of labour," said Maltz.
However, while many employers that hire refugees report positive experiences, challenges such as cultural differences and language barriers remain, he said.
"Companies are most concerned about refugees having language challenges," said Maltz. "And it certainly is the case that many refugees may not yet be proficient in English or French at the start. But there's also lots of ways that companies can successfully integrate refugees who are not completely proficient."
Opportunities include pairing refugees with colleagues to help generate language skills, or hiring language coaches, he said.
Additionally, empathetic actions such as building in workload flexibility to allow refugee workers to visit their home countries will also contribute towards a positive experience for employees, according to the guide.
Advice for HR
Employers looking towards refugees as a labour solution would be best served by working in partnership with a local settlement agency, said Stachova.
These agencies are often the initial point of contact for refugees who are looking to become connected with community resources and jobs, she said.
"There's lots of resources on the ground," said Stachova. "If employers could work with settlement organizations… we could support them through the journey."
Recruiting refugees often requires an initial budgetary boost, said Maltz.
"There might be a bit more of investment up front, but once they're in the workplace, they're so dedicated and so motivated," he said. "In the long run, we think it pays dividends."
Once acclimatized, refugees show more loyalty to employers than their colleagues, according to Maltz.
And inclusion practices — specifically those welcoming refugees — are good for business, contributing to a more diverse workforce and fostering innovation, he said.
Developing a diverse organization is critical to both innovation and productivity, said Chan.
"It's not good enough to just hire immigrants, including refugees," he said. "It's not good enough to be diverse. You actually have to create the environment to include newcomers in order to be able to leverage the full benefits of diversity."
Organizations that successfully include refugees also realize increased retention and recruitment alongside employee engagement and productivity, said Maltz.
"Consumers care about companies actually taking steps to hire refugees, (and) employees… care about working in a company that is mission-driven and is reaching out to help vulnerable people."