Nearly one-third say they're logging additional hours since start of pandemic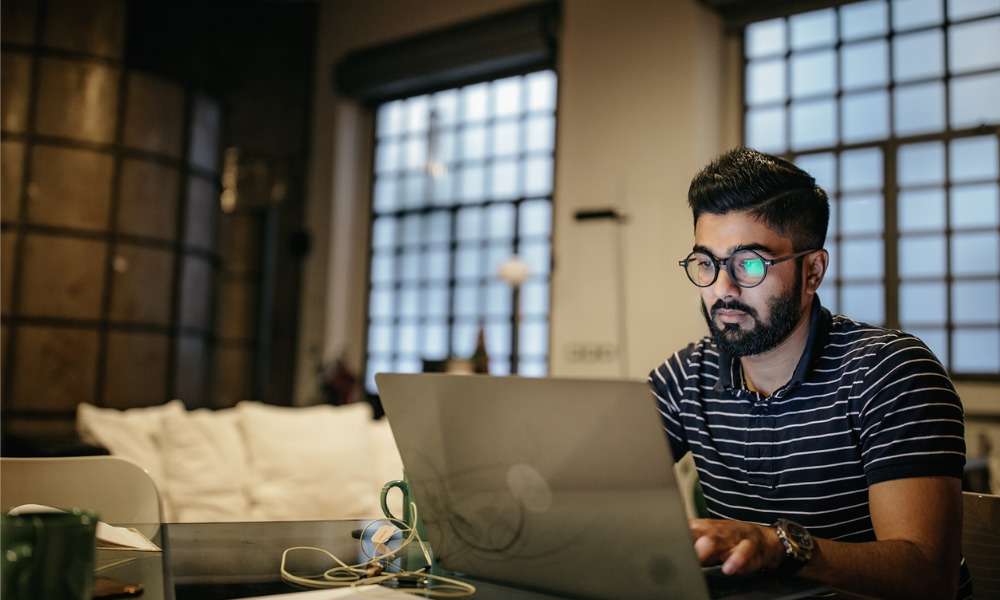 Nearly one-third of Canadian workers (30 per cent) are paying a "COVID tax" – additional hours they are logging since the start of the pandemic.
And when it comes to remote workers, that number climbs to 44 per cent ─ up from 21 per cent in April 2020, according to a survey from ADP Canada
Of those, one in 10 are working an additional day or more per week. Only 15 per cent are working fewer hours while 38 per cent report no change.
Nearly half (49 per cent) of Canadian employees say their workload is heavier today than before the pandemic, according to another survey.
Rising stress levels
In addition, stress levels jumped to 41 per cent in April 2021 from 34 per cent in April 2020. And 46 per cent of remote workers are feeling less engaged with their work since the start of the pandemic, found the survey of 1,501 working Canadians conducted in April.
Nearly half (46 per cent) of employees report that their employer instituted initiatives to support mental health and wellness at their workplace during COVID-19. However, 69 per cent say their employer had not instituted any initiatives to help with fatigue related to video-conferencing platforms.
"By encouraging employees to take vacation time and regular breaks, to monitor their stress levels and seek support if needed, and by introducing policies for after-hours work or educating on the right to disconnect, employers can help protect the physical and mental health of employees," says Ed Yuen, vice-president for strategy and business development at ADP Canada.
Employee burnout has emerged as a major issue for many workers during the pandemic. And while many employers are aware of the problem, they're not necessarily responding, according to a separate survey.
Improved productivity
Interestingly, 42 per cent of Canadian remote workers are feeling more productive and 37 per cent have noticed an increase in the quality of their work, both up from 19 per cent and 21 per cent, respectively, from April 2020, finds ADP.
And more than half (53 per cent) say their employer enables them to work a modified schedule when they must fulfill personal responsibilities during work hours.
"After a year of monitoring how workplaces have evolved and responded to the pandemic, it appears that many companies have moved to flexible work hours or hybrid work models," says Yuen. "While many of these policies were a 'perk' a few months back, they are now commonplace. For some, this flexibility seems to have improved productivity and quality of work. Not only has the pandemic brought the workplace into Canadians' homes, it also brought a little bit of their homes to the workplace."
While many workers say they're productive at home, they're also putting in longer hours, says Statistics Canada.