Two Ontario cases highlight protections provided by human rights law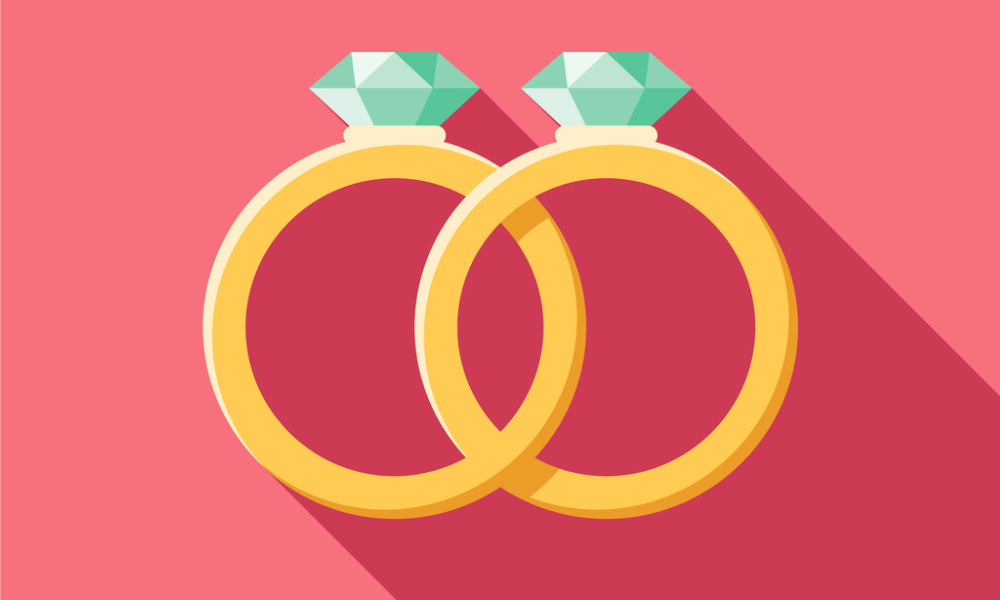 by Ayesha Adamjee
Not long ago, social media was clamouring about a videographer in Brantford, Ont. who refused to film a same-sex wedding. Kelly Roberts and Mallory Arthur, a couple from Woodstock, Ont., were looking for a videographer for their wedding when they reached out to Caramount Pictures, an artist whose work they admired. A screenshot posted to social media revealed Caramount's response, which began by thanking them for their interest and congratulating them on their engagement, before breaking the bad news.
"I say this with much care, because I know that your union is incredibly important to you, but we do not film homosexual weddings," read the email Roberts posted to her Facebook page.
The couple received overwhelming support on multiple online platforms, leading to a slew of negatives comments and reviews on Caramount's social media. The National Cycling Centre of Hamilton, a client of Caramount's, dissociated themselves from the videographer in a statement from their board president, saying, "Her recent comments are not aligned with our values and, as such, we will not be utilizing her services in the future."
The company's email address and social media accounts have since been deactivated and their phone number appears to have been disconnected.
Human rights
Unfortunately, cases like this are not uncommon in Canada, even with ample protections provided in human rights legislation. Canada's courts have long recognized the oppression of the LGBTQ+ community. For instance, in Egan v Canada, the Supreme Court of Canada held that: "Same-sex couples are a highly socially vulnerable group, in that they have suffered considerable historical disadvantage, stereotyping, marginalization and stigmatization within Canadian society."
This case created constitutional protections against discrimination on the basis of sexuality by adding it as an "analogous ground".
In most human rights legislation, sexual orientation is an explicitly protected ground. The very first section of the Human Rights Code says that "Every person has a right to equal treatment with respect to services, goods and facilities, without discrimination because of… sex, sexual orientation, gender, gender identity." The actions of Caramount Pictures seem to be a prima facie case of discrimination on account of sexual orientation and a direct breach of the rights entrenched in Section 1 of the Human Rights Code.
This was not the first hurdle this couple has faced while planning their wedding. The officiator associated with their church also refused to be involved with their ceremony as the church did not support same-sex marriage. However, religious institutions and officials may be exempt from these rules due to the "competing rights" at play.
Private institutions, on the other hand, such as the videographer, are not exempt. Roberts and her partner, therefore, could seek redress by filing an application with the Human Rights Tribunal of Ontario. It is possible that the tribunal would order Caramount Pictures to pay financial compensation to the couple or implement other remedies.
Ontario printer
This case is quite similar to Ontario v Brockie, in which a printer (Brockie) refused to provide printing services to an LGBT charity organization on religious grounds. The organization filed a discrimination complaint with the human rights board and the printer was found to have infringed upon the group's rights. The printer was originally ordered to provide the printing services, to pay damages to the charity group $5,000 and the Ontario Human Rights Commission $15,000 for costs.
On appeal, the human rights complaint was substantially upheld but the court found that Brockie's religious freedom was limited by the decision. However, this was allowed under the "reasonable limits" clause of the Charter. Brockie had printed materials for homosexual clients in the past but argued that he could not serve to further the cause promoted in the pamphlets. The court did not agree with this distinction but reduced the scope of the matter to allow the printer to refuse to print materials that come into "direct conflict with the core elements of his religious belief or creed." To prove a direct conflict would be quite difficult, however.
This gives Caramount Pictures the opportunity to argue religious grounds for refusal. However, it is unlikely that such an argument would succeed, as human rights protections for LGBTQ+ individuals have increased since the legalization of same-sex marriage in 2005.
Takeaways
While this is not specifically an employment issue, the lessons learned from this case can be universally applied.
Ideally, employers would not discriminate on the basis of protected grounds because they know it is wrong. Practically speaking, however, the financial and other consequences of a human rights breach are often an important factor. This lesson is especially important during the pandemic, as businesses reopen to the public and are tasked with enforcing mandatory mask policies. You can read more about how to navigate the new mask bylaws here.
Ayesha Adamjee is a summer law student at Rudner Law in Toronto.