Social media policies can help protect employers from reputational harm, but what about uncomfortable truths?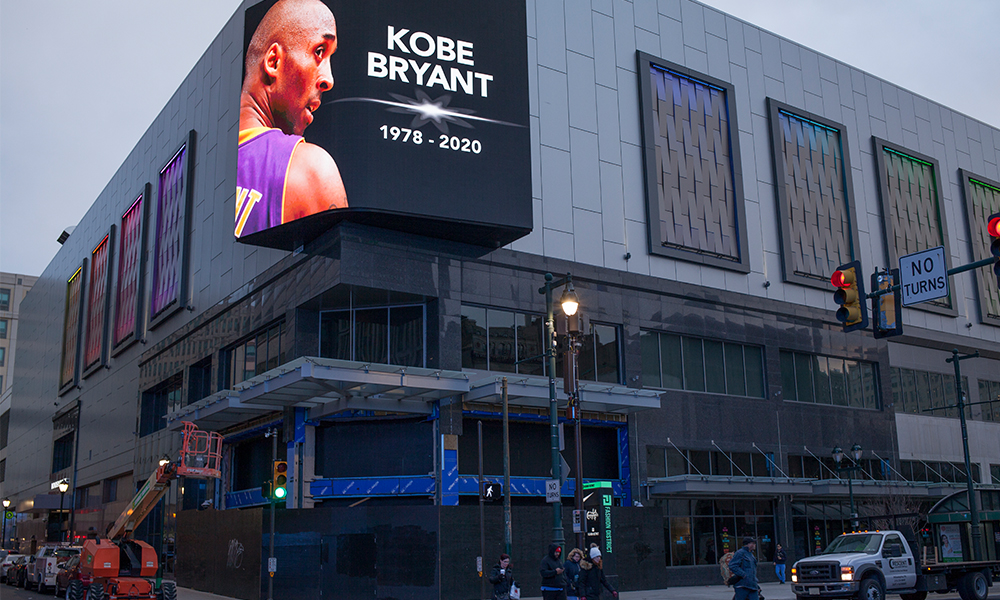 The death of Kobe Bryant in a helicopter crash on Jan. 26 unleashed a wave of memorials around the world. And it's brought some controversy as well — many people have cautioned against lionizing Bryant too much, pointing to a dark incident in his past. In 2003, Bryant was charged with raping a 19-year-old woman. The charges were dropped when the woman decided not to testify after her name was released to the public and she faced bullying and threats. Bryant eventually reached a settlement with the alleged victim and acknowledged that while he viewed the incident as consensual, she may not have.
There's no doubt Bryant was loved by millions of people for his skills on the basketball court and some off-the-court ventures. He was a full-blown celebrity who played for one of the most famous basketball teams in the world, the Los Angeles Lakers. As a result, some of those who have brought up the rape charges have faced a backlash. But warranted or not, should that backlash extend to someone's employment?
The day Bryant died, a reporter for the Washington Post, Felicia Somnez, tweeted an online story from 2016 that discussed the 2003 sexual assault allegation against him. Unsurprisingly, the tweet was met with backlash online from fans of Bryant and others who may have felt the timing was inappropriate. The next day, the Post placed Somnez on administrative leave while it investigated whether her tweets violated its social media policy — which, according to the Post, stipulated that "We must be ever mindful of preserving the reputation of the Washington Post for journalistic excellence, fairness and independence. We consistently urge restraint, which is particularly important when there are tragic deaths." The Post also said that her tweets "displayed poor judgment that undermined the work of her colleagues."
Somnez's suspension raised the ire of many journalists who viewed it as a suppression of freedom of speech and the fact she didn't tweet anything that wasn't true or public knowledge. On Jan. 28, the Post reinstated Somnez, stating that while her tweets were ill-timed, they didn't violate its social media policy, CNN reported.
Another individual who faced consequences at work for a social media post about Bryant was Liza Sejkora, a high school principal in Washington state. According to CNN, Sejkora wrote a post on her private Facebook account on the day of the crash that said, "Not gonna lie. Seems to me that karma caught up with a rapist today." Shortly thereafter, online threats against her began coming in. Sejkora deleted the post and replaced it with one that said, "You are free to judge me for the post just as I am free to judge the person the post was about."
The school board placed Sejkora on administrative leave and she apologized the next day, noting that private social media accounts aren't as private as one might assume and it didn't set a good example for students — who she had warned about being careful about online posts. The school board accepted her apology and said it would support her in rebuilding trust with the community, but noted Sejkora's comments didn't "model a high standard for students."
Many people subscribe to the idea of not speaking ill of the dead, but many disagree and argue bad things they did should be glossed over. This can lead to disputes, but should it lead to consequences for someone's job? In both instances described above, the individuals posted to their own social media accounts as themselves.
On the other hand, both individuals were in some way public figures with higher standards of conduct and were inextricably linked to their employers, regardless of the fact they posted on their own social media accounts. Their online behaviour inevitably was linked to their employers — as reflected in the Washington Post's social media policy, which the newspaper reviewed before ultimately deciding its employee didn't violate the policy.
However, nothing posted by Somnez or Sejkora was untrue. Those who took issue with the posts felt they were ill-timed or were fans of Bryant who didn't like seeing the hard truth about someone they idolized. Should truthful posts online deserve sanctions at work, even if they make some uncomfortable? One could argue public figures with a high standard of conduct should be commended for not falling in step with those who would gloss over uncomfortable truths – this was the reason for the backlash the Washington Post faced from journalists after Somnez's suspension.
It's also important to note that both Somnez and Sejkora revealed they had experienced some form of sexual assault in the past, so it's understandable why trying to gloss over Kobe Bryant's history could strike a nerve with them. That could be seen as a mitigating factor if their posts were considered misconduct.
Ultimately, both suspension were administrative, not disciplinary, which means neither individual lost any pay — and the reporter Somnez was reinstated after her employer determined there was no misconduct. Sometimes the truth hurts — but sticking to it as a personal principle probably shouldn't amount to workplace misconduct, even if it might make the employer uneasy.