A collection of unusual and quirky stories from across Canada and the world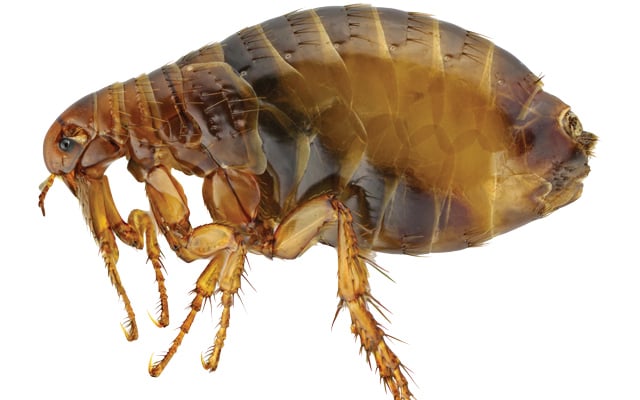 PESTY IN PARIS
PARIS — A police station in Paris was evacuated recently, but not because of any bomb threat or structural issues. The problem? A siege of fleas, according to a tweet sent out by the Alliance police union. The pests had "made working conditions intolerable," they said, according to CNN, and some officers sought medical treatment for multiple flea bites: "Worst still, some of these pests are likely to be brought back home, contaminating officers' families." Attempts at disinfection were "close to useless," said Yvan Assioma, the union's Paris regional secretary. "What is needed in order to control a flea invasion is to disinfect the whole building and even the cars of the people who work there. The higher authorities are putting Band-Aids on a wooden leg." In 2017, the same station had to be evacuated because of an invasion of lice and fleas.
FIGHTING WORDS
KENORA, ONT. — While battling a wildfire in British Columbia in 2017, an Ontario firefighter alleges his human rights were violated when he was not provided sufficient vegan food, according to the Canadian Press. Adam Knauff filed a complaint with the Human Rights Tribunal of Ontario over his treatment and subsequent suspension: "The Ministry of Natural Resources and Forestry discriminated against me and failed to accommodate my sincerely held ethical beliefs (creed) when it failed to provide me with food that accommodated my personal commitment to ethical veganism, and then disciplined me and suspended me because I attempted to assert my right to accommodation of that sincerely held ethical belief." But the ministry denied the allegations and said Knauff was sent home and suspended for three days without pay because of his "inappropriate, insubordinate, unprofessional and aggressive behaviour." He was also banned from fighting fires outside the province for the rest of 2017 and all of 2018. The government also said Knauff's "vegan status is a sincerely held lifestyle choice, but does not meet the legal definition of creed.''
TAKING THAT EXTRA STEP
CEDARTOWN, GA. — Home Depot employees went beyond the call of duty recently when they pitched in to help a family at one of their stores. Christian and Justin Moore have a two-year-old son, Logan, who has hypotonia, which impacts his motor skills. So Christian watched a YouTube video tutorial on how to make a gait trainer to help him walk, in case insurance wouldn't cover it, according to CNN. The family then went to a local Home Depot store and asked for help finding the parts. But instead of showing the way, employees suggested they leave — and go and have an ice cream while they put together the device, free of charge. When the family returned, the PVC walker was all ready, complete with Logan's name on it. "I couldn't believe they were willing to do that. It took everything I had not to cry because it hasn't been an easy road for my son. He has had a hard time doing things that would be easy for most children his age," said Christian. Home Depot employee Jeff Anderson later posted about the experience on Facebook: "Everyone was crying to see Logan walk around with the biggest smile on his face."
'JUST HAVING FUN'
LOS ANGELES — Not quite getting the message when it comes to sexual harassment — or not really concerned — billionaire Alki David admitted he used to walk around the offices without pants, along with playing adult movies for staff. David, whose family fortune comes from Coca-Cola, is an entrepreneur who runs several companies including FilmOn.TV Networks. Former employee Chastity Jones claimed she was fired for refusing to engage in sexual acts with David, and was recently awarded US$3.1 million in compensatory damages and US$8 million in punitive damages for sexual battery, according to the Sun. But David claimed he was "just having fun" at work, and would not pay. "I never ever, ever, ever have ever touched an employee of mine inappropriately."
RIG RESCUE
HAT YAI, THAILAND — Located 220 kilometres from mainland, workers on an oil rig don't often see many unexpected visitors. But recently they spotted a distressed "castaway" — a dog floating helplessly in the ocean. Photos taken by the oil rig workers show the hungry, dehydrated pup being hauled up to the rig by a rope and given food and water by the workers, according to Reuters. The pooch was later named Boonrod — a Thai word that translates to "the saved one" — and then transported to a boat that brought him to the port of Hat Yai. He was greeted at the dock by people showering him with pats and a garland.