A collection of unusual and quirky stories from across Canada and the world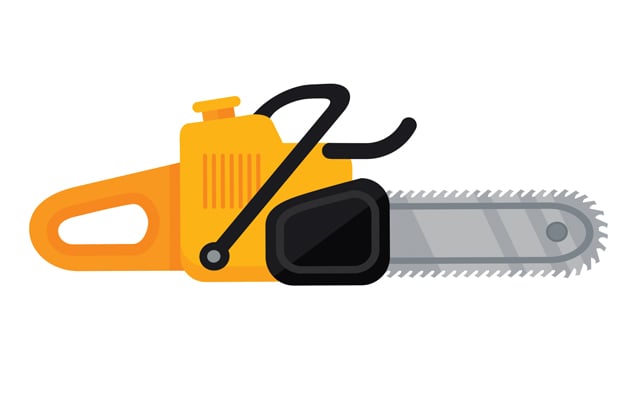 Runaway chainsaw
KITCHENER, Ont. — It has to be seen to be believed. Tree work almost turned fatal for two people working on branches in Kitchener, Ont. With both standing on a ladder, the contractor's chainsaw stuck in a branch suddenly came loose and swung precariously toward a woman on the ladder below, according to the Daily Mail. A video captures the terrifying incident, which resulted in no injuries, though a larger ladder knocked over by the branch hit the contractor on his helmet, knocking it off. "The ensuing chaos of falling chainsaws and rickety ladders is right out of Final Destination," says the videographer, referring to the horror movie. "There had already been a few near misses, so I didn't have a lot of confidence that the contractor knew what he was doing," says the observer. "He looked like he was in over his head."
No more donuts
MOJOKERTO, Indonesia — About 50 police officers in a province in Indonesia have been ordered back to the gym because they're considered overweight. The officers were given a two-week program of aerobics, swimming and jogging, according to Reuters. They were also given guidance on good nutrition. "Being overweight makes us less agile when we are on duty and we often fall sick," says Iwan Sutanto, an officer who lost about eight pounds during the program. "Body shape determines whether the officer is fit to serve the public," says Frans Barung Mangera, a police spokesperson. The force wants all employees' weight totals (in kilograms) to be their height (in centimetres) minus 110, he says. "We think all the selected personnel don't have the ideal body weight." The program is expected to be rolled out to other areas, meaning more officers will have to forego that second — or third — donut.
Suspicious bookings
RICHMOND, B.C. — For a lot of people looking to book driving tests online, the wait can be interminable. But one driving instructor in B.C. is alleged to have used hacking skills to skip the queue hundreds of times. Instead of the average wait of 70 days, the instructor booked appointments for his students in as little as two days, reports the CBC. "This type of activity is not humanly possible and is believed to be being completed by a computer program or BOT," said the search warrant, leading to an investigation of the instructor's home and computer records. It's believed a computer program was insinuated inside the Insurance Corporation of B.C. (ICBC) booking system to "auto block, release and book future road test appointments." At press time, the instructor hadn't been charged.
Viral vermin
TOKYO — Rats are generally the last thing you want to see at a place where you buy food. But employees of a FamilyMart convenience store in Tokyo probably have some work to do to get rid of the vermin after a viral video showed at least six rats doing some unauthorized shopping at one of the chain's locations, reports Reuters. "We deeply apologize for making you feel uncomfortable and uneasy," the company told customers after the video was seen at least five million times on YouTube. "We take this case seriously." The convenience store was shut down so workers could sanitize surfaces, as the critters were seen snacking on bento meals and rice balls.
Nervous pooch
GREENSBORO, N.C. — Generally speaking, flight attendants don't have to worry about dog bites while on the job, but that changed recently. During an American Airlines flight from Dallas to Greensboro, N.C., an "emotional" support dog became agitated and took a chomp out of a flight attendant, according to FOX8 News. "We need to make sure, as part of our caretaking for them, that we're not putting them in situations that they're not ready for and unprepared for," says Kat Carver, trainer at Saving Grace K9's, a Lexington, N.C.-based rescue dog shelter that provides training for support animals.
Rap regrets
NEW YORK — A racially charged rap video created by a police officer culminated in a hostile-workplace lawsuit filed against the New York City police department. Atisha Samuel joined the force in 2017, but soon after a video she made in 2016 surfaced — with lyrics that included: "It's the war against the white man on the beat — with his handguns, quick to pull out on a n—ga if he dare run." One officer interviewed by the New York Post reported he now didn't feel safe on the job. The suit alleges Samuel was told to "ask for forgiveness" by a union official and was brought into internal affairs where her loyalty was questioned.