Jump to winners | Jump to methodology
Training internally to combat talent shortages
Developing and furnishing employees with new skills is the goal of any progressive company. A significant part of that is determining how to deploy staff and train them in new areas.
Andrea Witkin, head of HR at ERA Architects, underlines how important learning and development is. "In a world in which good talent is scarce, there have always been two options for acquiring talent – buying talent externally or growing talent internally. Growing talent should most often be the preferred strategy so that internal staff have a bright sense of future."
"Exposing people to different paths to help them figure out what they want to do is greater for engagement and retention as well"
Christina Gialelli, TalentLMS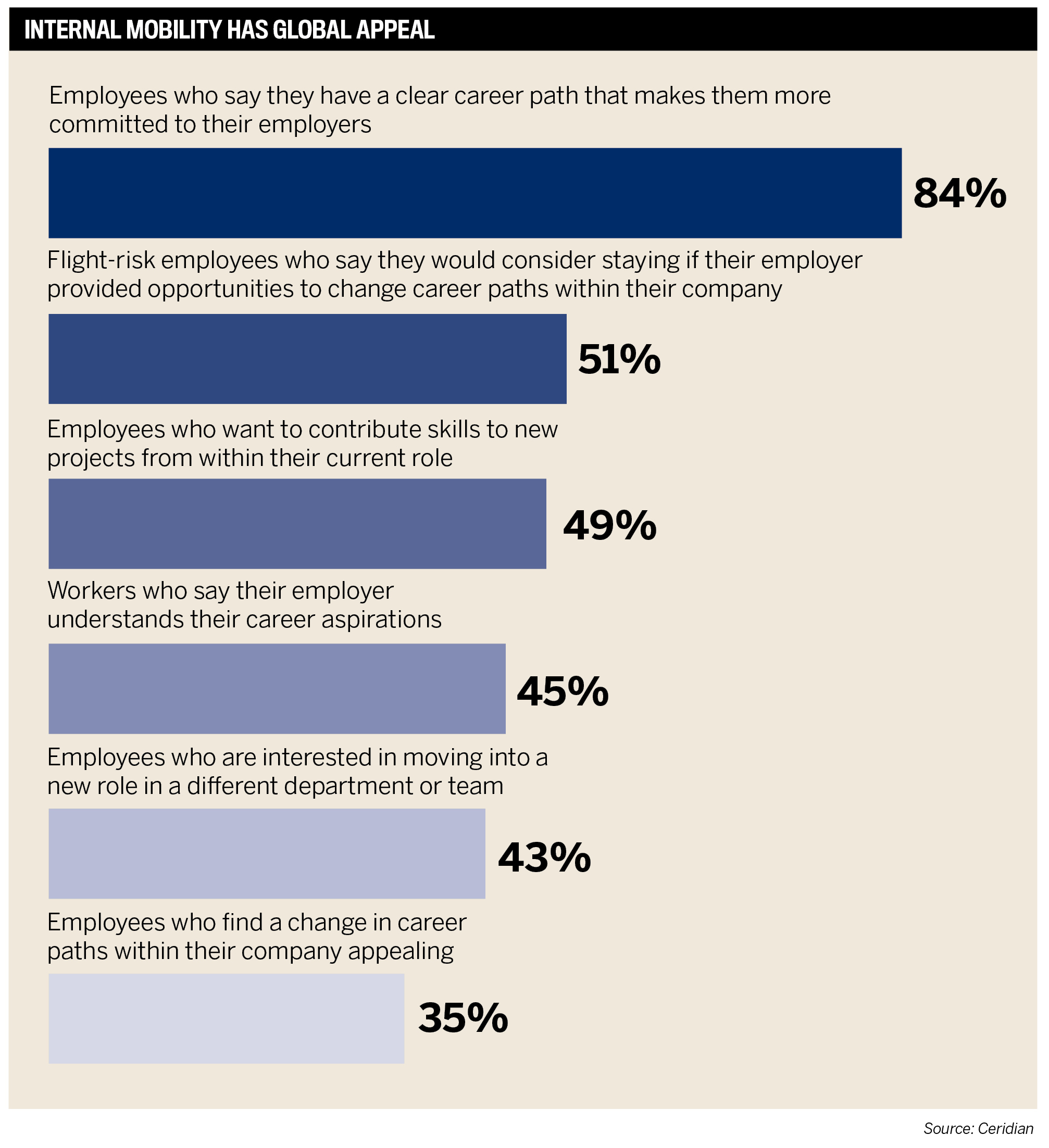 Canadian HR Reporter's 5-Star Learning & Development report is recognising the firms that lead the way in equipping their employees with the ability to perform better and also operate in new areas. Thousands of HR professionals were surveyed for their insights and views to determine the 15 winners.
Leadership and career development coach Teresa Duke adds, "The amount of knowledge your employees have is very valuable and you can save a lot of time and money by moving people with that domain expertise, as opposed to the amount of time you have to wait for onboarding or all the different things that happen when people come straight from outside."
Growing leaders from within
CCDI Consulting, a 5-Star winner, had been trying unsuccessfully to find additional senior people to join their inclusion, diversity, equity, and accessibility (IDEA) firm. As a result, they decided to focus on growing people from within.
"We made a conscious effort to do knowledge transfer of some of our senior people, as well as opening up recruitment internally first," says COO Zakeana Reid. "We identified some vacancies and had a number of internal staff take that on, knowing that it was a big stretch assignment, and then providing that mentorship as well as the actual skill development that was needed."
This strategy is highlighted by Duke who frames the situation via the employee's eyes. "If I have the support of a coach or a mentor or program teaching me and understanding me as a person, I'm more likely to pay dividends. A big piece of motivation is solved when we're aware of where we are energized and we're doing more of that work."
CCDI wants the learning process to be ongoing, so employees are better prepared to grow and support the organization.
"Sometimes, the challenge is I don't know what I'm going to need in three years, and I think some of the skills I need to create may require three to five years. Sometimes you need that broad workplace experience just to get exposure," Reid explains.
When it comes to diversity, inclusion and internal mobility, employers need to build safe environments.
That's why CCDI Consulting offers several DEI instructor-led training courses that cover topics such as unconscious bias, microaggressions, cultural competence, inclusion, anti-racism, allyship and privilege, along with more specialized programs such as inclusive leadership, managing bias in hiring, and inclusive communications.
Reid adds, "Before you even get to targets around how many racialized individuals, how many women do we need to promote… you've got to create the environment to make it, to support it happening. That's where that learning and development and coaching and mentoring comes into play."
It's also about change mentality, says Reid, citing CCDI's use of the ADKAR model: awareness, desire, knowledge, ability and reinforcement.
"We've gone from that 'why' and we're really starting to push on the 'how' now: 'Here's how you can bring this to life in your organization. And here's how you can measure it, and here's how you can reinforce it.'"
"We made a conscious effort to do knowledge transfer of some of our senior people, as well as opening up recruitment internally first"
Zakeana Reid, CCDI Consulting
Explaining development effectively
The shortage of workers in Canada has exposed the significant value 5-Star winner The Humphrey Group offers employers.
The communications training firm's CEO, Bart Egnal, says training and development, new skills and career pathing are crucial to help people move internally and for businesses to thrive. To achieve this, The Humphrey Group identified three key skill sets, which it offers in training programs and learning experiences to employers across Canada.
The first is authentic leadership. "[It] is really essential to develop this self-awareness around… what you stand for, what are your values and where do those align with the company that you're in? Finding that ability to own leadership and speak about it is really essential," says Egnal.
The second skill set is to be able to lead inclusively.
"There's a huge push for diversity in the workplace, but then you get diversity and people leave, they're not heard, and often they complain of feeling tokenized. So I think we owe it to them to get the most out of the organization and talent to not only be able to ensure that all voices are heard, to ensure that women, people of colour, people with disabilities – all can feel that they can speak up and be recognized and have their voices matter. And that's not easy for leaders."
The third category is delivering clear and compelling messages, a primary focus for The Humphrey Group. The issue is pertinent as previously, executives had one staff presentation to do but now have a multitude of commitments such as conference calls, Zoom meetings and internal messages on Slack.
Egnal explains, "The frequency of communication, it's so much higher. But the pressure on you in those is to be clear and explain and translate the complexity of business and government or whatever organization you're in… into something clear for your audience has never been greater."
And underlining how fundamental L&D is, he adds, "It's a heck of a lot cheaper to invest in those people so they're engaged and they stay, than going to find new ones. The cost of turnover is high so just on a pure retention basis, that's key."
"It's a heck of a lot cheaper to invest in those people so they're engaged and they stay than going to find new ones"
Bart Egnal, The Humphrey Group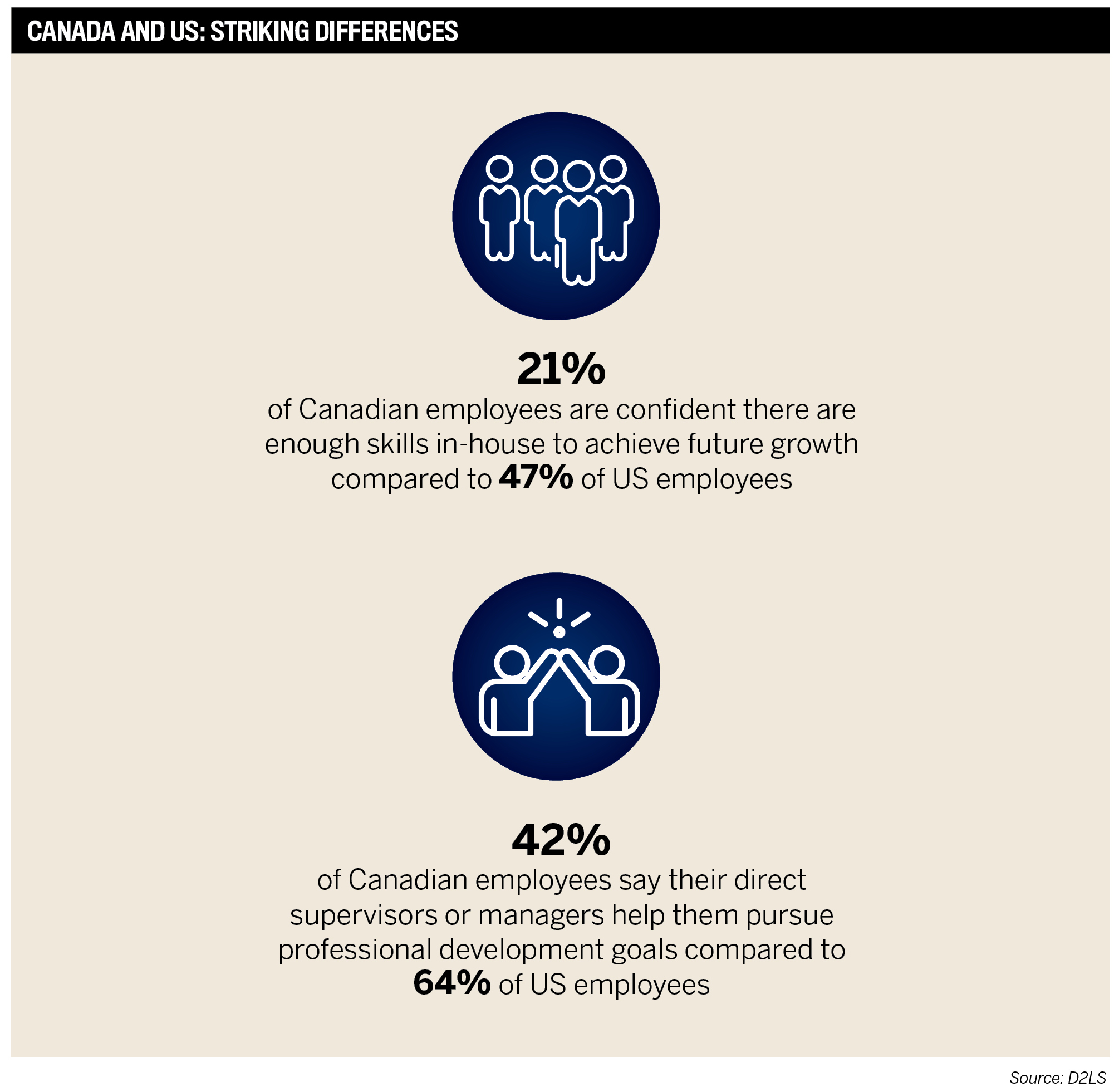 Interactive teaching
TalentLMS has created its own training platform, which offers several products designed to be engaging and short.
They include TalentCards, a high-tech version of flashcards to support micro learning, and TalentLibrary, which has over 600 courses on a range of skills training.
"They're short, they're animated, they're interactive, and they are made up of many lessons, between two and three minutes each, to make sure that the learner stays engaged and it helps with content retention," says director of people Christina Gialelli.
The firm's platform is particularly powerful given the current tight Canadian labour market. A recent Ceridian survey of nearly 9,000 employees in eight countries (including Canada) revealed that among flight-risk employees, 51 per cent would consider staying if their employer provided opportunities to change career paths within their company.
Gialelli says, "It's tough out there — it's tough to find talent, it's really, really difficult to find the right candidates; it is getting really expensive to hire and onboard people. And, of course, people need to have a path to be able to do different things, try different things."
Too often, organizations are focused on external hiring when they may have the talent within their workforce already, according to Gialelli, "especially when you're rapidly growing and when you're a relatively small company, you just assume that you don't have the talent you need within and you're looking outwards."
In addition, growing upwards with an employer is not always an option, so it's important for employers to offer different skills, she says. "Exposing people to different paths to help them figure out what they want to do is great for engagement and retention as well."
Employee development can range from cross-training to mentorships and job shadowing, and the types of skills most in demand include communication and collaboration, along with leadership, according to Gialelli.
In conclusion, Witkin pinpoints the areas firms should focus their L&D efforts going forward. "Digital and technical skills are highly prized. Project management skills are also critical. Additionally, many personal competencies and traits are now being sought by organizations, including the ability to deal with ambiguity, business transformation, and manage personal stress and workloads."
L&D Training Providers
CareerJoy
Cornerstone
Crucial Learning
GEVC
HRdownloads
LHH
McLean & Company
Okanagan College
Skillsoft
The Humphrey Group
Workplace Law Consulting and Training
Learning Management Software
Ceridian Dayforce
Cornerstone
Docebo LMS
Eloomi
HRdownloads
Litmos
McLean & Company
Moodle
Talent LMS
Workday
During a 15-week process, the research team conducted one-on-one interviews and surveyed thousands more within its network to gain a keen understanding of what HR professionals think of current market offerings.
Participants were first asked about which features of L&D platforms and training providers they thought were most important, and how the L&D service providers they dealt with rated based on those attributes.
In the L&D training provider category, the nominees were ranked on the basis of quality and breadth of content, learner engagement, user experience, value for money, and learner outcomes.
Across the criteria for the LMS provider category, the winners scored highly on factors such as ease of use, ease of integration, technical support, platform features, management reporting, and value for money.
At the end of the research period, the providers that received the highest rankings were named 5-Star L&D winners.