Jump to winners | Jump to methodology
Beyond what's 'nice to have'
When it comes to workplace benefits, personalization is so important these days as individual employees at different life stages want different things, according to Daneal Charney, fractional vice president of people and leadership coach for high-growth technology companies.
"Whether that is compensation, it could be more work-life balance, it could be more connections with their peers — it's really important to understand what drives each individual, as well as overall."
That's a concept Canadian HR Reporter's Best Places to Work 2022 winners have captured — offering employees a wide range of rewards including unique retirement plans, compressed work weeks, on-site childcare and personal use of vehicles. Summing up that mindset is winner Citadel Mortgages' principal broker and managing partner Tristan Kirk who says, "We're only going to go as far as our people take us."
"We've recognized that working from home is no longer a 'nice to have' but it is now a 'need to have"
Laura Salvatore, Centurion Asset Management
Consequently, employers are reacting to the sentiment borne out in a recent survey by Willis Towers Watson that finds companies are changing their rewards to meet the challenge of the labour shortage. A majority are focusing on the compensation side, with more than three-quarters offering higher salaries, sign-on bonuses and retention bonuses.
In addition, 84 per cent are increasing flexibility in where and how employees work, while 55 per cent are increasing training opportunities.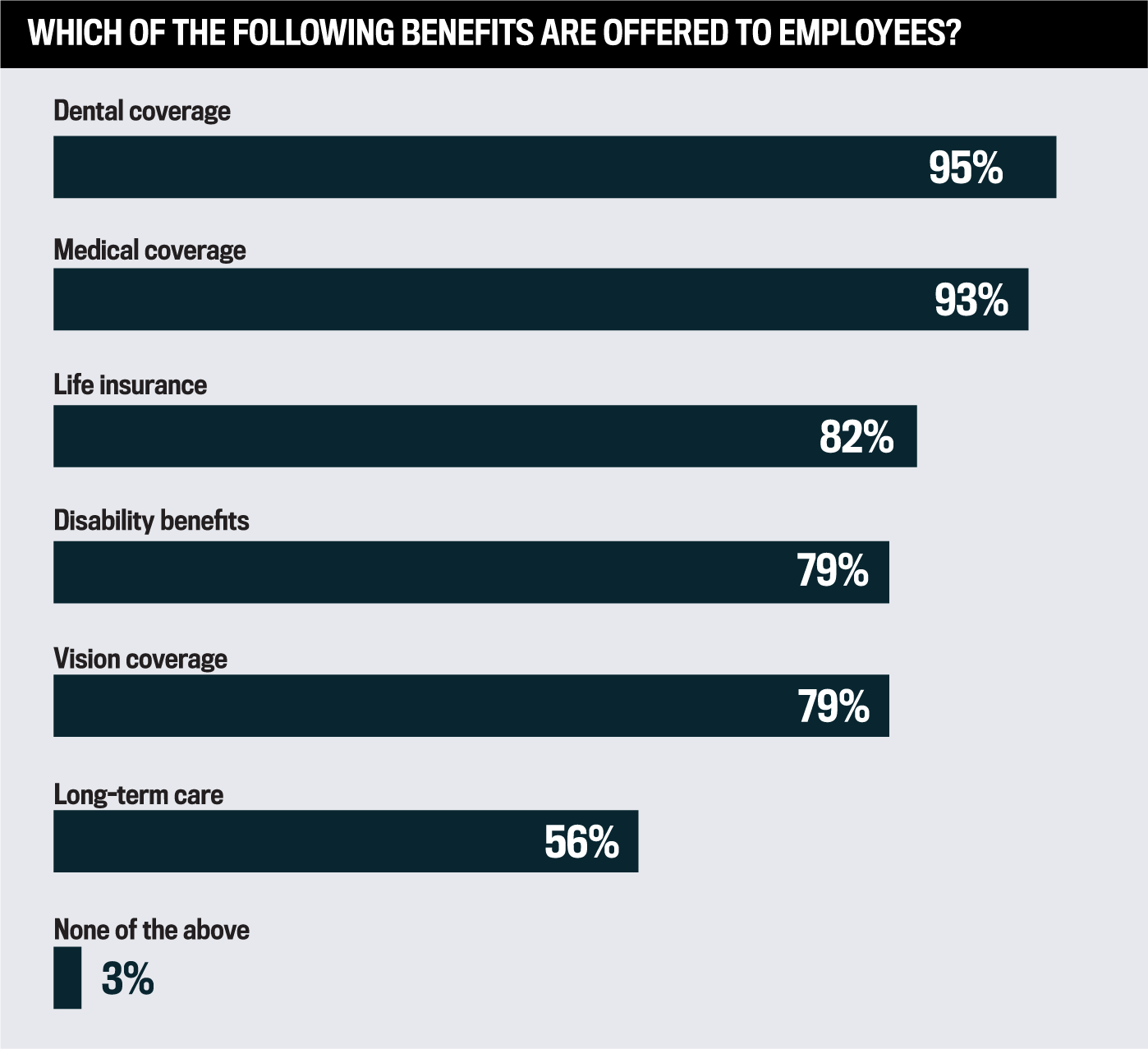 The search for work-life balance
Centurion Asset Management is focused on reviewing and adjusting benefits to make sure it stays not only relevant but competitive as an employer, says Laura Salvatore, vice president of human capital in Toronto.
"People have taken the pandemic to reprioritize what they value in life and seek out other activities that they find meaningful," she says. "Many of the questions that we get asked in interviews now are around how we, as an employer, promote positive work-life balance: Do we offer employees personal days? How many vacation days can they expect to receive? Is the work schedule flexible?"
In surveying employees, Centurion found that 30 per cent had moved outside of the Greater Toronto Area during the pandemic, while having more family members in their homes.
"While they may have been able to commute into the office five days a week before, their needs from us as an employer had now changed," says Salvatore.
Now, staff are asked to work in the office two days per week.
"We also enabled them to create the schedule that works best for themselves, accommodating their personal commitments and obligations. Given this, employees can choose what days they come in each week as well as what hours they work," she says.
"We've recognized that working from home is no longer a 'nice to have' but that it is now a 'need to have,' with talent coming to expect it from top employers."
The company has a strong commitment to creating a welcoming culture, whether in the office or remotely. Each employee is provided with diversity and inclusion training as well as unconscious bias training, as the firm wants to ensure "all employees are made to feel that they belong — regardless of gender, age, sexual orientation, race, ethnicity, religion, nationality, marital status, and family status," says Salvatore.
To strengthen its open-door philosophy, Centurion also offers employees access to TinyPulse, an anonymous feedback tool to provide suggestions, all of which are personally viewed by Salvatore.
"Whether it's onsite working cross-functionally, attending a virtual development opportunity, being a mentor beyond borders… we'll support our employees in doing what they love"
Lauren Small, Town of Innisfil
Flexibility comes first
Another Best Places to Work winner, the Town of Innisfil also offers several flexible work options, according to Lauren Small, people and talent leader at the municipality.
These include flexible start/finish work hours, a shortened work week (with fewer hours and less pay), a compressed work week (with the same hours and full pay) and work from home up to four days per week.
"COVID has changed the nature of work with 'where we work' being one of those examples of Innisfil taking an agile approach, with a plan for continuous feedback for a variety of flexible work arrangements, including a hybrid model," she says.
In the interest of work-life balance, employees have several options, including an earned days off program and a holiday closure flex bank option (up to three days). A self-funded leave also gives employees the opportunity for personal and professional growth, or to attend to personal obligations. Going even further, staff are entitled to discounted daycare on "campus" plus personal use of Town-owned vehicles and paid moving expenses for select roles.
Two years ago, flexibility was somewhat important; now, it's a "non-negotiable deal breaker," says Charney.
When candidates are turning down offers, it's often because they think, "This organization offers complete remote versus I have to come in three days a week," he says. "So when employees mean flexibility… they want flexibility for where they're going to be working [and] when and how they're going to be working."
Compensation considerations
At Canadian Appliance Source, the benefit plan is completely employer-paid, aside from insurance premiums, but more changes are planned, according to Diane Mohabir, senior human resources manager in Mississauga, Ont.
"We want more flexibility with that because people need different things at different points in their life. So now, it's not going to be a blanket benefit plan going forward; we're going to actually allow them to choose what they think is relevant for themselves."
Canadian Appliance Source is also very competitive when it comes to the market and wages and benefits, she says.
"We are incredibly active when it comes to reviewing compensation... Every quarter, we're reviewing market assessments. I'm looking at the different regions, I'm looking at cost of living to make sure everybody's up to par. We did a cost adjustment three months ago, actually, for some of our frontline workers. So it's [about] constantly reviewing and being proactive on that."
And for more senior roles, there's room for negotiation such as extra vacation time, according to Mohabir.
"We're very unique, we're more tailoring to the employee."
Economic security is a main priority for workers these days, and people are getting smarter about their compensation — especially senior leadership, says Teresa Duke, people, culture, talent acquisition and learning consultant in Vancouver.
"Even questions around stock options have become more sophisticated, which has been fascinating to see because many stock options of companies that are about mid-size might have taken a different outlook than they did perhaps nine months ago," she says. "But, of course, salary is very, very important to people too."
"One of our core values is to unleash the power of our people, and that's something that we put top and centre"
Tristan Kirk, Citadel Mortgages

Boosting benefits
Citadel Mortgages agents are offered "huge incentives" based on their performance, along with travel rewards, hotel gift cards and vacation packages, according to Tristan Kirk.
"People are looking for additional opportunities to make revenue, while getting their own personal time back."
The company has also created specialized plans for older brokers, he says.
"We made a retirement platform that pays on their business as they transition into retirement; and when they die, it pays for two years to the beneficiary on the book of business."
The company has created "cool" programs and platforms to help staff, says Kirk.
"There really is no reason to go anywhere else to be getting the training, if you're being transparent and you have the additional revenue streams, and minimum costs — those are all things we looked at as being competitive within the market."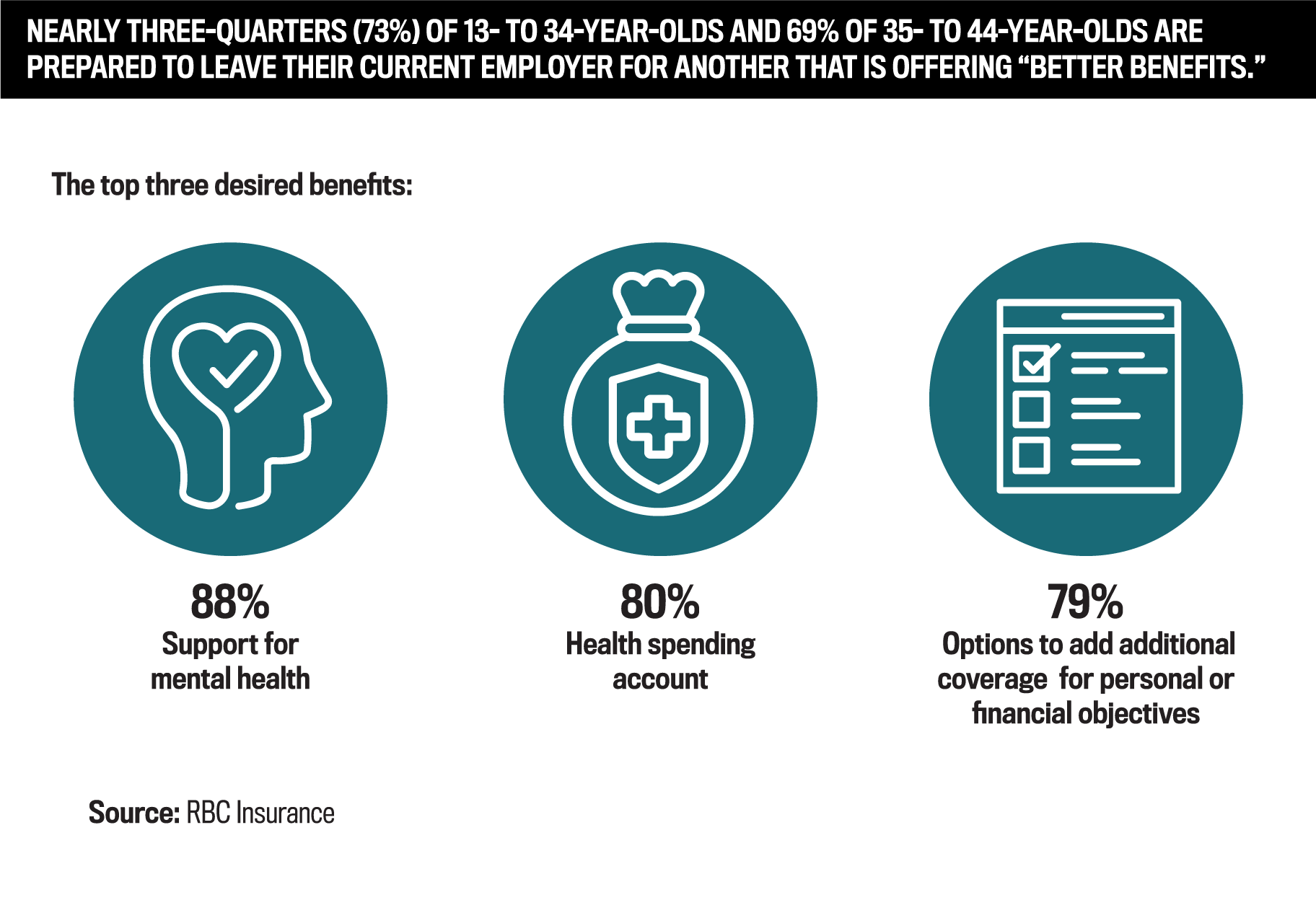 Upskilling for growth
As a learning organization, the Town of Innisfil offers extensive opportunities for personal and professional development, according to Small.
"Whether it's onsite working cross-functionally, collaborating with our partner organizations, attending a virtual development opportunity, being a mentor beyond borders through our mentorship program, utilizing our learning and development policy, we'll support our employees in doing what they love."
At Centurion, employees have expressed a desire to challenge themselves, and to perform what they consider more meaningful work, says Salvatore.
"They have started to re-evaluate what they want to be doing in terms of work. While total compensation is still a great consideration for everyone, employees now want to see how their work directly contributes to the overall success of the organization; they want to do work that they feel has a real purpose."
As a result, they're looking for opportunities to grow and expand on their existing skillsets and knowledge base.
"Things like stretch assignments and job shadowing are being made available to our employees, as well as people manager training sessions focused on equipping our leaders with the skills they will need to better support employees today," she says, citing a recent three-hour training session on employee emotional and physical wellbeing.
A great company will only go as far as the leadership team, says Kirk.
"One of our core values is to unleash the power of our people, and that's something that we put top and centre. [That means] we have to find out where these people fit, what they excel at, and offer the mentorship and leadership to help them excel to get to that next level."
For an organization to see internal growth and a strong culture, it has to gather great ideas from staff, he says.
"You have to be able to empower them to showcase that, you have to have the time to coach and develop and have a strong team in place to help them feel comfortable doing that. That's something that we've done from day one."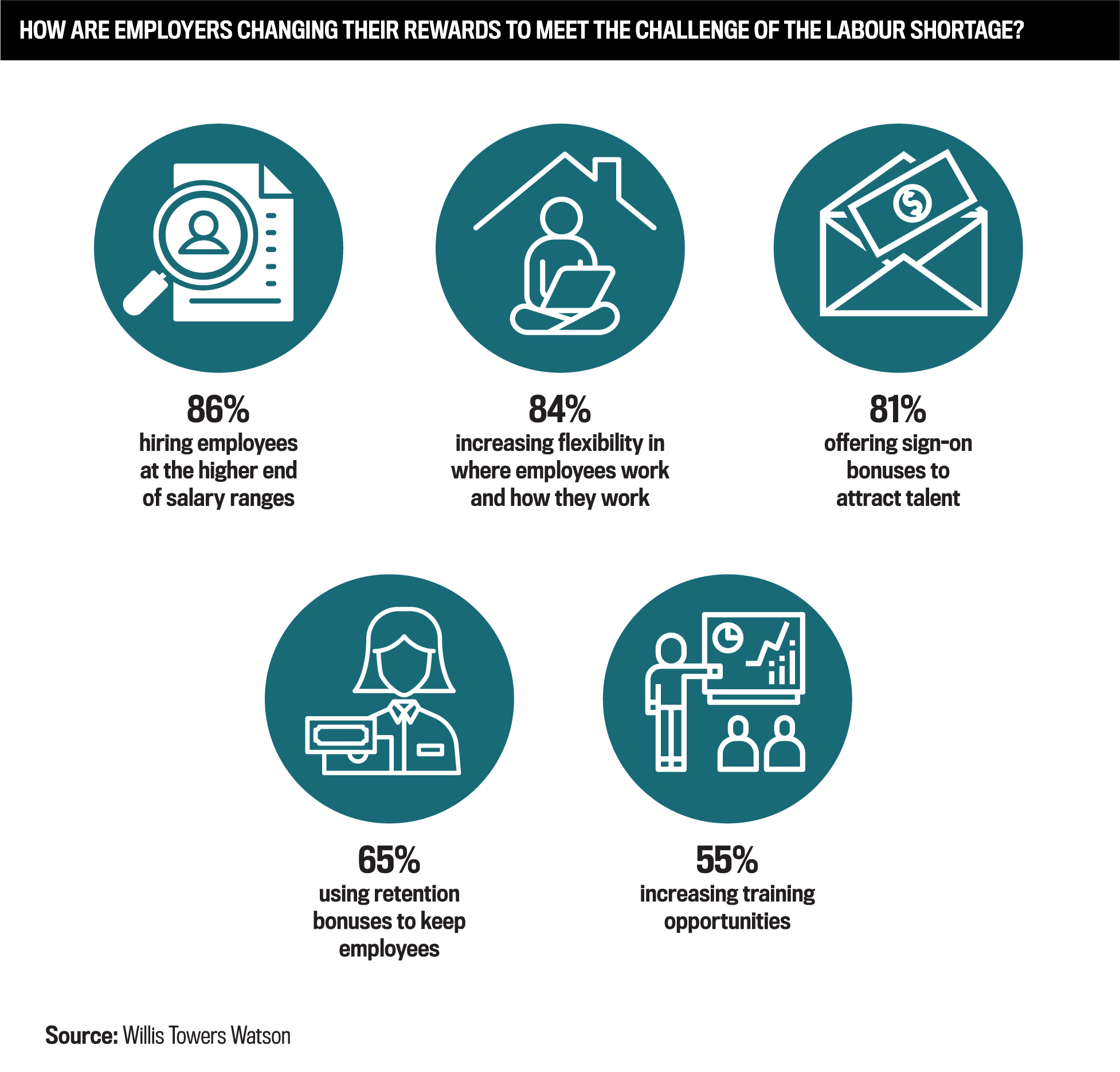 501+ employees
Microsoft Canada
Purdys Chocolatier
101–500 employees
Centurion Asset Management
Coast Mental Health
MAD Elevator
McLeod Law LLP
Silvera for Seniors
Town of Innisfil
26–100 employees
Canola Council of Canada
Carbert Waite LLP
Conwest Developments
Omron Canada
PACE Consulting Benefits & Pensions
Signode Canada
Xeva Mortgage
10–25 employees
Citadel Mortgages
HORN Sales & Leadership Development
Inspired HR
Next Wave Insurance Canada
The entry process comprised two steps: an employer submission followed by an employee survey. First, organizations had to complete an in-depth questionnaire looking at key factors such as employee engagement, turnover rates, average tenure of staff, compensation and benefits, health and wellness programs, diversity initiatives, professional development, corporate culture, flexible work options, reward and recognition, and green programs.
Companies that successfully completed the submission phase were then sent a link to an online employee survey to be circulated internally. To ensure the integrity of the data collected, employees were requested to provide their company email addresses.
To be eligible for the Best Places to Work recognition, organizations had to meet a minimum number of responses based on company size: 1–99 employees = minimum of 10 responses, 100–499 employees = 20+ responses, and 500+ employees = 50+ responses. The survey asked employees to rate their company across a range of metrics that constituted drivers of employee satisfaction. An employer needed to achieve an overall satisfaction rating of at least 75% to be recognized as a Best Place to Work.
This special report is supported by the International Personnel Management Association of Canada.