Panel addresses technological changes within profession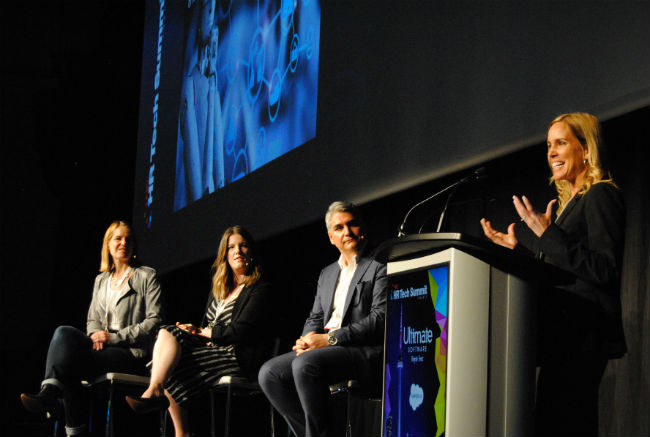 While HR professionals may be late adopters to the latest cutting-edge workplace technologies, the time to embrace change has come, according to experts.
"Disruption is here; it's here and we do have to embrace it," said Gillian Hynes, senior talent adviser at Royal Dutch Shell in Calgary.
"We need to leverage the systems that we have to curate talent differently and to bring work to people and people to work in really different ways. That's where we need to head."
While humans will always be part of the work equation, the capabilities of HR need to shift to include — at a minimum — a basic understanding of digital literacy in terms of the future of work, she said.
Hynes was speaking as part of a three-person panel on technologies effect on the profession during HR Tech Summit Toronto 2019, hosted by Key Media International (publisher of Canadian HR Reporter) on June 18 and 19.
"At first glance, disruption can seem very negative," according to Matthew Lombardi, head of external talent solutions at BMO in Toronto. "There's a high level of anxiety and a high level of fear that comes with it."
"The key is: How are we managing that? What's the change management that goes behind that? How are you equipping the workforce to understand why we're doing this?"
HR needs to shift the conversation around technologies away from fear towards the benefits ahead for the employee experience, he said.
"It's in people that we're transforming companies," said Lombardi. "When you think about that, how are HR technologies going to help facilitate that?"
HR professionals need to ensure employees understand how they best fit into the future of work narrative, said Alison Mutrie, vice-president of HR process and digitization at Loblaw in Toronto.
"Change is hard, especially when it's emotional — especially when there's this fear that might go with it, if it's not positioned properly."
Alongside creating a vision for employees, HR needs to simplify its technology systems and use them to create efficiencies and empower workforces, she said.
Choosing technology
With so many HR tech options now available, choosing where to invest is very important, said Mutrie.
"Ensuring that foundation is right, so you have something to build from is critical," she said. "Rather than letting the technology drive the process, figuring out where it is that you want to influence the technology to meet your needs is important."
A holistic strategy and clarity on desired outcomes will prevent a patchwork system that could result from picking technologies at random, said Mutrie.
Alongside senior leadership, HR need to decide where their organization is heading, and choose the areas where it is necessary to differentiate from the market, said Hynes.
Getting advice from peer networks on what companies are currently implementing is a helpful navigator, as is testing options through pilot projects, she said.
"It makes it a little more palatable and bite-sized. You can test out what works and what doesn't work before you do something more broad."
Sometimes, it still comes down to simply taking a chance, said Lombardi.
"Start somewhere. Many times, we look at this large ecosystem and go, 'I have to fix everything all at once.' And that's pretty challenging for big organizations."
Partnering with start-up companies that are experimenting in machine learning could be beneficial for fine-tuning products and processes, he said.
"Many large organizations may think they know everything, but (they) don't," said Lombardi. "It's about partnering with companies that are pushing the boundaries of AI and machine learning."
Presenting a business case showcasing financial gains or a boost in employee experience would be helpful in terms of gaining senior leadership's support, he said.
What lies ahead
The possibilities in technology through artificial intelligence (AI) are incredible, said panel moderator Julie Hubert, CEO and co-founder of Workland, an employment agency in Montreal.
"We're really at ground zero of AI," she said. "A lot of the potential of what AI can do lays in the future and we're working on it today to take it to that next level."
HR is still in "assisted intelligence" mode, where AI is being employed to reduce large swaths of repetitive work, said Lombardi.
But as AI adoption increases, it's important that humans continue to have a place when it comes to judgment and decision-making, he said.
"As we evolve the practice of HR in this AI space, things like being custodians of ethics in our corporations will always remain human," said Lombardi. "We should be very protective of that."
"I truly believe that things like judgment and decisioning will always remain human and should always remain human."
And while it is difficult to prepare for an unknown future in which the majority of jobs are not yet created, it must be done, said Hynes.
"It's not just incumbent on organizations to reskill," she said. "It's really about partnership and collaboration between government entities, post-secondary institutions and organizations to help make some of these shifts."
Keeping employees front of mind through this revolution is paramount for HR, said Hynes.
"We touch every single thing in our organization, from payroll to leadership development. We need to have employee centricity at the front of everything that we do, because we are here to help simplify, and amplify employees."
It's on HR to lead the way in terms of coaching, challenging and supporting leaders to understand disruption and embrace change, she said.