Supporting the mental health of employees through transition is about more than offering short-term solutions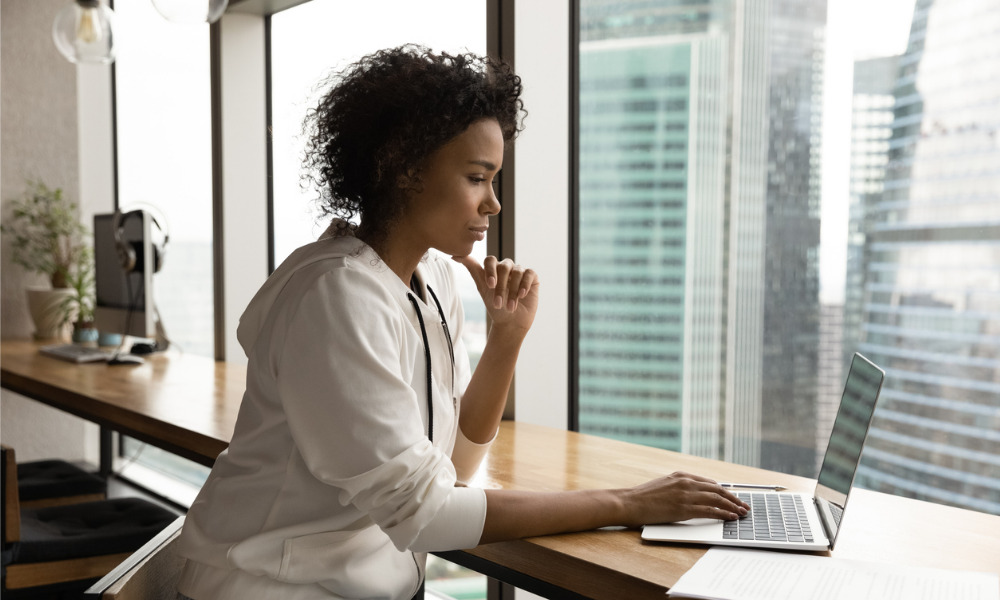 If there's one question on every HR professional's mind these days, it's how to support the mental health of employees as offices reopen and life returns to some semblance of "normal."
The past year and a half has been a whirlwind for workplaces — quickly shifting operations to the home, keeping disparate workforces connected and making in-person workplaces safe for employees. It's tempting to think that we've reached the other side of the crisis as vaccination rates increase and more co-workers come together in person.
But the mental health impacts of the pandemic on employees aren't letting up.
According to a recent survey from Ipsos, 56 per cent of employees say that they're still feeling stressed due to COVID-19, with 44 per cent stating that their mental health is currently in a poor state. A poll from May 2021 by Robert Half found that 44 per cent of professionals are experiencing burnout on the job (up 34 per cent from a year ago) — with remote workers feeling particularly fatigued.
Add to this the mental load of navigating new work arrangements, uncertainty around school safety measures and the threat of the Delta variant and it's no wonder that employee mental health is trending low.
So, what can employers do to keep their employees mentally healthy through another year of changes and unknowns?
According to Luke Vigeant, President and Co-Founder of Inkblot Therapy, an online therapy and EAP platform with a client satisfaction score of 95 per cent, finding a long-term supportive mental health partner is key.
"Employers need to be offering consistent, personalized mental health support for their employees as they navigate the year ahead," says Vigeant. "For more than a year and a half, employees have been asked to manage change, transition and uncertainties related to COVID-19. Living in this state of chronic stress has serious mental health consequences. But traditional EAPs typically just offer short-term Band-Aid solutions. For the pandemic's ongoing challenges, that's simply not enough."
"Traditional EAPs typically just offer short-term Band-Aid solutions. For the pandemic's ongoing challenges, that's simply not enough."
Inkblot is committed to providing accessible, affordable access to effective mental health care to employees in the long-term. While typical EAPs often come with cumbersome barriers to care access — requiring policy numbers when seeking mental health support and sometimes taking weeks to match employees with the first-available mental health professional — Inkblot makes sure employees are quickly matched with the best-suited counsellor for them. Employees can then book a first session via video, phone or in-person, typically within 24 to 48 hours.
"When someone is struggling with mental health issues, we know that getting support quickly can be critical," says Vigeant. "At Inkblot, whether accessing online, through our app or through our 1-800 number, employees don't need their policy number on hand. We'll connect you with a mental health professional for your first appointment within 24 to 48 hours."
Beyond that, Inkblot is committed to ensuring that employees have access to quality care consistently over time. Using its unique proprietary matching system, Inkblot works to match employees quickly with the best counsellor to suit their needs and preferences — and makes it easy for employees to continue receiving quality care for as long as they need it. This is particularly important as workforces continue to navigate the ongoing impacts of COVID-19, stresses Dr. Rachel Toledano, Vice President of Clinical Services at Inkblot.
"Prevention, continuity of care and proactivity are key components of therapeutic success when it comes to good mental health," says Toledano. "The psychological impacts of the pandemic are ongoing and serious. This has been a collective traumatic event. In order to address the mental health pandemic and avoid more employee burnout and mental illness, we need to ensure employees have access to consistent, longer-term and effective quality care."
Inkblot provides this by sharing mental health training opportunities to employees and managers, regular mental health articles and resources and even specialized COVID-19 healing groups where employees can process grief and build resilience through change. Most importantly, at Inkblot, clients can continue their relationships with therapists even after reaching the maximum number of sessions sponsored by their employer. This deviates from the randomized matching and short-term solutions traditional EAPs offer.
"It takes time to build a trusting relationship with a counsellor. Even when employees have reached the maximum number of sessions, we make it easy to move coverage for future sessions with the same counsellor to the employee's health benefits or health spending account," says Toledano.
While the future of the pandemic remains unknown, the pressure on employees to navigate new changes and uncertainty is inevitable. But with the right mental health partner, HR professionals can breathe a sigh of relief in knowing their employees are supported.
"We're here to support employees through whatever lies ahead and we're here for them on a daily basis," says Toledano. "Having ongoing care through a counsellor you have a strong therapeutic alliance with, through resources and encouragement in the workplace — that's all key to building resilience through this time."
For more information about Inkblot's individual counselling and EAP offerings, visit https://business.inkblottherapy.com.