Alberta court looks at COVID-related unpaid leave of Loblaw worker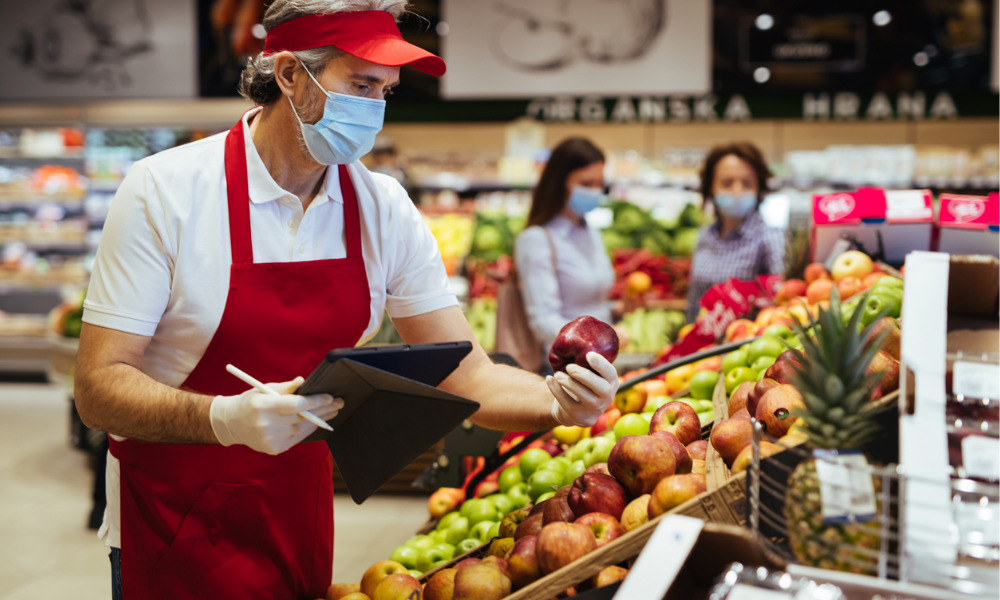 Michael Benke began working for Loblaw as a part-time employee in 2002. He eventually became a full-time worker and rose through the ranks until he was a customer experience specialist for produce by 2020.
But when the COVID-19 pandemic hit, his employer brought in a masking policy and when Benke didn't comply, he was placed on unpaid leave.
The worker then brought about a constructive dismissal claim but fortunately for Loblaw — and other employers — the Court of Queen's Bench of Alberta disagreed in a recent decision.
This is one of the first decisions related to a masking policy that doesn't involve a union environment or human rights concern, says David Price, an associate at Stikeman in Calgary.
"The decision, I think, is important from the perspective that we finally have an authority out there saying… that a mask policy that has carveouts for accommodations for human rights considerations like medical or disability, religion, will be something that's reasonable, something that the courts will not consider to constitute constructive dismissal on its own."
The July 5 decision should give employers a certain comfort with respect to the policies many of them implemented back in 2020 and 2021, he says.
"They're going to have some comfort that there are, at least according to this decision, no adverse consequences."
It's good to see a court uphold management's and employers' right to manage their workforce by way of appropriate policies, says Dana Kiefer, an associate at Lawson Lundell in Calgary.
"We're seeing these cases work their way through the legal system after a couple of tumultuous years with respect to COVID and workforce policies. So it's nice to see that an appropriately drafted and communicated policy that does not create a substantial change in an employment relationship, such as a mask policy, will be upheld by the court."
Masking policy leads to unpaid leave
Benke oversaw the produce and floral departments at 61 Superstores in Alberta and British Columbia. He was provided with a company car and required to drive more than 28,000 km annually for his job. The position involved both remote and in-store work.
When the pandemic first hit, he worked remotely for a few months and then resumed his store visits. In July 2020, the Calgary passed a bylaw requiring people in public premises to wear a mask to mitigate the spread of the virus.
Benke's family doctor provided him with a certificate stating he was "unable to wear a face mask… due to illness" but provided no further explanation. Loblaw accepted the medical note and Benke continued to work without a mask.
But the company then brought in its own masking policy with exemptions for medical conditions or disabilities. When Benke returned an exemption request form, the doctor again said he was unable to wear the face covering, but crossed out the words "due to the following medical condition/s or disabilities."
The doctor later stated: "There are very limited reasons for people to be exempt from wearing masks in indoor public places at this time. Unfortunately, Mike does not fall into one of these categories."
As a result, Benke was placed on unpaid leave on Dec. 3, 2020; he then asserted that he had been constructively dismissed because Loblaw failed to accommodate his disability by providing alternate modes of working such as part-time work, remote work or different responsibilities.
In looking at the standard for constructive dismissal, Justice Colin Feasby referred to the 1997 decision Farber v Royal Trust Co and the 2015 decision Potter v New Brunswick (Legal Aid Services Commission).
These state that the court must determine if an employer has imposed unilateral, substantial changes that constitute a breach of the employment contract and if a reasonable person would feel that the breach substantially altered an essential term of the employment contract.
Benke's lawyers contended that an unpaid leave constitutes a unilateral change in the employment relationship and a breach of the contract unless the employer has the right, explicitly or implicitly, to do so.
But the imposition of the mask policy at Loblaw was not a substantial change and did not breach the employment agreement, said Feasby in his decision: "The only thing that was different was that he had to wear a mask."
And while the unpaid leave was a substantial change to the employment relationship, it was not a breach of the employment agreement.
"The essence of the employment bargain is that the employee will work and the employer will pay. Given that Mr. Benke was not working by reason of a voluntary choice that he made… it was reasonable for Loblaw to not pay him."
Benke was put on unpaid leave because he would not perform an essential part of his duties, said Feasby.
"By refusing to comply with the mask bylaw and the mask policy, Mr. Benke repudiated his employment contract."
And instead of accepting his refusal to comply as a repudiation of his employment agreement and terminating his employment, Loblaw placed him on unpaid leave "which indicates an intention to continue the employment relationship," said Feasby.
Medical exemption and discrimination
The physicians that treated Benke were very careful to abide by the public health orders in place in the province at the time, says Kiefer.
"It seemed like the physicians were toeing the line in order to help their patients and maintain that treatment relationship, but also abide by the public health orders, which set out what the actual medical requirements were to qualify for a medical mask exemption."
And in order to prove a prima facie case of discrimination, you must show that you are part of a protected ground, she says.
"His inability to prove that he has a medical condition stopped that analysis and there is no duty to accommodate… It's nice to see, although it's certainly not the first time that a court reaffirms that there is no freestanding duty to accommodate."
A masking policy was implemented by various employers and was in line with what the public health authorities had either recommended or ordered in Alberta and British Columbia, along with municipal bylaw requirements, says Price.
"It was kind of a self-inflicted wound, if you will; the decision was Mr. Benke's to make that he didn't have an exemption. And because he didn't have an exemption, he was choosing voluntarily not to comply with a mask policy."
With the repealing of various COVID-19 mandates in jurisdictions across Canada, the requirement to wear masks has been lifted also. But does that mean they should be eliminated in workplaces too?
No finding of constructive dismissal
In looking at whether an employer has imposed a unilateral substantial change that constitutes a breach of the employment contract, there's been quite a lot of litigation over the years about what constitutes a substantial change, such as changes to compensation or work responsibilities, location or a poisoned work environment, says Kiefer.
"For example, if an employee had all of their direct reports shuffled away from them, coupled with a large reduction in annual salaries, loss of benefit, smaller office… a court would be willing to consider that substantial changes were made to the core of the employment relationship. But there's lots of gray area in some of the other cases and mask policies were one — and still might be one in different circumstances," she says.
"A key takeaway for employers is to have an appropriately drafted and considered policy and if there is a mechanism in that policy that allows for a suspension or an unpaid leave, it's important that that's handled with care. Anytime that an employee is out of the workforce and not receiving a wage, that can produce potential liability for an employer."
It's a twist on what we've often seen in the past, says Price. Typically, allegations of constructive dismissal arise when somebody's wages have been rolled back but they're continuing to do the work or they've had job duties taken away, so their role has been diminished.
"Very rarely have we seen cases where somebody's placed on an unpaid leave due to not wanting to do their job or complying with a specific policy, but it makes sense — at the end of the day, if you're not going to do your job, if you're not going to follow the rules and policies of the employer, you're not going to get paid to sit on the side and do nothing."
After a May 2022 ruling in a widely watched case regarding constructive dismissals and job-protected pandemic leaves was not heard, employers in Ontario were back to wondering just how certain future cases may be decided.
Repudiation of the agreement
In dismissing the constructive dismissal claim, the Alberta court went even further and said that Benke, by not accepting the mask policy, actually repudiated the employment agreement, says Price.
"So if Loblaw wanted to, it could have treated the employment agreement at an end right there, and effectively, his employment was terminated. And if it wanted to do that, there would have been no liability resulting from that."
But the company decided to place Benke on unpaid leave and keep him on its payroll until sometime in 2022, he says.
"That's actually an interesting nugget that's come out of the case… I'm not sure the court needed to decide that issue, but it ventured out there anyways, and said, 'Well, you know, putting people on notice, their employers may have the ability to simply treat the contract as repudiated in the circumstances where an employee's refusing to comply with the mask policy.'"
It was made very clear that the employee was placed on unpaid leave because he would not perform an essential part of his duties, says Kiefer.
"He would not visit stores because he was required to wear a mask in accordance with the employer's mask policy and mask bylaw, and it was his own refusal to comply with those requirements that resulted in the employee repudiating his own agreement."
However, in the case of Humphrey v Mene, the court was primarily concerned with whether or not the employer's conduct had effectively resulted in a repudiation of the contract, thus disentitling the employer to rely on it to their benefit.
Implications for vaccination policies
While this decision will be a useful precedent, it will be interesting to see how all this plays out when it comes to a mandatory vaccine policy, says Price.
"Terminating somebody on the basis of not wanting to be vaccinated, or flipping it around and saying, 'We accept the repudiation of the employment agreement because you refuse to be vaccinated' may be treated differently by the courts than the masking policy which, of course, is less invasive," he says.
"They're going to be very context-driven decisions, fact-based decisions that are going to have to look at what the employee's role is with the employer, whether there are alternatives available like remote work, how often or frequently they come into contact with their colleagues or members of the public, what the actual medical evidence may say about the risk of transmission or increased risk of transmission by virtue of somebody being unvaccinated, [public health orders]. Those are just some factors that I think are going to come into play there."
Are mandatory vaccination policies becoming less enforceable? Ontario arbitrator sides with union – but raises possibility 3-dose policy could make a difference.