'Different workplaces require different kinds of approaches'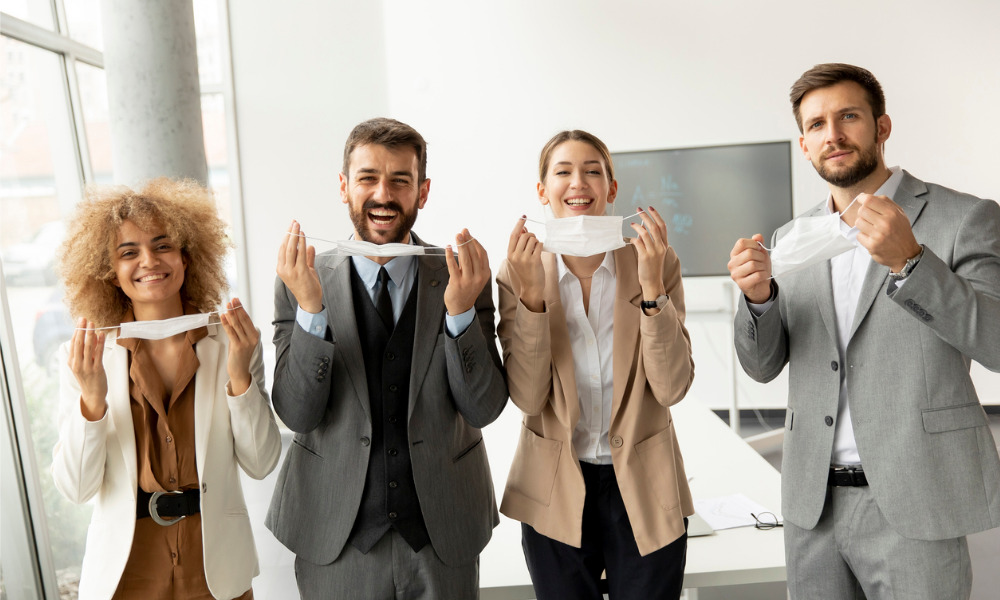 With the repealing of various COVID-19 mandates in jurisdictions across Canada, the requirement to wear masks has been lifted also. But does that mean they should be eliminated in workplaces too?
It's the old saying that "It really all depends," says Athanasios Makrinos, employment lawyer with Whitten and Lublin in Toronto.
"An employer has an obligation to secure the workplace under the Occupational Health and Safety Act," he says. "It's not a one-size-fits all… different workplaces require different kinds of approach."
It's less about good idea/bad idea and more about what makes sense for each employer "in order to reasonably protect their workforce," says Laura Freitag, associate at Filion Wakely Thorup Angeletti in Toronto.
"In some places and for some employers, it may be something that they can roll back because they have adequate social distancing, or they have good vaccination coverage in terms of their workforce," she says.
"[For] employers who have trouble social distancing or had frequent COVID outbreaks, it makes sense that they would be continuing the mask mandate in order to make sure their workforce is adequately protected."
Mask policies: Always be prepared
When coming up with a policy that works, employers will have to consider potential risks and pitfalls, not the least of which is potential future legal jeopardy, says Makrinos.
"You always want to shore up any liability you might have, whether that be with clients or customers that might be coming in and interacting with employees not wearing a mask and somehow get exposed to COVID-19; whether or not a possible legal act can stem from that. Or it could also be employees being exposed unnecessarily to risk — those are the big-ticket questions that are in front of us."
Read more: Recently, we asked five key questions around recalling laid off workers.
With new variants being reported in Europe, it's only a matter of time before they arrive on our shores, and employers should continue to keep abreast of what authorities are saying and be prepared to change at a moment's notice, says Freitag.
"For clients who are moving forward and deciding masks are no longer mandatory, we are advising that they continue to monitor what their specific public health authority is saying on this and also continuing to monitor what's going on in their workforce, whether they're having COVID outbreaks, whether people are developing symptoms," she says.
If the organization decides to draft a new policy around the mandates, it's crucial to design in flexibility, according to Makrinos, because the situation will inevitable change.
"You also want to draft it in such a way that it provides the employer some mobility to be flexible: give yourself a little bit of wiggle room to be able to be malleable and that it is compliant with whatever governing legislation might apply."
Potential conflicts
Once more people return to the office, will we see conflict play out such as what has happened on social media with both sides begrudging others for having differing opinions and behaviours?
Maybe, says Freitag but authorities have done a good job issuing guidance around this.
"Public health units have modeled some helpful behaviour for employers who are concerned about something like this coming up, which is to be clear that… an individual can make the decision to wear a mask and that people should be respectful of that choice and vice versa. Even if a policy is being dropped to mandate it, people should be respectful of each other's choices to do so."
Canadian HR Reporter recently spoke with an expert about how HR should handle disagreement around this.