How to make sure investments in group benefits are not lost on employees through ineffective communication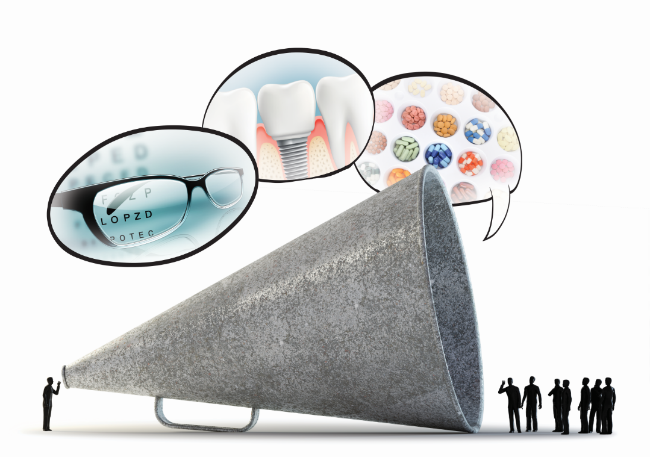 On the best day, understanding the full spectrum of a group benefits and retirement plan is challenging, even for the most engaged employees. But it's a substantial and necessary investment to ensure an organization is competitive for top talent and employees are healthy and productive.
Benefits such as health, dental, vision care, mental health, wellness, insurance, drugs and disability are all important forms of compensation to signal an employer brand cares about employees.
So it's worth your while to make sure employees appreciate the value of the things you cover — many will not know what their EAP covers or what "AD&D" is or how to save on pharmacy dispensing fees.
The problem is employers are often guilty of overwhelming their audience with information, so people are left feeling like they're drinking water from a fire hose.
Creating effective employee communications means thinking through who you're talking to, and what they can effectively absorb. After all, the benefits an employer provides to employees are only as good as how effectively their value is communicated to them. Consider the following:
Walk in an employee's shoes: Most employees, when asked how work is going, invariably, will answer "busy." And aside from lunch, the vast majority of workers' time will be spent on things their manager has tasked them to do: deliverables that are defined as part of their role, responding to emails, or attending meetings. And, often these items will take more than 100 per cent of their time, as a typical eight-hour workday is not enough to complete their tasks. So, how much time would they have to spend on HR's messaging?
TMI?: If employees are mostly spending their time doing their job, then what is competing for the tiny sliver of time they spend on "non-job-related" things? There's a large variety of important information employees face on a regular basis that is competing for this precious time, and many of them are related to their ability to effectively do their jobs, such as: an IT software update; goal-setting with the manager; completing a code of conduct online; reporting expenses; retirement seminars; dentist appointments; or quarterly results.
Consider what other types of internal communications they may be facing, and try to plan a calendar of communications to ensure they are not overwhelmed.
Less is more: It's important to resist the temptation to cram a lot of information into a single communication to take advantage of the communication opportunity. PowerPoint decks with countless slides of heavy text, or long-winded, content-heavy emails regarding a pension plan, might be complete and comprehensive, but also might not be fully read… or read at all.
If employees don't have time to review a lengthy email, they might set it aside with the intent to review it later, which increases the chances of that message getting lost in the shuffle. It's likely the same point could be made in fewer words, and read in much less time. Condense the content so employees don't feel as though reading it is a burden. This will not only increase productivity, but also boost the odds they will actually read it.
It sounded like a good idea at the time: Good communicators try to find other ways to engage their audience. But sometimes the best intentions do not pay off.
For example, people love videos, but do people in a quiet, open-concept office like videos, especially ones that require sound? Or is the messaging in a PDF optimized for off-site employees who might be accessing it from a phone where the font might be too small? Is there a poster with a lot of information that employees might not have time to take in? How a message is sent is often as important as the message itself. In a time-challenged world, this is a book that is judged by its cover.
Snack-sized messaging: Consider structuring the content by breaking down the message. Lists can help to chunk the information down into more manageable pieces or provide clear steps. These techniques create order, something the human brain loves to see. This also helps employees to quickly get the highlight reel of the content through headings and subheadings, without having to read all the content if time is not on their side. Half-day meetings and large PDFs that contain every detail of a plan are not likely to be the first priority for a busy employee.
When it comes to employee benefits, clear and effective communication matters. It can get quite complex quickly. Drug plans, health insurance, dental and vision — all come with industry vernacular that HR professionals sometimes take for granted.
In addition, HR messages can start to sound robotic. Keep it professional, but don't be afraid to add personality and give it an approachable human feel — it can help lighten the tone and engage employees.
Take the time to think through the experience of your workforce, from what they have on their plates, to the way you communicate, and what outcomes you want to achieve.
You invest a lot in your benefit plan to attract and retain talent, and the better your employees understand their benefits, the more likely it is that they will appreciate and value this key part of their total rewards package.
Chris Lee is vice-president of communications at Accompass in Toronto, a benefits, retirement and compensation consulting firm. For more information, visit www.accompass.com.