Federal government looking to create statutory holiday marking legacy of Canada's residential schools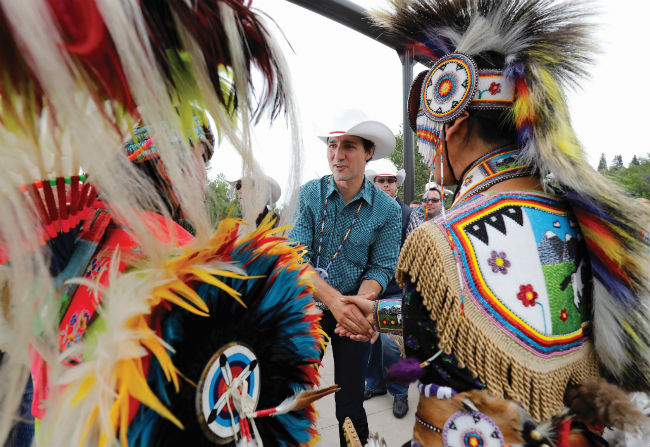 (Note: This article appears in Canadian HR Reporter Weekly, our new digital edition for subscribers. Sign up today to make sure you don't miss future issues: www.hrreporter.com/subscribe.)
The federal government has signalled its intent to establish a new Indigenous holiday to acknowledge the tragic history of the residential school system.
But employers and payroll professionals are waving caution flags, in hopes that Canada's leaders consider the costs before moving forward.
"From an employer perspective, there's a huge impact on cost," said Annie Chong, manager of the payroll consulting group at Thomson Reuters in Toronto (publisher of Canadian HR Reporter). "There is a huge cost when you shut down a business for a day."
"Just because the federal government has this great idea of adding an extra day off with pay, not all provinces in Canada necessarily need to jump on the bandwagon."
The federal government intends to officially support a private member's bill introduced by NDP MP Georgina Jolibois that proposes the establishment of a statutory holiday on June 21, to be known as National Indigenous Peoples Day, according to Simon Ross, press secretary for the minister of Canadian heritage and multiculturalism.
Support for the motion comes right from Prime Minister Justin Trudeau, he said.
"The prime minister has said it many times — there is no relationship more important to Canada than the one with Indigenous peoples," said Ross. "That's why, in 2015, Prime Minister Trudeau committed to implementing all of the calls to action of the Truth and Reconciliation Commission."
"Call to Action 80 asks the government of Canada to establish a national day for truth and reconciliation to honour the survivors of residential schools, and it has always been crystal clear that our government would support it."
Both the Northwest Territories and Yukon already observe National Aboriginal Day on June 21.
Caution urged
Federal approval of a new holiday would only apply to federally regulated workplaces. Provinces and territories would need to amend their labour codes in order for provincially regulated employers to honour the change.
But adding an additional statutory holiday to the Canadian calendar could cost up to $3.6 billion in lost productivity if all jurisdictions agreed to recognize it, said Corinne Pohlmann, senior vice-president of national affairs at the Canadian Federation of Independent Business in Ottawa.
"Let me start by saying that, as an organization, we're supportive of reconciliation efforts," she said. "We count many Indigenous businesses as our members and it's really not our role to determine the best way to recognize the significant pain that's caused by residential schools."
"But the introduction of these holidays does come with costs for the economy and for businesses," said Pohlmann. "Generally, business owners don't support new stat holidays, at a ratio of two to one. It's a cost for them, and… depending on the type of business they are, they either have to shut it down and still pay their employees for a full day, or if they remain open — like some retailer or hospitality (businesses) may — they have to pay more."
Ontario's recent employment standard revisions — and subsequent reversal of public holiday pay rules — are an example of the difficulties that rapid legislative change can have on payroll administrators, said Chong.
"It's one thing to introduce the new holiday, but it's another to give employers enough time to prepare for it, because… we need time to rejig our calculations within our payroll systems, particularly for those employers who work with service providers," she said.
"To implement these new calculations overnight is not possible," said Chong. "If they're going to go ahead with this, I would appreciate if they would look at maybe adding this next year or two years down the road to give employers enough time to prepare."
"Time is of the essence for us to prepare and implement and test the calculations to make sure that they're in working order, because the last thing we need is errors. Once the error is happening, we have to correct those and that's a whole different level of challenges that are imposed on payroll. Its never-ending."
Statutory holidays
At present, only five statutory holidays are recognized across all Canadian jurisdictions: New Year's Day, Good Friday, Canada Day, Labour Day and Christmas.
Because of this, administering payroll nationally is a challenge, according to Chong.
"It can be a challenging task for an employer if you have a national payroll across the country or you deal with union payroll, or if your payroll has shift work, you pay your employees overtime, vacation," she said. "All of these can be impacted by one new stat holiday. There are a lot of challenges with respect to the calculation of stat holidays for us in payroll."
Rather than creating a brand-new holiday on the annual calendar, consideration could be given to shifting around the current schedule, said Pohlmann.
"When we talk about ways to mitigate costs or offset the costs, one way could be to move one out and add this one in, or rename one that recognizes this particular issue," she said.
"There are other ways to potentially look at this, and for governments to think about what the implications might be, in terms of their own economy and what it means for the business owners."
If implemented, the holiday would be the latest cost for employers set to endure an increase to Canada Pension Plan contributions next year, alongside larger-than-usual minimum wage increases in some jurisdictions, said Pohlmann.
"There's all kinds of things happening right now that the timing is not great either, from an economic standpoint," she said. "It's not up to us to decide whether it's the right thing to do to recognize reconciliation. For us, it's just about what are the costs and (making) sure if we're going to add those costs, (to) think about ways to mitigate it."
'Right thing to do'
But not all employers are against the move, according to Jeff Ward, founder and CEO of Animikii, an Indigenous technology company in Victoria.
For the past two years, the company has given all employees June 21 off to show respect for Indigenous cultures in Canada.
"On June 21, there's some amazing celebrations going on around the country which you can't partake in if you're stuck behind your desk at work," he said.
"It's the right thing to do and provinces should make it a stat holiday and really follow the lead of Northwest Territories and Yukon. There's already been a precedent set there. I feel that if the provinces don't make it a formal stat holiday, that wouldn't be in the best interest of the provinces."
Ward's company helped organize a petition in support of the holiday, which was eventually presented in the House of Commons in 2016 by Liberal MP Robert-Falcon Ouellette of Winnipeg.
If Canadian businesses are required to give employees time off for "colonial" holidays like Victoria Day and "Christian" observances like Christmas, then the country's original peoples deserve a day of remembrance as well, said Ward.
"I would swap Victoria Day for Indigenous People Day if there was a total maximum limit on stat holidays that we could have in this country," he said.
"There's a cost aspect… (but) the fact that many Canadian companies only give off two weeks a year, standard — we have room for improvement there anyway. So what's an extra day?"
Businesses need to focus on more than simply the financial bottom line, said Ward.
"There are benefits to the business when employees have time off," he said. "We're all human beings and we need time off to recharge. What better way to do that than celebrate the original peoples of this country?"