Position your staff for success by promoting a healthy spine, muscle, and nervous system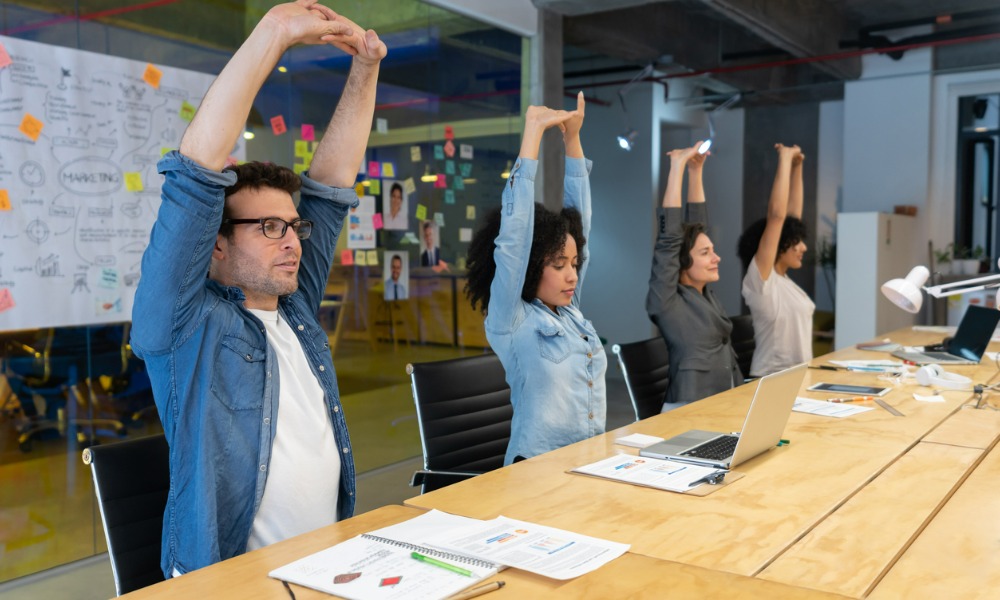 This article was produced in partnership with the Canadian Chiropractic Association.
With the new year comes a fresh start and an opportunity to embrace new healthy living goals. As an HR professional, you can play a major role in supporting employees forming healthy habits and ensuring that every workplace is optimised towards your team's wellbeing.
A national survey of employees released in the fall of 2022 reported that 84% of employees wanted to take a more active role in treating their conditions and managing their own health. The most popular solutions?
45% said they wanted to do more physical activity
40% wanted to eat healthier
23% said they wanted to make better use of their paramedical benefits. Employees want to be healthier, but they need guidance.
HR professionals are well placed to support strategies that empower employees to improve their physical and mental health. Such strategies represent a low-cost investment that will deliver positive returns through increased productivity and reduced absenteeism. Any good strategy relies on the guidance of specialists, and when it comes to the health of the spine, muscle and nervous system, chiropractors are the experts.
It's getting worse
As Canadian businesses navigate return-to-premises strategies, we've seen an increase in discussions about rehabilitating a workforce suffering from the ill effects of pandemic restrictions or work-from-home models. As is well-known, long periods sitting at a desk can deteriorate the health and wellbeing of the most athletic of individuals.
This was exasperated during the pandemic when staff no longer needed to commute to the workplace, resulting in a more sedentary lifestyle. Public health restrictions during the global COVID-19 pandemic saw a 27% reduction in physical activity. What is most concerning is that those numbers don't seem to have picked back up.
Musculoskeletal (MSK) conditions, such as back, neck, and joint pain, are responsible for one-third of all lost time at work. How much could this be impacting your company's bottom line?
Dr. Karishma Kapoor, chiropractor and Member Experience Specialist at the Canadian Chiropractic Association, has seen a lot of workplace health complaints. She explains, "The most common MSK conditions in the workplace are complaints involving the neck, or shoulders, most prevalent in desk workers."
Dr. Kapoor says that the number of cases she is seeing has increased post-pandemic.
"With prolonged screen-time, headaches are a common occurrence and may also be the result of certain neck conditions," she says, adding, "Other common conditions that may also be seen in office workers as well as those with labour-intensive jobs include low back pain and discomfort in the sacroiliac joint regions."
How to help
Increased sedentary lifestyles pose new challenges for organizations and HR departments and potentially pose health problems for individual employees. HR professionals can support healthy active workplace habits through a three-prong approach: inform, instigate, and integrate.
Inform: Sharing evidence-based information with your team is essential to getting buy-in at all levels. Many HR managers are finding a return-to-premises strategy is similar to onboarding new employees with a return to basics. A new year is a great time to remind team members of workplace health and wellness resources, and where they can find information about their benefit plan coverage.
Live interactive events, either virtual or in-person, can help engage employees and assist them with retaining information. Inviting health experts like chiropractors is a great way for employees to get their specific questions answered by specialists.
Dr. Kapoor's most common advice for the office is "The best posture is the changing posture." She explains, "Various evidence-based guidelines recommend getting up and moving once every 30 minutes, and to change posture frequently, as even a 'correct' posture, is bound to create stiffness when held over long periods of time."
Instigate: HR managers can encourage team members by putting those healthy habits into practice around the office. You can help facilitate and encourage proper ergonomic equipment for both home and office set-ups.
But even ergonomic equipment will have little effect when used improperly, so ensure staff are properly trained in their set-up and use. Chiropractors can also help conduct workplace assessments, developing strategies that can help reduce repetitive strain injuries. Dr. Kapoor says, "When lifting items or performing manual tasks, maintaining a neutral spine and bracing the core as often as possible can help mitigate low back discomfort as the load is distributed between the low back and the core."
Among the recommended equipment is sit-to-stand desk(s). "It's an investment, but I've seen organizations buy one or two that are shared between workers so that everyone has the option to switch from a static sitting position to a standing position," says Dr. Kapoor. Another low-cost initiative is instigating optional 15-minute group walking sessions throughout the week. "A team walk during the week allows for staff to take a break, stretch, move, get some fresh air and, of course, bond as a team," shares Dr. Kapoor.
Integrate: Successful habits are the ones that become seamlessly integrated into routines, so it's important to make habits as accessible as possible – whether that is having healthy snack options in the break room or encouraging employees to seek treatments from the health practitioners they need. As the axiom goes, an ounce of prevention is worth a pound of cure.
The use of paramedical benefits should be understood as an investment in your workforce that helps address an acute condition before it becomes chronic and costly.
Kapoor recommends creating a "wellness room" in the office. "A wellness room equipped with any of the following can help workers take a relaxation and/or movement break during their workday: yoga mat, 'wellness cards', 'stretching cards', sofa, Bosu ball, or yoga block," Kapoor says, adding, "Most wellness rooms are also dimly lit for those who prefer to work in lower lighting conditions due to headache predispositions. It can help send a message that the organization is invested in their employees' health."
As many organizations struggle to bring staff back to the office, another benefit companies can offer is in-office visits by health professionals, including dieticians, registered massage therapists, and chiropractors. By scheduling a practitioner to come in and treat in the office, you can make it easier for employees to access care during their work week, thereby saving both time and cost. Many chiropractors have mobile clinics, providing their own equipment that requires minimal set up time and space.
Every HR professional knows the key to long-term organizational success is a healthy and happy workforce. Of course, encouraging healthy workplace habits is not a seasonal resolution but rather a commitment that lasts throughout the year. Luckily, many employees are looking to make healthier choices – they just need a little help. Encouraging an active approach to musculoskeletal health among your team will help position any wellness engagement strategies for success.
For more information on how to request a free staff information session, visit Chiropractic.ca/Workplace.