But ruling 'potentially catastrophic' for employers: Lawyer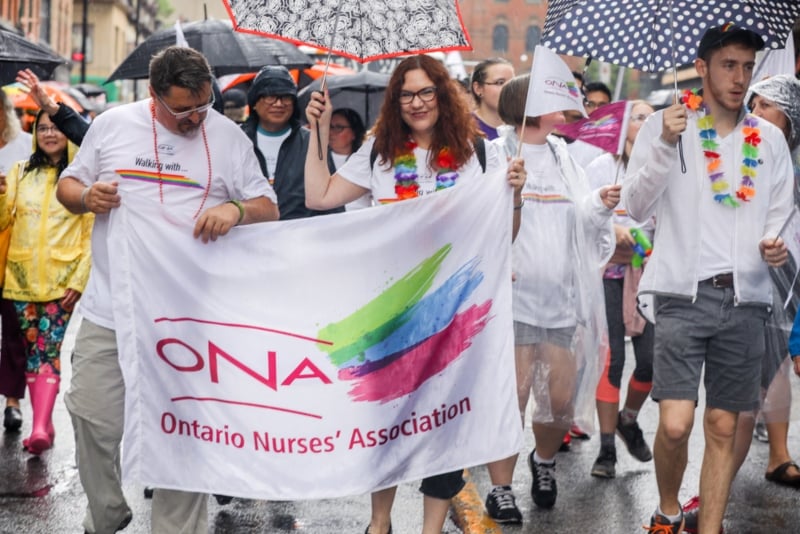 By John Dujay
After a 13-year long battle, female workers in Ontario long-term care homes won a court decision that is meant to maintain their pay equity rights.
"This ruling is tremendously significant," said Toronto lawyer Fay Faraday, co-chair of the Equal Pay Coalition.
"It's relevant to workers in the broader public sector, workplaces that are female-dominated right across the province. It affects well over 100,000 workers that face the deepest discrimination and it puts to rest this issue about whether employers actually have an obligation to maintain pay equity in a meaningful way."
The court's ruling April 30 that the Pay Equity Act must be interpreted in a manner that is consistent with the values upheld by the Canadian Charter of Rights and Freedoms "will ensure that RNs (registered nurses) working in private nursing homes will have their pay-equity rights maintained," said Vicki McKenna, Ontario Nurses Association (ONA) president.
The Ontario Divisional court ruled that female-dominated workplaces, such as nursing homes, can access the proxy method of comparison to update and maintain wage levels.
"The proxy method was brought into place after the Pay Equity Act was introduced," said Alexandra Murphy, pay equity representative at Services Employees International Union (SEIU) Healthcare in Toronto, one of two unions (along with the ONA) involved in the court fight.
"It allows for women- and female-dominated workplaces (to have) access to pay equity, and the crux of pay equity is to have access to male job rates, and male comparisons."
While female workers should benefit from the ruling, it is "potentially catastrophic" for some employers, according to Cheryl Wiles Pooran, a partner at PooranLaw in Toronto.
"The reality is that proxy employers have, for the past two decades, been acting as though maintenance merely requires them continuing to look at their internal wage gaps and make sure that no new wage gaps emerged, and this turns everything on its head. Many employers don't really have their heads around what pay equity even is and those employers who have actually achieved pay equity have assumed that once they achieved it, they didn't have to think about it anymore," she said.
"There's lots of employers out there who have just been running under underneath the radar and nobody has seen fit to bring them to the (Pay Equity) Commission, which means that they've just been accumulating potential liability."
But the court rejected this argument from the nursing homes, according to Faraday.
"There may be some challenges, but there is no evidence that it would be particularly onerous or impossible. And here's the quote from the court, they said, 'In any event, it was the obligation of the employer to prepare a pay-equity plan and compliance with the act. It failed to do so. Its position now that it should be relieved of the obligation because it would be too onerous rings hollow.'"
Women have been impoverished by discriminatory pay for decades, she said.
"The size of the bill that employers now have to pay is the scale of the discrimination that individual women have borne, and to suggest that it's too hard to comply is a complete rejection of the reality of who really bears the suffering of those unpaid wages. The higher the bill, the deeper the discrimination, is the bottom line."
For these employees, the ruling finally establishes a fair way to evaluate their wages, said Faraday.
"Nurses and health-care workers in nursing homes are doing the same work as nurses and health-care workers in homes for the aged that are run by the municipalities. And it's the same work being funded from the same source, which is the government… so it should be paid the same," she said.
"They have a broad pool of men who are also employed by the municipality, they have a male reference point for non-discriminatory wages. And that ends up being the proxy for the women doing the same work in the nursing homes."
Steps for employers
To help prepare for the new reality "the best an employer can do it really make sure that their house is in order, according to the old understanding of what maintenance required and just sort of hold tight until we see what comes down the pipe from an appeal," said Wiles Pooran.
"The first step would certainly be get a hold on 'Where do you stand from a pay equity perspective? Have you achieved pay equity?' And make sure that if you believe that you have achieved pay equity, be prepared to show when pay equity adjustments were made, the pay equity plan that was used to make those adjustments, and the date on which equity was achieved."
The ruling is currently being appealed by the participating nursing homes, so for the SEIU, the next steps will have to wait until the appeal process has been exhausted, said Murphy.
"We're very much looking forward to finally conducting this proxy maintenance process. We were in talks with the participating nursing homes to develop a gender-neutral comparison system," said Murphy. "We were in the process of planning data collection from the members. It was a very large project and we were very much looking forward to getting that going and finally achieving pay equity for these members."
Extendicare, Sienna Senior Living, Revera and Chartwell Retirement Residences, which are part of the participating nursing homes in the case, didn't respond to Canadian HR Reporter's request for comment.