Many people working longer hours, considering quitting jobs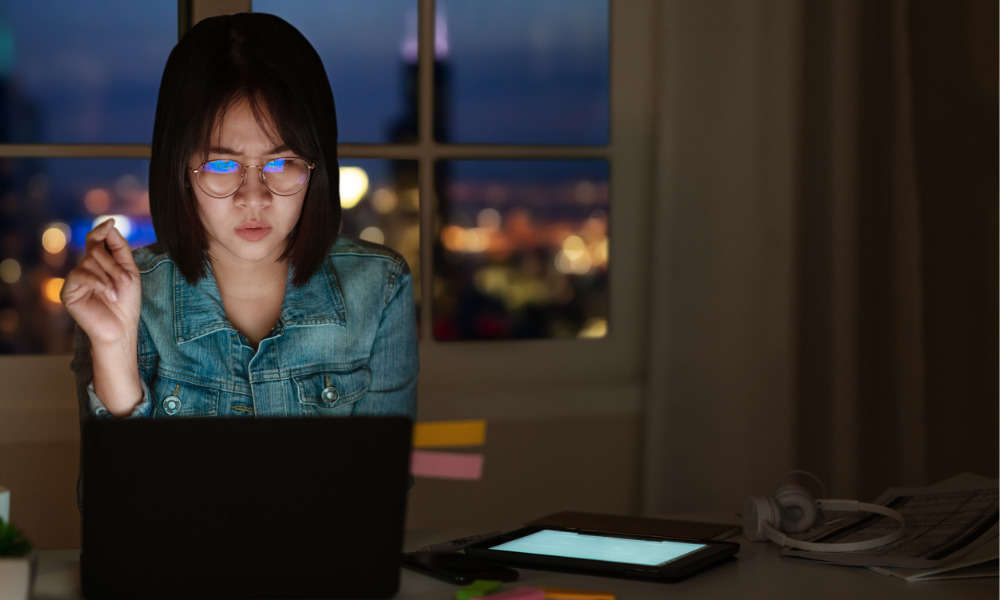 While working from home has eliminated people's need to commute and spend time in traffic, it has also had a bad effect on the wellness and mental health of many workers.
Among U.K. workers who have been on a remote work setup, 51 per cent say they have been working outside of their contractual hours since lockdown, with the average worker putting an extra 59 hours or seven working days into their job over five months, according to a survey released by the Office Group.
Thirty-one per cent feel that the longer hours are due to their workstation being close by and 32 per cent say that the lockdown has put them closer to burnout, found the survey of 2,000 workers conducted from Aug. 27 to Sept. 3, 2020.
More than one-quarter (27 per cent) claim the lack of social interaction has contributed to making the time particularly difficult.
With many people saving money while working from home, a greater proportion of Canadians are financially stressed these days, according to a survey by the Canadian Payroll Association.
All ages
Workers of all age groups are having a hard time with the way things are, according to the report.
Millennials are experiencing increased anxiety due to working longer hours while working from home (59 per cent), being unable to separate work and personal life (42 per cent), and facing an uncertain, increasingly competitive job market (33 per cent).
Nearly half (48 per cent) of those over 50 say they have been unable to take a proper break since lockdown, and 58 per cent of gen Z workers are feeling the strain of the "always on" culture.
Given that the things are as they are, 49 per cent of all those surveyed say they have gone so far as to quit a job due to stress, while 29 per cent would be open to taking unpaid leave if they were faced with burnout.
Employee assistance programs (EAPs) can offer definite benefits, in terms of mental health, work performance and financial wellness, according to Morneau Shepell.
There are several ways employers can help employees establish work-life balance while working from home, says Randstad Canada:
Prioritize flexibility.
Have set work hours.
Trust your employees.
Minimize communications outside of work hours.
Encourage defined workspaces.
Promote wellness.
Communicate often.