'This is a tall order for HR'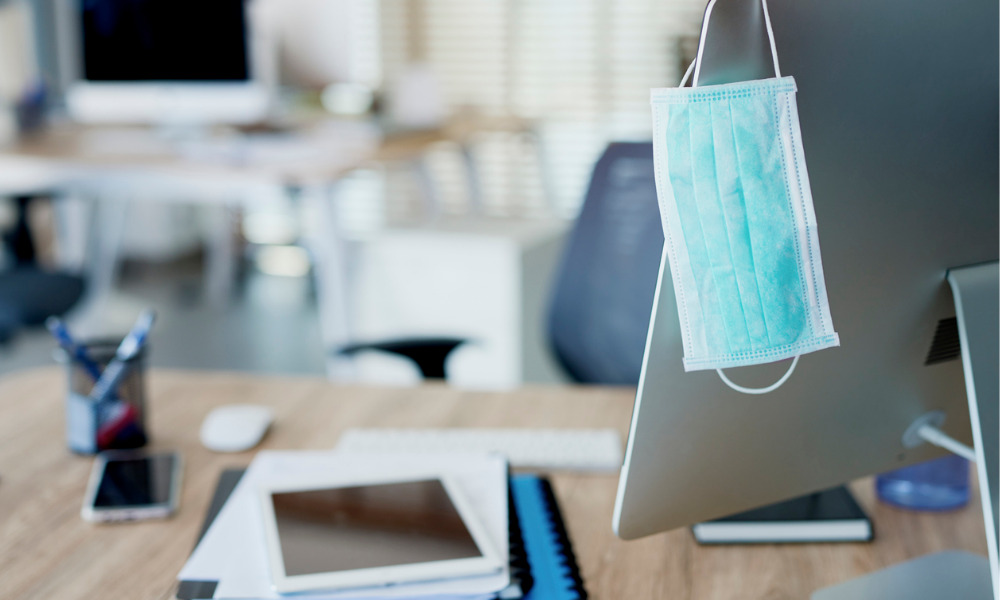 "I would love to say that there is a great way to deal with this, but this is a tall order for HR."
So says Sunira Chaudhri, founder of Workly Law, in talking about the demise of vaccine mandates — and the subsequent return to the workplace of unvaccinated workers.
"It's a tall order to ask to manage the interrelation between vaccinated and non-vaccinated workers, and to deal with the resentment or the upset or the discontent that unvaccinated workers might have faced, especially if they were suspended or placed on some form of unpaid leave during the height of the pandemic," she says.
"I can't say that there is a clean, non-controversial answer."
Presumably, every workplace has potentially two sets of vaccinated people — those who believed in the vaccines and those who did it so they could keep their job — and now you have people coming back into the workplace who kept their jobs but didn't get vaccinated, says Kelsey Orth, a partner at Crawford Chondon & Partners in Toronto.
"How does that make those hesitant-but-compliant people feel as they come back?" he says.
"Being out of work for several months, as most of these people would, is kind of penalty enough, but you still have to acknowledge those who complied."
With the federal government suspending its COVID-19 vaccination policy, unions are calling for the government to pay workers the income they lost while they were put on leave without pay (LWOP) because of the policy.
Keeping policies consistent
As society opens back up, many organizations are asking about what they should do with their mandatory vaccination policies, says Orth.
"That's the talking-out kind of conversations I've been having with a number of employers is 'How is it going to be communicated that people are coming back?'"
It's important to think about why you are bringing people back and communicate that to the rest of the workforce, he says.
"If it's because you're abandoning the policy altogether, just saying you're doing that following the guidance of the government, that's fine — pick something, identify what your reasons are, and communicate those."
But it's also important "to ensure that people who have stayed there throughout and braved the elements, whatever they were at any particular time, to feel that they're still being treated fairly," says Orth.
Read more: Chapman's recently gave out a $1 raise to unvaccinated workers.
If you had a policy that required vaccination, you should have an in-depth discussion about why that mandate is dropping, says Chaudhri, who is based in Toronto.
"If you pivoted to a remote working environment, if you introduced a vaccine mandate, any actions you take now should be consistent with any policy you may have introduced during the pandemic, both from a remote work perspective, as well as a vaccine mandate perspective," she says.
"And if you're amending those policies, clearly communicate those amendments to your staff."
Abruptly amending a policy can cause a lot of disruption, and culture in the workplace has "taken a very big hit" over the last two years, says Chaudhri.
"The way an employer responds now, with mandates falling, is going to really speak to their culture," she says.
"Introducing a return to work, I think, should be done very mindfully — we're in a world where labour shortages are a real issue. Employees are being much more mobile, with more options. So carefully navigating that return, including how the dropping of a vaccine mandate will be managed, requires an abundance of, not caution but, mindfulness should be put into that exercise, from an HR perspective. Time is going to be your best friend — don't rush into it."
With all the talk of returning to the office, employers are evenly split, finds a recent survey.
Putting safety first
Throughout the pandemic, employers and HR have had to deal with concerns about unvaccinated workers in the workplace, and questions about employee privacy have been raised.
"Employees... feel very entitled to that kind of information about their coworkers, that private health information. So that's unprecedented — that isn't a question that most employees would have asked [before]," says Chaudhri.
"If the workplace is being reopened to vaccinated and non-vaccinated workers alike, HR needs to be prepared with a plan as to how the health and safety of all employees is going to be made paramount."
There's no reason why previous safety efforts such as rapid testing, social distancing and personal protective equipment (PPE) such as masks cannot still be required of the unvaccinated, she says.
"Employers have really seen a lot of success with testing in terms of alleviating a lot of the concern vaccinated workers might have," says Chaudhri.
"These are not things of the past, when you might be mixing vaccinated and unvaccinated workers. I think it's key not just [in terms of] employees dealing with other employees, it's something that employers are going to have to deal with when serving clients, working with suppliers, vendors or other partners."
Read more: The Ontario Labour Relations Board has dismissed a worker's complaint that her employer's vaccination policy breached protections of employee health information under the province's occupational health and safety legislation.
There is nothing wrong with asking non-vaccinated workers to wear masks, but it all depends on the particular workplace and how safety-sensitive it is with respect to the ongoing risks of infection, says Orth.
"We've seen all along the case law… indicating that policies themselves are being held up, as long as they're reasonable in the circumstances. And so consider what's reasonable in your workplace," he says.
"I know a number of clients who have already baked that into their policies saying… 'If you're not fully vaccinated, you'll be required to take extra measures. And when we drop certain measures, you may still be forced to continue on with those, like the extra PPE, whether it's masking, whether it's been a rapid antigen testing.' If you're maintaining your policy and simply reevaluating risks and methods now, that's absolutely reasonable."
Changing requirements for unvaccinated
Over the pandemic, some jobs were altered to account for unvaccinated workers, such as working from home, working in different areas or not being allowed on business travel.
If changes are made on a temporary basis, and there's a justification for it, such as working with a vulnerable population or a COVID outbreak, that makes sense, says Orth.
"But if you just say, 'We're going to put all the unvaccinated people over here and all the vaccinated people over here,' then it might be a little bit more challenging to justify."
It's not necessarily a human rights issue but could potentially be a kind of constructive dismissal, he says.
"Context is everything there. And for the employer to be able to have solid reasoning as to why they're doing one thing or another when they bring people back is important."
Similarly, allowing unvaccinated workers to work out of the office while vaccinated employees are expected on site could cause problems, says Orth.
"A lot of people do see work from home as preferential, and so you want to make sure that you're giving that same consideration to others… [otherwise] it just seems like the employer is giving up and taking the easy route."
As society opens up again, there should be less differentiation between the unvaccinated and vaccinated, says Chaudhri. For example, with recruitment, candidates shouldn't be asked about their vaccination status — unless it's for particular industries such as healthcare where people are working with immunocompromised people, she says.
"We're getting back to a level playing field… the touch and feel of being vaccinated versus non-vaccinated, I think that distinction is really fading to black."