Primary employers should require disclosure or permission for gig work, says lawyer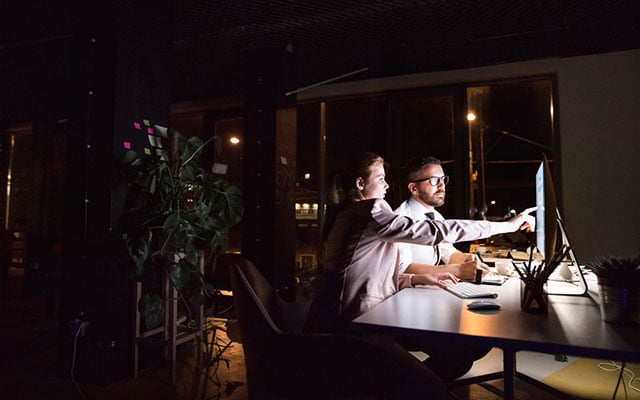 When employees view a second job as a "calling," they are often less engaged in their work for their primary employer, according to a study from the United States.
"Dual jobholding requires significant personal attention and resources from individuals in the form of learning and switching job tasks, working longer hours and balancing schedules between two jobs and family life," said Brian Webster, study co-author and management professor at Ball State University in Muncie, Ind.
"The calling someone has found in a second job pulls not only from a person's personal life, but often reduces resources for the primary job. It can wear people out."
A calling is a consuming, meaningful passion or people experience. While holding a secondary position like this may decrease engagement at the primary job, it doesn't mean it will fall to an inadequate level, he said.
The study analyzed data collected from 227 people — whose average age was 31 — working more than one job. It was published in February in the Journal of Vocational Behavior.
Online research saw respondents choose whether their secondary job position was taken for reasons of necessary compensation, or purely enjoyment and passion, said Webster.
Sample primary positions included a computer technician and teacher, versus secondary jobs such as cashier and firefighter.
A dual jobholder must receive some income from both jobs, otherwise the secondary position would be deemed a volunteer position, he said.
Individuals who are passionate about their work and derive great meaning from a secondary job must carefully consider the effects it may have on their career and personal life, said Webster.
"Although performing work in one's calling should lead to a more pleasant and enjoyable experience in that particular job, performing an activity viewed as a calling in the second job may lower work engagement at the primary job," he said.
Advice for employers
Most employers share concerns that full-time employees may be distracted if they take on a second job, said Ron Minken, founder and managing partner at Minken Employment Lawyers in Markham, Ont.
"Employers are still within their rights to have employees agree to exclusivity clauses in hiring letters or employment agreements to restrict them from doing so," he said. "The majority of employers do have restrictions to somehow prevent or limit moonlighting."
Moonlighting — holding a second job in addition to regular employment — can concern primary employers if a worker becomes fatigued or conducts business for the secondary position using company resources or time.
Holding a secondary position that could be detrimental to the primary employer's brand is also an issue, said Minken.
For employers concerned about moonlighting employees, including a duty to disclose or requirement for approval in the employment contract should be considered, he said.
"What all employers should do is require the employee to disclose, and also (gain approval), so then at least the employer could have some say."
Often, non-competition clauses rule out similar gig positions within the industry. On top of that, requirements that the secondary job duties must be completed outside of company hours and cannot compete with the main job are perfectly reasonable, according to Minken.
An employee's conduct and performance are also expected to be at a reasonable level, and should not suffer as a result of a secondary job. A breach could result in disciplinary action, up to and including termination with cause, he said.
"It's considered on a case-by-case basis," said Minken. "It depends on what the side job is — how demanding, and the purpose of it."
"Certain jobs… are clearly conflict of interest or unacceptable. Generally speaking, the more demanding the job, the higher the pay, the more the employer's in (its) right to say you're only working with us."
If an employee works part-time for their primary employer, moonlighting concerns are often reduced, he said.
For employers, understanding why employees are taking on a second position is important, said Webster.
"Understanding the motive for the second job is the big, big key in terms of whether holding two jobs will be a sustainable, beneficial experience," he said. "Or maybe it might be an experience that's a little tough for individuals."
"People might really want to take a step back and think about the reason they're undertaking a second job. If they're doing it simply to increase money, it's usually a short-term scenario and the results seem to suggest that they're really able to do it."
"But when that second job is a calling, they might devote too much energy, too much attention, too much effort to the second job that could be reserved for the primary job."