Many managers cite difficulty in identifying staff who are struggling, overworked, burned out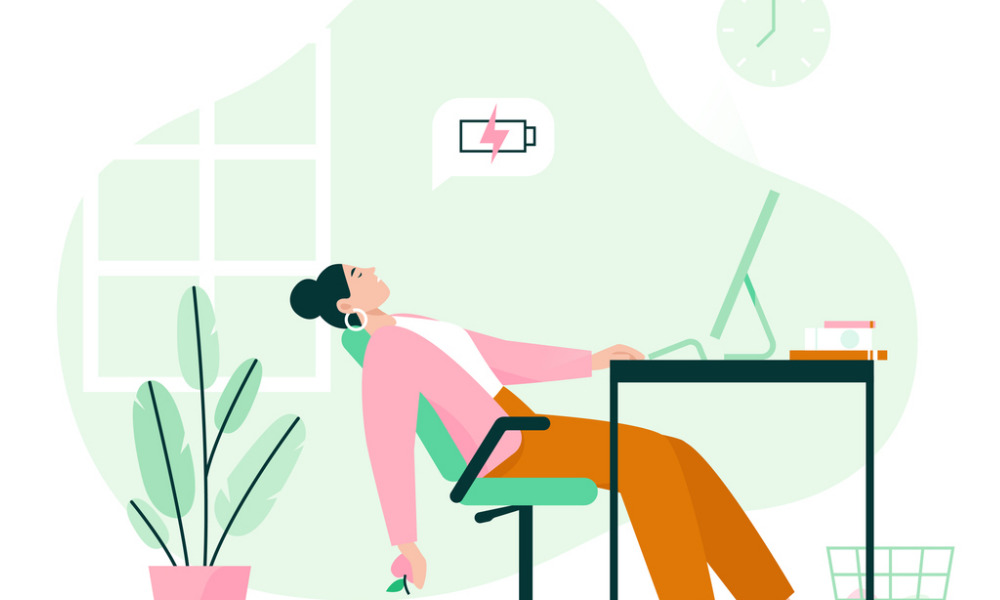 There is a looming worker wellness crisis, and it's affecting workers globally, according to a report from LHH and the Adecco Group.
Overall, 38 per cent of workers globally have been suffering from burnout over the last 12 months, with 32 per cent saying their wellness has declined as a result.
At the same time, 63 per cent say they have had to work 40 hours or more per week during the pandemic, and 43 per cent believe they will have to keep working more than 40 hours per week going forward.
Almost two-thirds (61 per cent of) workers say they need at least eight hours a day to get their job done, according to a previous report.
"It is important to remember that the concepts of work-life balance, workload and wellbeing of employees are distinct aspects of employees' experience and need to be addressed through respective employee initiatives," says Jim Mitchell, president of LHH Canada.
"If the significant disconnect between employee needs is not bridged through robust talent strategies, the implications will be felt all across Canada's labour force, mirroring what we see in neighbouring geographies."
Canadian mental health
In Canada, 45 per cent of workers say work-life balance had improved, finds the survey of 14,800 workers across 25 countries.
However, 34 per cent of Canadians say their workload has gotten worse over the past 12 months, compared with 15 per cent who say that it has improved.
Also, 45 per cent say their mental wellbeing has suffered in the past 12 months, and 37 per cent say their physical wellbeing has suffered too.
Meanwhile, 46 per cent say they are happier in their job following changes to working life in the past year, but 51 per cent are experiencing anxiety about returning to the workplace.
For those employees who have not yet taken steps to address their mental health but want to, 30 per cent say affordability of care is the greatest barrier, according to a report from LifeWorks.
Leaders failing staff
Despite these issues, leaders are failing to address and even recognize the issue of employee wellness, according to the report.
More than half (53 per cent) of managers say they have found it difficult to identify staff who are struggling with mental wellbeing and 51 per cent say they have trouble identifying the warning signs of employee burnout.
In Canada, 20 per cent of managers found it difficult to identify when staff were struggling with wellbeing and 20 per cent had difficulties identifying when staff were overworked or burned out.
Also, 67 per cent of non-managers say leaders don't meet their expectations for checking on their wellness.
Thirty-seven per cent of workers feel unsafe talking about mental health at work, according to a separate report from Sun Life.
Seventy per cent of respondents across all groups say having support in the workplace for mental wellbeing will be of extreme importance going into the future, according to the LHH and Adecco Group survey.
"It is no longer a question of mandating top-down measures, but in demonstrating that we truly value employee feedback. That starts with empathy and transformational leadership skills that will be crucial to navigating the next normal and in retaining employees while ensuring their satisfaction," says Mitchell.
Strategies for well-being
There are several strategies to improve employees' health and well-being, according to Lisa Berkman, director of the Harvard Center for Population and Development Studies, and Laura Kubzansky, professor of social and behavioural sciences at the Harvard T.H. Chan School; and their peers, in an article published on the Harvard Business Review:
Provide employees with opportunities to identify and solve workplace problems.
Keep your organization adequately staffed, so workloads are reasonable.
Encourage managers in your organization to support employees' personal needs.
Take steps to foster a sense of social belonging among employees.
An organization's success is often tied to its leadership. Canadian HR Reporter got some tips from Sandra Edwards, an authorized representative at Crestcom in Mississauga, Ont. providing business leadership development training.