More than half don't trust their employer while others feel embarrassed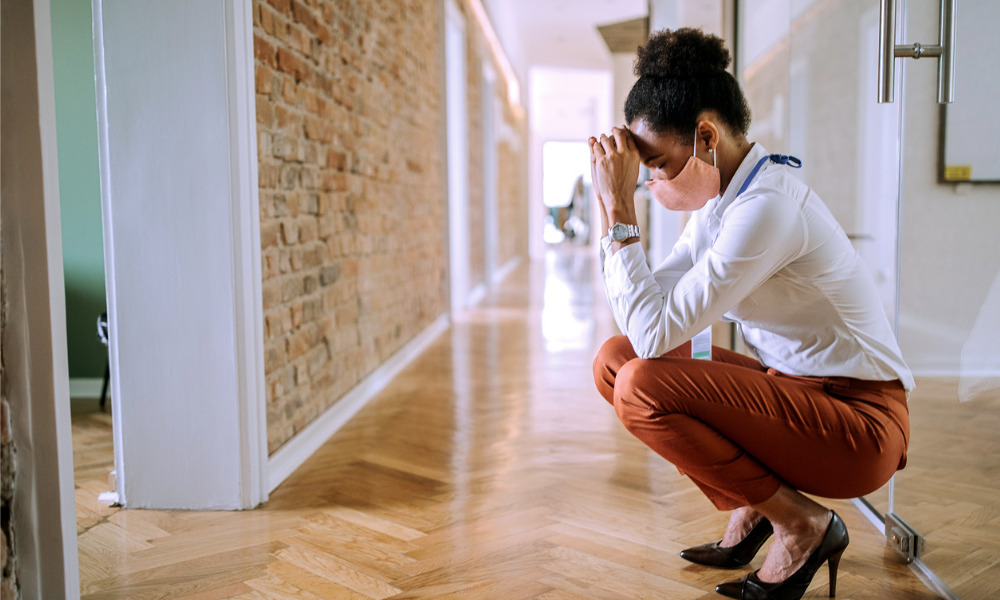 More than a year and a half into the COVID-19 pandemic, 62 per cent of Canadian workers say emotional, mental and physical fatigue is the top issue that is affecting them negatively.
However, 37 per cent feel unsafe to talk about mental health at work, according to a report from Sun Life.
"Companies across the country are considering their future-of-work plans, but Canadians have said – loud and clear – it's the future of our workforce we must consider," says Jacques Goulet, president of Sun Life Canada.
"After 18 months of this pandemic, we continue to be in a mental health crisis, yet employees are still not getting the support they need at work… If there was ever a time for Canadian leaders to renew their organization's vision and approach to employee mental health, it's now."
Almost two-thirds (63 per cent) of workers feel the culture of their organization supports their personal wellbeing and they have a mental health score of -6.6. In contrast, more than one in 10 (13 per cent) of employees feel that the culture of their organization does not support their personal wellbeing, and they have a mental health score of -22.3, according to a report from LifeWorks.
Trust issues
Lack of trust in their employer (55 per cent) is the biggest reason why workers are reluctant to come forward to discuss their mental health, followed by embarrassment (50 per cent) and fear of discrimination (40 per cent), according to Sun Life.
Overall, only 22 per cent of workers say their CEO or manager has talked about mental health in the last 12 months, found the survey of 1,500 Canadians conducted in August.
And one in 10 working Canadians have left (11 per cent) or considered leaving their job (10 per cent) due to a lack of employer mental health support.
"Everyone deserves to feel safe at work and be their authentic selves. That starts with employers investing in workplace mental health to help build a more resilient Canada," says Dave Jones, president of Sun Life Health. "A comprehensive mental health plan should consider leadership, communication and education. Companies should review whether leaders talk openly about mental health, ensure employees know how to access resources, and equip managers to support teams. Ultimately, this drives better health outcomes, earlier in people's mental health journey."
The way that people do work has changed drastically, especially with the pandemic forcing many people to work from home. But it seems employers have not provided the necessary support for employees, according to another report.
Appropriate actions
In workplaces where adequate psychological support is provided, workers experiencing work-related stress and other mental health problems are more likely to seek, and receive, appropriate help, according to the International Labour Organization.
"This will help them to have a quicker recovery and more sustainable return to work,"
ILO also shares the following tips for employers:
Integrate psychological support initiatives into the workplace COVID-19 response plan.
Create a buddy system to monitor stress and burnout and to provide psychological support.
Pay attention to workers with pre-existing mental health conditions and psychosocial disabilities who may be less able to cope during this period and may need further support.
Make stress reduction and self-calming techniques available (such as online relaxation and meditation classes, tutorials and apps).
Inform both managers and workers about how they can access mental health and psychosocial support services and counselling programmes and facilitate access to such services, including employee assistance programs (EAP).
Maintain confidentiality about the services provided to individual workers.
For those employees who have not yet taken steps to address their mental health but would like to, 30 per cent say affordability of care is the greatest barrier, according to a report from LifeWorks.