Kickoff includes videoconference with more than 70 participants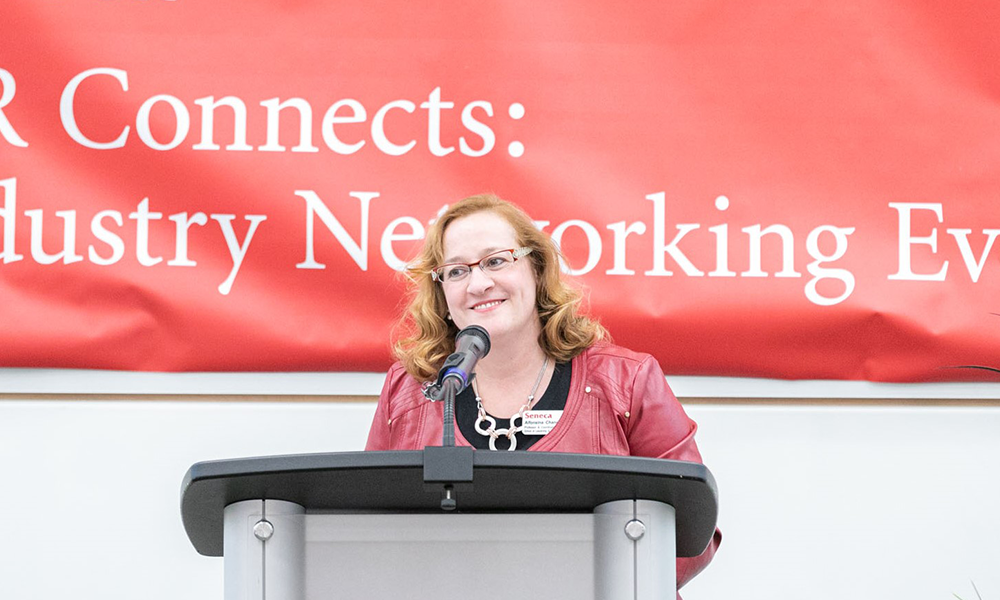 In just its second year of existence, mentors and mentees in the HR mentorship program at Seneca College are connecting digitally amid the coronavirus lockdown.
The program pairs up recent graduates of the school's HR program with HR professionals, many of whom are alumni of Seneca.
"The HR professional would take them basically under the wing and provide them with that guidance and supports that they so much need at this point in starting their careers," says Alfonsina Chang, professor and program coordinator in human resources at Seneca College in Toronto. "Helping them with networking, helping them with their resumés, their cover letters; helping them just become more familiar with the profession of human resources at more of a practical perspective versus theoretical."
To kick off the program this year, keynote speaker Michelle Hannikainen, a Seneca alumna and HR manager at Robert Half, spoke to more than 70 mentors and mentees via videoconference on the value of mentorship.
During the launch event, a puzzle game was played to pair up mentors with their mentees, says Chang.
"On their puzzle piece was a word like salt and they had to find pepper. Or they had to figure out what the match was to salt or peaches and cream, that kind of thing. Once everyone was able to see their word, they had to figure out by looking at the different tiles, and who their match was and using the chat feature as well."
Commitment to program
This year, the program includes 38 mentees and 34 mentors, says Chang, and it involves a series of mandatory phases that must be completed.
"We wanted to make sure that the mentees who did sign up for this program were committed. They had to attend the training, they had to come to the launch event, they had to respond to another questionnaire in between that point; at any point, if they missed out on any one of these deadlines or commitments, they were withdrawn from the programs."
Before the program began, says Chang, training was provided to both mentors and mentees.
"[It's about] What is their role as a mentor? What's my role as a mentee? What is a mentorship relationship? We talked about boundaries, which are so very important. We talked about how to foster relationship, trust, professionalism and how to create that environment of trust."
Mentors spend an average of one hour per week with mentees online, or four hours per month, and the program runs from May to September.
"We certainly wanted students who are going to be serious about the program therefore to be able to meet with the commitment of the mentor's time and energies," she says.
The reaction from the students has been positive, according to Chang, and for mentors, who "are appreciative of the fact that [mentees] are in general, people very new to the profession of HR, and they just need some guidance. They don't know where to start, and they're given that helping hand. There's an intrinsic reward, certainly for the mentors."
And once the program ends, there will be a virtual celebration in September, though the school will have to get "creative" when it comes to handing out the certificates, she says.
Campus recruiting is also shifting to a virtual model for many educational institutions, especially during the pandemic.
Using surveys and other company data — such as administrative costs, productivity and lower recruitment and onboarding costs —employers can get a clear picture of the ROI of a mentorship program.