'You can't be tone deaf to what the talent wants, otherwise you won't attract or retain them'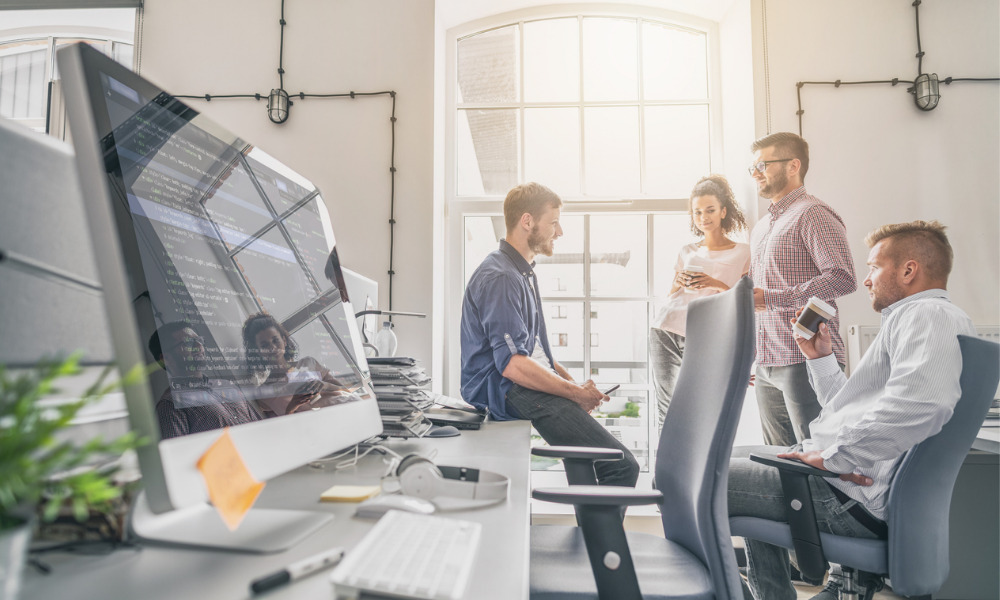 Employers are increasingly interested in providing a flexible work policy, especially in light of many employees working from home and labour shortages in many sectors — but what exactly should be included in such a document?
Canadian HR Reporter spoke with two HR leaders about what items and categories make up a solid policy document.
For one, it will need to outline expectations or guidelines around when people work and where they work, says Megan Smith, head of HR at SAP Canada in Vancouver
"It also might be sometimes how they work or the environment in which they work, around how workspaces will support how they might work differently," she says. "But the key criteria at this point, because we have so significantly changed how we work over the course of the pandemic, is to provide a philosophy and then subsequent guidelines around that philosophy for how the company wants to move forward into evolving its work practices."
Not all policies are created equal and they must take into account the unique needs of the business, says Andrea Bartlett, director of people operations at Humi in Toronto.
"It's really up to the business to determine how they view flexibility. For example, in some organizations, flexibility is around the hours that you're expected to be available for meetings," she says. "So from the hours of 10 a.m. to 4 p.m., those are the core hours of the business that you're expected to be available for internal meetings and external meetings specifically, depending on the nature of the role, the department that you're in."
When starting to design the process, some ground rules have to be established before any other steps take place, according to Smith.
"The first part of any type of policy really has to be a company sharing its overall philosophy. So how does this viewpoint on when and where people work connect to the organizational strategy; how it wants us to serve its customers; and how it wants to support the wellbeing of employees. People need to understand how does the company feel overall about how it is supporting its workforce?"
The hybrid era is here to stay, according to new research showing that a majority of workers prefer this way and many would quit if it wasn't offered.
Communication is key
While designing the policy, it's often a good idea to survey the workforce, just to get a pulse of what they think flexibility is, says Smith.
"We're in an era where it's extremely important to understand how people think and feel because you really want to make sure you have a broad base of support in order to attract and retain the best talent in the market. You can't be tone deaf to what the talent wants otherwise, you won't attract or retain them."
But some limits must be established first, she says.
"Having said that, if you solely ask everyone what they want, and leave it up to them, that also might not be within the best interests of the organization. It is important to survey the organization to know where they're at and then from there, demonstrate that you're listening to that feedback. There's a difference between what every individual may want for their own unique situation, and balancing that against the holistic needs of a team or department or company overall — that's where the work actually needs to be done."
Once a rough policy is ready, assemble a smaller team that can drill down and refine the document, says Bartlett.
"Having a core group of stakeholders to review the policy with, rather than a large group of individuals across the business, really helps drive clarity. As long as we're communicating early and then updating often, it gives employees the opportunity to read, to review, to absorb, before a policy like this ever comes into implementation."
Once the flexible work policy was rolled out at SAP Canada, the company "supported it with a myriad of resources: coaching support for managers to run workshops with their teams, guidelines around how to effectively work remotely, how to maintain health and wellness in those situations," says Smith. "We had a session for all managers first because it's really important to enable your leadership population so they know how to support a guideline like this, they understand their role in it and they are the front lines to ensuring employees feel comfortable, their questions are answered and they're on board with a vision moving forward."
Many managers are having a tough time managing remote teams and more training is definitely needed, according to another survey.
Employing a variety of different communication methods is also key in helping diverse populations understand the document.
"Having it available to read, having it available through video format, is something that I do and then I always have an optional session where we can do an AMA, an 'ask me anything' and people can submit anonymous questions," says Bartlett.
By having these post-implementation questions, "it enables higher adoption, as well as reduces some of the backend questions and administration, which, which to me, makes my team's life much easier," she says.
New rules for a new world
Transmitting information about what should be included in the policy is another key aspect, says Bartlett.
"A key piece that is forgotten… is around the communication. When are you expected to respond within a certain period of time? What's the turnaround time for specific things?"
With those types of rules established, leaders need to know if they suddenly become onerous and cause tension among the workforce, she says.
"Especially with the Working for Workers Act [in Ontario], how does all of this come together with burnout being top of mind for many organizations? [It's about] making sure that the expectations and the communication and what you're calling 'flexibility' actually is flexible and actually ensures that you're not creating and perpetuating a culture that enables burnout in an organization."
Besides defining what days to be in the office for collaboration, an important part of an effective hybrid and flexible strategy is blocking off time for solitary working.
"What are the times and periods that are protected time to make sure that you still are able to have that deep-thinking time. Different departments have different heads-down days, so that teams are internally not able to be booked for internal meetings," says Bartlett. "That protects their time, that protects their deep-thinking ability."
And with large parts of the workforce becoming more dispersed around the country and the world, legal implications will have to be addressed, says Smith.
"We still have legal and tax implications to working outside of your country of employment, those things haven't changed or evolved. We still have requirements related to our own provincial tax policy with regards to the office that you reported to by the CRA and, for example, a business may have a service-level agreement with the customer that they have to maintain."
"There could be contractual agreements around how services are delivered, that a company has to be able to be clear on," she says.