Variety of tools help remove bias in recruitment, boost collaboration and growth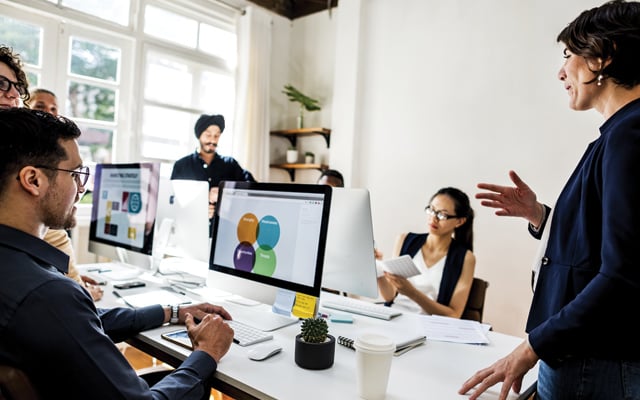 Prime Minister Justin Trudeau often tells us "diversity is our strength."
Yet while racially and ethnically diverse companies are said to outperform industry norms, and jobseekers say a diverse workforce is important when considering work offers, we are still failing at diversity.
Diversity is something companies across all industries struggle with. Interview style, job candidates, how teams are trained, and the onboarding process are all considerations that need to be thought through and implemented strategically.
Diversity starts with inclusion. It's about developing equitable hiring systems, building inclusive cultures and designing spaces that meet the unique needs of a diverse team. This is how HR can foster a diverse workplace so all people feel comfortable bringing their authentic selves to work.
So, how does a company become inclusive? A combination of the right people and the right technology.
The first area of focus should be on building inclusive cultures, systems and spaces where everyone can succeed. This will effectively attract a diverse set of people to the company and help promote retention amongst underrepresented groups.
Without focusing on building an inclusive culture first, every effort to become more diverse will fall flat.
Using a "build-it-when-they-come" approach on gender-neutral washrooms, for example, is not considered best practice when it comes to building inclusive workspaces. To be truly committed to building diverse teams, employers should be inclusive without question.
The technology industry has come a long way in terms of improving the workplaces of the future. Technology empowers people to become more intentional with employee experiences to ensure everyone feels included.
There are so many opportunities to operate with inclusivity top of mind and many opportunities to fail at it.
Still, how can tech be leveraged to build a more inclusive workplace?
Recruitment
Recruitment is where it all starts, with a variety of tools.
A good rule of thumb is to start with ensuring all job descriptions use gender-neutral pronouns like "he or she" or "they." Tools such as Textio software can be used for building out job descriptions with inclusive language and "augmented writing."
Another option is Gender Decoder, which offers a quick way to check whether a job ad has any subtle linguistic gender-coding that can discourage potential applicants — using masculine- or feminine-coded words such as "driven" or "loyal."
Employers can't rely on job boards alone to attract great candidates. There has recently been a huge shift in outbound activity from recruiters, which can be fantastic for reaching out to a more diverse candidate pool strategically. However, outbound activity may leave room for bias in the selection process, too.
A tool like Unbiasify can help remove bias from the sourcing process — it hides names and profile photos on social networks so recruiters focus on a person's skill, credibility and career history.
And when new employees start, have them complete a working styles test to understand their work and communication styles. For example, the Insights Discovery psychometric tool can help employers better understand and appreciate candidate differences.
Collaboration and growth
Collaboration is key at any company and with internal communication tools such as Slack, it's important to ensure people are being friendly and inclusive. For example, Alex — an open-source, text-editing installation that works in Chrome and Slack — will catch potentially hurtful language, profanity and even gendered terms. Then, the bot will recommend different (and more mindful) alternatives for employees to type instead.
Growth is top of mind for top talent and often the reason why good people leave to go elsewhere. A great way to keep them is to support their growth.
Prosper is a recommended tool for employers that want to offer coaching on a small budget. It is an app that helps people achieve their career goals faster, with guidance and accountability. It can serve as a career guide and help employees navigate salary negotiations, building confidence before a big pitch or asking for a sabbatical.
Training
To build an inclusive company, it's important to train people on the issue.
As an example, Crescendo is a diversity and inclusion education platform that sends personalized learning paths weekly to employees to help them empathize with people who are not like themselves. The learning path is personalized over time. Employees see real stories from real people sharing their experiences.
Each "crescendo moment" is packaged as a two- to four-minute video or article, and is associated with an actionable tip. An example is talking or learning about privilege. Crescendo provides specific content to help leaders support people in their diversity and inclusion learning journey.
Implicit associations can get in the way of inclusive hiring decisions. Resumés with "white-sounding" names (such as Emily or Greg) often receive more callbacks than "black-sounding" names (such as Lakisha or Jamal) — even though the resumés are identical.
Rejecting someone for a role she could do based on unconscious bias is problematic but fixable.
Harvard University in Cambridge, Mass., has developed a free online tool called the implicit-association test (IAT) to help the unconscious become more conscious. It measures the strength of associations between concepts and evaluations or stereotypes, and is a positive step towards building self-awareness and starting the conversation.
In conclusion, a lack of gender, ethnic and racial diversity can influence an employer detrimentally in company culture, profitability and diversity of thought.
Creating an environment where people of all ages, races, classes, ethnicities, gender identities or expressions, sexual identities, abilities, sizes, nationalities, cultures, faiths, neurotypes and backgrounds can feel welcome and experience a sense of belonging is important for any growing business — and it starts with inclusion.
---
Avery Francis is the founder of Bloom in Toronto, which helps companies build diverse teams, equitable hiring systems and inclusive recruiting practices. She can be reached at (647) 822-3777 or [email protected] For more information, visit www.buildwithbloom.com.