Province introduces 5 days of job-protected leave for personal illness, injury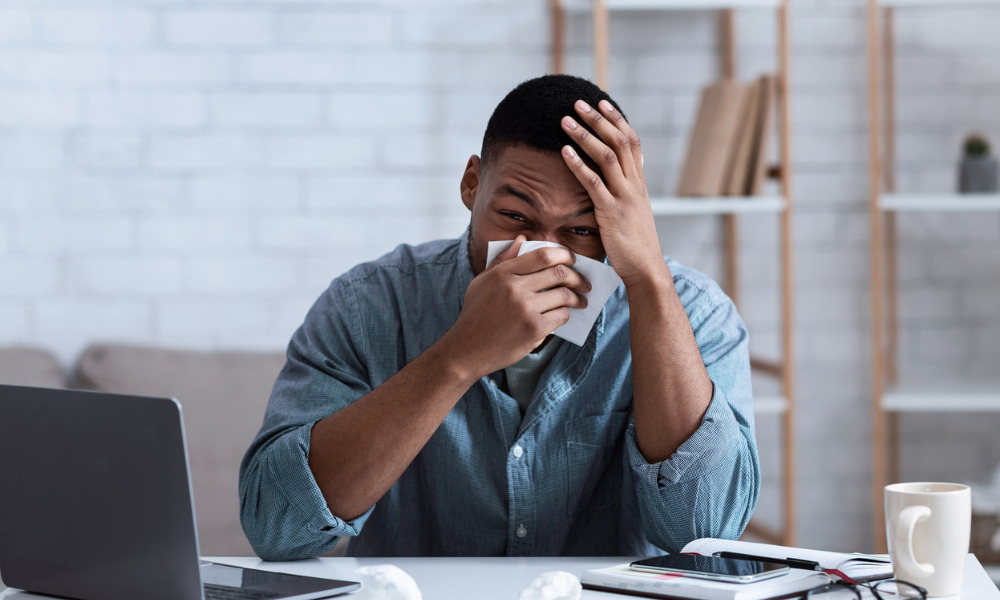 As of Jan. 1, 2022, employees in British Columbia now have access to paid sick leave as a minimum employment standard. Although employers bear the financial cost, statutory paid sick leave was created with the intention of benefiting both employees and employers and helping support the health and safety of the workplace during the pandemic and beyond.
The path to paid sick leave
Over the course of the COVID-19 pandemic, public health guidance has consistently encouraged sick workers to stay home to help reduce the spread of COVID-19. While this guidance seems quite reasonable, it also highlighted a number of challenges. It required a real shift in workplace expectations for both workers and employers — before the pandemic, it was relatively common, if not expected, in many workplaces for workers to attend at work with cold and flu symptoms.
The pandemic also revealed that many workers, including a large portion of essential service workers, had no paid sick leave benefits. Many employees did not have the financial means to stay home with mild cold or flu symptoms, while others were concerned for their job security if they did not show up for work as scheduled.
Various temporary programs and benefits were created by governments during the pandemic to provide support to workers impacted by COVID-19, such as an unpaid, job-protected COVID-19 leave and the later development of a temporary paid COVID-19 leave. In B.C., benefits like this paved the way for further and more lasting changes to the provincial Employment Standards Act (ESA).
In 2021, the provincial government engaged in a consultation process to explore options for a permanent sick leave program. They consulted with employees and employers to assess what sick leave benefits were already offered by employers in the province and to explore options. The government indicated that more than 60,000 people participated in this consultation process.
New ESA paid sick leave
The consultations process led to the province creating a new paid sick leave entitlement under Part 6 of the ESA entitling eligible employees to up to five paid sick days per year. This sick leave benefit may be used for any personal illness or injury and is not limited to COVID-19-related illness. However, it's available only for an employee's own illness or injury and does not extend to caregiving responsibilities for a sick child or dependent.
The annual sick leave entitlement is calculated based on an employee's individual date of hire. Employees have access to up to five paid sick days in each employment year, counted from their individual anniversary date. If any sick leave days are not used they will otherwise expire — unused sick days do not accumulate or carry over from year-to-year, unless an employer implements a policy which specifically provides for this.
Employees, including part-time employees, are eligible for paid sick leave once they have completed 90 days of employment. However, not every employee working in B.C. is eligible. For example, this leave is not available to independent contractors, federally regulated employees working in B.C., or those categories of employees excluded from the operation of the ESA by regulation.
The federal government has passed legislation allowing 10 days of paid sick leave for federally regulated employees.
Read more: B.C. workers should get 10 days of paid sick leave, not five, say unions.
The ESA includes a formula for calculating the amount of wages owing to an employee on a paid sick day. When an eligible employee uses a sick day, they are entitled to an "average day's pay", which is calculated with the following formula: the employee's total wages (excluding overtime) over the previous 30 calendar days, divided by the number of days the employee worked or earned wages over that period. Employers bear the responsibility for the full cost of these benefits.
Although medical notes will not be necessary to establish entitlement in every case, employers are permitted to request reasonable sufficient proof of an employee's entitlement to this paid leave. Employees have a corresponding obligation to provide that proof "as soon as practicable."
Like the existing ESA leaves, the new sick leave is a job-protected leave. Employees who take sick leave are entitled to be returned to the position held prior to taking the leave or a comparable one. Additionally, employers are prohibited from terminating an employee or changing their conditions of employment as a result of having taken sick leave or any of the other statutory leaves provided for in the ESA.
While the B.C. ESA now includes both a paid and an unpaid sick leave entitlement, B.C. employers should also be mindful of their obligations under the province's Human Rights Code to accommodate employees who are not able to work due to an illness or injury. Those duties may require the accommodation of additional leave beyond what the ESA minimally requires.
Although this new leave has already come into effect, now is a great time for B.C. employers to review their workplace policies and procedures. Employers will want to ensure that their policies comply with the ESA and that managers are familiar with this new leave entitlement and are otherwise prepared to manage, track and respond to employee requests for sick leave.
Nicole C.M. Toye is a partner with Harris and Company LLP in Vancouver, practicing employment law and commercial litigation.