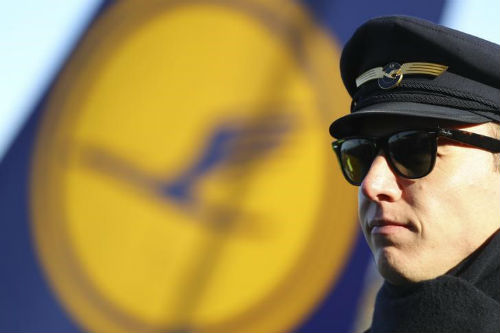 FRANKFURT (Reuters) — German pilots' union Vereinigung Cockpit said it would resume wage talks with Lufthansa next week and hold back on further strikes during negotiations, offering some pre-Christmas respite to passengers and the airline.
The union said in a statement on Friday it would discuss options, including mediation in these talks.
Lufthansa and its unions have been embroiled in a row over contracts dating back to 2012, with 15 walkouts since early 2014 costing the carrier hundreds of millions of euros in lost profit.
Lufthansa wants to cut staff costs by making pay more flexible and revamping pension schemes. Tensions between management and pilots have also been heightened by Lufthansa's plans to expand low-cost operations via its Eurowings unit.
The latest walkouts, over six days in November, have cost the German flagship carrier 100 million euros (US$106 million) in lost profit this year.
Seeking to halt the strikes, Lufthansa dropped demands for concessions in exchange for higher pay. Lufthansa CEO Carsten Spohr also spoke to pilots during an internal staff meeting earlier this week that was also webcast to staff.
The union had previously criticised Spohr for not playing a more active role in negotiations.
Lufthansa has proposed an increase of 4.4 per cent in two instalments in 2016 and 2017, plus a one-off payment worth 1.8 months' pay.
The pilots have asked for an average annual 3.7 per cent increase over a five-year period backdated to 2012, which is when their last collective bargaining contract with Lufthansa expired.