Required notice for changing pay cycle | Calculating income tax on banked overtime pay | Year-end reporting requirements for garnishments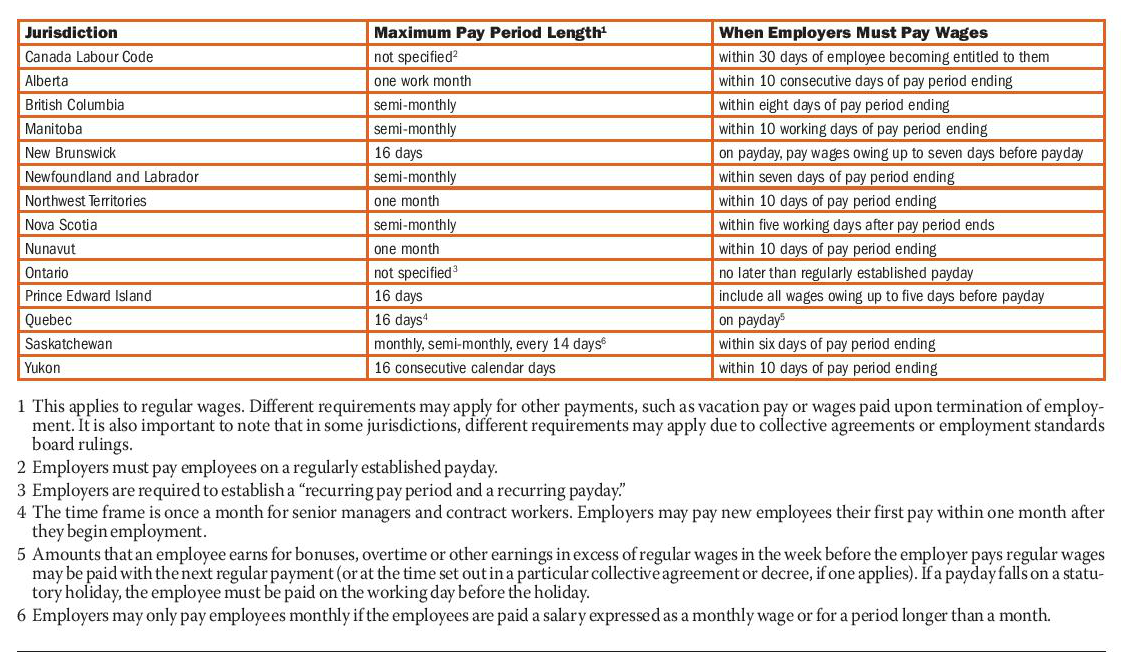 Required notice for changing pay cycle
QUESTION: We are changing our pay cycle from biweekly to semi-monthly. How much notice are we required by law to give employees of the change?
ANSWER: Rules for paying employees are governed by employment standards laws in the jurisdiction in which the employee works. For federally regulated employers, the Canada Labour Code applies.
None of the jurisdictions address employee notice for pay-cycle changes in their legislation or regulations. Employers planning to change their pay cycle should give employees ample notice of the change so that they can adjust their finances accordingly, if necessary.
The amount of notice may depend on the employer's size, as well as other factors.
Whether changing pay cycles or not, all employers must ensure that they follow employment standards rules for when to pay employees, as the table above shows.
Calculating income tax on banked overtime pay
QUESTION: We are paying out banked overtime hours to an employee whose employment is terminating. To calculate the amount of income tax to deduct, can we use the lump-sum tax rates?
ANSWER: No.
You can only use the lump-sum tax rates for very specific types of payments, such as retiring allowances, severance pay and payouts from a registered retirement savings plan, registered pension plan, deferred profit-sharing plan or a registered retirement income fund.
To calculate the amount of income tax to deduct from a lump-sum payment of banked overtime, use the bonus method of taxation.
For more information on this method, refer to the Canada Revenue Agency's website.
Year-end reporting requirements for garnishments
QUESTION: We take deductions from some employees' pay to fulfill garnishee orders. Where do we report these deductions at year end? I cannot find a box or code for them on the T4 or RL-1.
ANSWER: You will not find a box or code on the T4 or RL-1 (for Quebec employers) because deductions for garnishee orders are not required to be reported to the Canada Revenue Agency or Revenu Québec on year-end reporting forms.
However, it is still very important to keep accurate records of garnishee deductions and payments to the applicable court or maintenance enforcement program to verify that you complied with the garnishment order.