Workers hunt for more income as salaries stay flat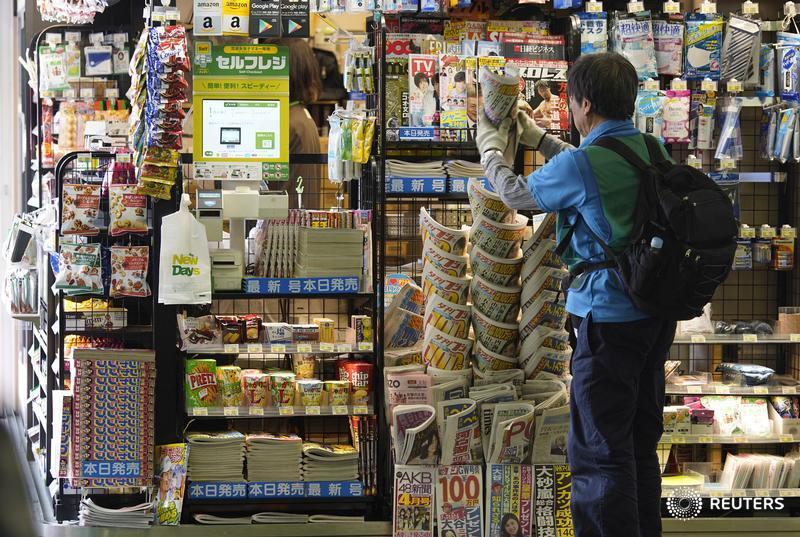 TOKYO (Reuters) — Kazuhiro Hasegawa has been driving a taxi in Tokyo for three years. It's a job he enjoys, despite 18-hour shifts.
But recently, he said, it has not been enough to make ends meet.
The 4.5 million-4.8 million yen (C$ 53,453-$56,970) a year he makes from his primary job is far short of what he needs to cover a mortgage and university for his son, Hasegawa said.
"I have no choice but to work two jobs, as income is unstable," said Hasegawa, 51, who earns several thousand yen a month from a side job shooting and editing videos for businesses. "There's no rest. I try to avoid being short of sleep as that would cause trouble driving a taxi."
Japanese workers like Hasegawa are signing up for second jobs in record numbers to earn extra cash as wages stagnate, stirring hopes of a rise in consumer spending but adding to fears of overwork in a society notorious for long hours.
Facing a labour crunch, many companies welcome the influx of part-time workers. And the government has loosened rules that banned or discouraged employees from taking second jobs.
The result is that a record 7.44 million Japanese will work at least two jobs this year — or about 11 per cent of the workforce — up from 5.33 million in 2015, according to Lancers, which helps freelancers find jobs.
That lags behind countries like the U.S., which have been embracing the "gig economy" for longer. About 20 per cent of the U.S. workforce had second jobs in 2017, data show.
The shift in Japan aligns with Prime Minister Shinzo Abe's goal of creating a workforce that can adapt to economic changes and offer more individual freedom, which he says will promote growth.
Indeed, people working two jobs will contribute an estimated 7.8 trillion yen (C$92.5 billion) to the economy, Lancers data showed.
But there is a dark side.
Japanese workers need to put in roughly 11 per cent more hours than they did in 1997 to make the same salary. Working two or three jobs to make ends meet undercuts the government's "work-style reform" efforts, including proposed caps on overtime in response to cases of "karoshi," literally death by overwork.
"It could raise the risk that one person ends up working over 100 hours (of overtime) by assuming 50-hour jobs at two firms," said Kotaro Kurashige, an attorney of Anzai Law Office, who represents management in labor disputes.
"What the government is trying to do is full of inconsistencies," he said. "Making up for cuts in overtime pay by assuming side jobs elsewhere is like putting the cart before the horse."
LIFETIME EMPLOYMENT
The emerging trend highlights the decline of Japan's lifetime employment system, in which workers in the decades after World War Two were guaranteed job security in exchange for devotion to their employers.
Such positions are much rarer these days. A large number of workers taking second jobs would traditionally be nearing retirement age; nearly half of Japanese workers with two jobs are older than 50, according to Lancers.
"There's no such thing as lifetime employment anymore," said Masaki Shimizu, 32, who on top of his regular job at internet start-up En Factory, runs a coffee shop where patrons can pet live hedgehogs and has two other side jobs.
"I need these side jobs to master new skills and expand my own strengths," Shimizu said.
ATTRACTING TALENT
Japanese companies have traditionally demanded that their workers be fully committed to their employers.
But more are softening their views on the subject, including Rohto Pharmaceutical, SoftBank Group, photocopier maker Konica Minolta and Shinsei Bank.
Diaper maker Unicharm in April started letting its 1,500 full-time employees hold second jobs. The decision was made partly to lure workers amid a labour shortage and to encourage current employees to acquire new knowledge and skills.
"We judged that benefits from side jobs outweigh potential risks such as overwork, leakage of information and brain drain," said Yukinari Watanabe, a senior human resources manager of Unicharm.
So far only one employee, a man in his 50s, has responded, asking to become a basketball coach for middle and high school students.
"We need to be a company that will attract capable workers," Watanabe said. "We also feel that workers need to acquire skills that can be used anywhere as you never know what may happen in this era of uncertainty."
NEW RULES
After Abe called for more labour mobility, the government has tried to clear the way for companies to allow side jobs.
In January, the labor ministry removed a rule banning second jobs without an employer's permission. Now workers must only inform their employer before taking on another job.
But recent cases of people working themselves to death have also led Abe's government to propose labor reforms such as a cap on overtime of 100 hours per month.
Many workers count on overtime pay, however, and caps would reduce that income, said Hisashi Yamada, research director at Japan Research Institute.
So as long as people can skirt that by taking additional jobs, the trend of working for more than one company will probably continue, Yamada said.
But if it spreads workers too thin, it could erode Japanese employment culture, Yamada said.
"Many Japanese firms still want employees to focus on their main job, so Japan won't turn into a country like America right away, where gig economy jobs are widely available," he said.