'Having a generous sick day policy may be good for the bottom line'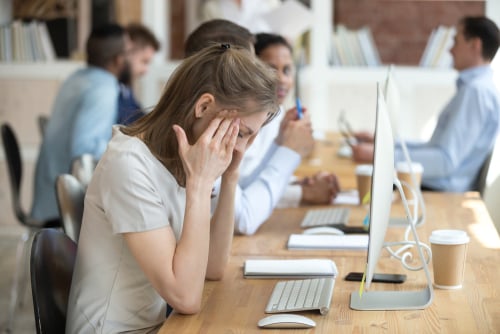 Employers should encourage sick workers to stay home — especially during flu season.
That's because a one percentage point increase in the employment rate correlates to a 19 per cent increase in flu-related doctor visits, according to research out of Ball State University in Muncie, Ind.
These results are most pronounced within industries where interpersonal contact is common — such as the retail and health-care sectors, according to Erik Nesson, an economics professor at Ball State and co-author of "The Effects of Employment on Influenza Rates," published in the Economics & Human Biology journal in April.
Industries with lower levels of interpersonal contact, such as manufacturing and construction, showed less-relatable data in terms of increases in flu-related hospital visits, he said.
The study matched up eight years of employment data from the U.S. government with influenza statistics from the Centers for Disease Control and Prevention.
Work-related activity such as using public transportation or carpooling, working in offices and putting children in daycare could contribute to spreading the flu, said Nesson.
"During the flu season, if employment goes up, we expect that there will be more doctor visits and a higher prevalence of influenza in the following month," he said. "We see that show up in measures of flu prevalence about two weeks to a month later."
The research indicates that employers in the U.S. and Canada would be wise to consider a generous sick day policy — including work-from-home and telecommuting opportunities — to encourage ill employees to stay away from the office, he said.
"Having a generous sick day policy may actually be good for their bottom line, because if an employee shows up to work and they're sick, they're likely to infect other people," said Nesson. "And that loss of productivity may be very high, compared to the loss from that initial sick person staying home from work."
"Employers should consider differences in the lost productivity from many employees becoming infected with influenza versus the lost productivity from a few infected individuals taking sick leave," he said. "Workers concerned about missing pay or losing their jobs as the result of staying home from work due to illness will be less likely to heed early signs of influenza infection and stay home."
"Since a person may be infectious while experiencing mild symptoms, this greatly increases the probability that the virus will spread to other workers in the firm."
Infectious period
Workers can be most infectious before they show symptoms, said Jane Heffernan, a science professor at York University in Toronto.
"For some infectious diseases, that can be quite a bit of your infectious period," she said. "You don't even know if you should stay home."
"Symptoms are usually a manifestation of your immune system fighting off disease, fighting off an infection. If you have symptoms, that means that your immune system is at work. Before you see these symptoms, you can be expelling virus particles or bacteria."
During flu season, sick workers should stay away from the office, and those at work should wash their hands often to ensure infectious disease isn't being spread, said Heffernan.
Canada's flu season typically occurs between November and April, with an average of 12,200 hospitalizations and 3,500 related deaths each year, according to the Public Health Agency of Canada.
People infected with the flu virus can spread it to others starting one day before the first symptoms and lasting for five days. Symptoms typically appear one to four days after exposure to the virus and include fever, cough or muscle aches and pains.
Other common symptoms include headache, chills, fatigue, loss of appetite, sore throat and runny or stuffy nose.
Influenza immunization programs usually launch in October, with the best time for vaccination occurring between October and December. Thirty-eight per cent of Canadian adults received a flu shot last year, according to the agency.
The Canadian government has a coverage goal of 80 per cent for seasonal vaccinations by 2025.
Workers would also be wise to take advantage of the flu shot, available for free in Canada, said Heffernan.
"A lot of people choose not to get vaccinated because they don't think that the vaccine is going to be very helpful."
However, any vaccination close to the flu strain in question is still helpful, she said, adding employers with policies requiring a doctor's note for illnesses should consider amending such policy during flu season.