Why wellness should come before the bottom line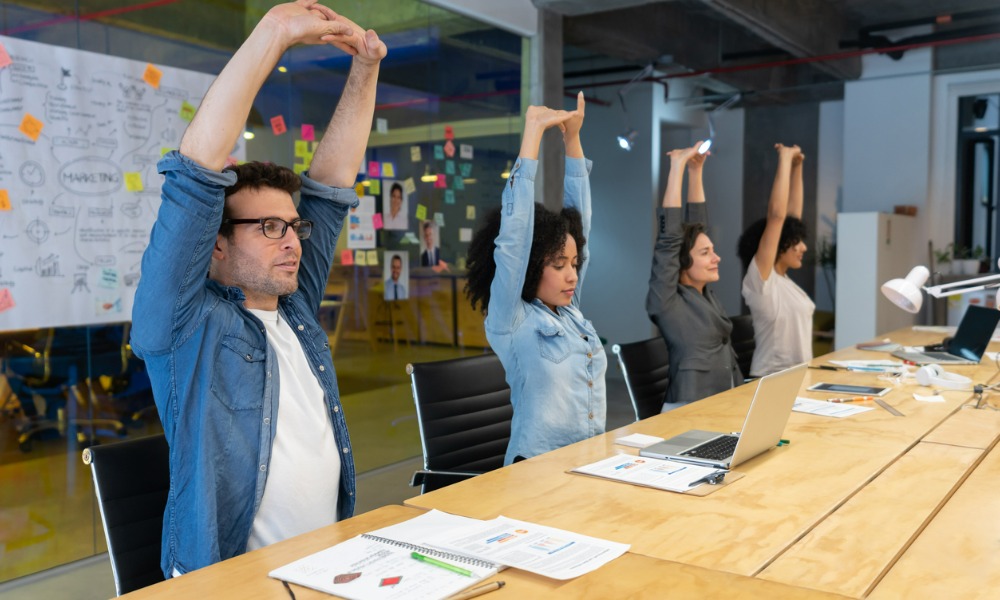 "People are a company's best resource."
It's been said enough times to be rendered cliché, but one thought leader thinks it shouldn't be said at all.
Jamie Gruman, a professor and senior research fellow at the University of Guelph's Gordon S. Lang School of Business and Economics, has never embraced the concept of viewing people as inputs to be leveraged for economic benefit.
When employee well-being is weighted as heavily as profit, he says, the release of human potential is boundless: "It's time to rebrand the concept of human resources as human resourcefulness."
Gruman, an expert in organizational behaviour and workplace well-being, is at the forefront of an emerging field of study called Positive Human Resource Management (PHRM). At the intersection of positive psychology and human resources, PHRM describes HR practices and systems that regard employees as individuals, as opposed to resources, and help them flourish.
In a new paper that leads the fall 2022 issue of Human Resource Management Review, Gruman and his co-author Marie-Hélène Budworth, associate professor at the School of Human Resource Management at York University, summarize emerging trends in PHRM research and makes a key distinction between PHRM and its traditional counterpart, Strategic Human Resource Management (SHRM).
Understanding SHRM
SHRM links human resource management and practices to long-term organizational goals and outcomes. In general, this approach places the bottom line as theultimate goal and manages accordingly, investing time and resources in people to maximize their productivity. When conflicting demands pit human well-being and profit against each other, humans usually lose.
Cara Krezek, director of co-op, career and experiential education at Brock University, has witnessed many of these failures in her capacity as an HR consultant.
"In organizations where profitability is the primary driver, employees tend to become collateral damage," she says. "That has been especially true during economic downturns and crises like the COVID-19 pandemic."
Gruman recalls delivering a recent talk in which he asked 150 people if anyone had worked for a company that didn't care for its people well during the COVID-19 pandemic.
"At least 25 of them raised their hands," he says. "Some companies cared so little they wouldn't even bother to put up protective plexiglass."
While many companies failed to place employee well-being front and centre, some rose to the occasion. Kim Majetic, regional human resource director at Gordon Food Service – Ontario, says that her organization prioritized the health of its employees during the pandemic by maintaining strict safety protocols.
"While we did have to ensure business continuity, our decision making was focused on protecting our employees," she says. "We're a people-centric organization."
Diana Godfrey, senior vice president of human resources at Fidelity Canada, has witnessed a tremendous shift in paradigm in her 27 years at the company. "Employee wellness" wasn't a topic of conversation in the industry back in 1995, but over time, it has become a critical component of the company's approach.
During the pandemic, Fidelity Canada doubled insurance coverage for mental health care, improved emergency care provisions to give employees the flexibility to handle disruptions like school and daycare closures, and introduced a new virtual healthcare platform to help employees access support from home. The company's Toronto office will soon unveil a brand-new wellness center, complete with showers, a meditation space, prayer room, mothers' room, and collaboration and socialization spaces.
At Gordon Food Service – Ontario, Majetic and her team have identified the need for similar support. Through an onsite platform, employees can access online counseling services and other employee assistance program (EAP) resources. Even prior to the pandemic, the company had launched a wellness pilot program that offers onsite access to a nurse, chiropractor, and massage therapist.
"We genuinely care about what our employees' lives look like when they leave the workplace," says Majetic. "We continually assess what they need to flourish and do our best to respond accordingly."
Dropping the business case
It's easy to make a business case for these policies. In many cases, there is considerable overlap between SHRM, which views organizational success as its ultimate goal, and PHRM, which views human wellbeing as its highest goal.
At Brock University, for example, Krezek gives employees two days off per year to volunteer. This practice helps employees foster a sense of meaning and purpose, improving their well-being. At the same time, it improves employee morale and retention.
Read more: Birthday benefits boost employee morale and retention
"It's definitely true that if you take care of people, organizational success will follow," she says.
When reflecting on the broad range of benefits that her company offers its employees, Majetic recognizes that while they are not all geared toward profit, they all impact the bottom line: "How we treat our employees impacts absenteeism, engagement, and retention."
But Gruman is on a mission to promote employee well-being without invoking the business case.
"I don't like taking the business angle because I believe that we should treat people well regardless of the impact on the bottom line," he says.
On one hand, he recognizes the need for balance in a company's policies. While it may benefit an employee's mental health to take every other week off, for example, offering such a perk would quickly put most companies out of business.
What a company can do, though, is let the pendulum swing back to the centre — closer to people than profit.
"When organizations become more balanced, they will let people take an occasional Friday off because it's good for them, not because it's good for the bottom line to have more rested employees," he explains.
Promoting PHRM
Out of this conviction, he continues to champion a societal shift toward PHRM. In his latest paper, he offers a model of combining HR and positive psychology that will help set the stage for practice and scholarship in this arena. The Positive Human Resourcefulness and Management (PHRAME) model draws a straight line between positive HR practices and systems — from flexible schedules and mentorship to promoting health and tolerance in the workplace — to outcomes like employee health, organizational reputation, and higher levels of innovation.
From Gruman's perspective, the first step in the right direction is to change the language surrounding employees from "human resources" to "human resourcefulness." Only when humans are regarded as individuals worthy of care and respect, not components of a larger profit machine, will progress be possible.
He says he is aware that his ideas elicit skepticism.
"When I give a talk, I know very well that half the room will be smirking at me," he says. "I know that asking the business world to move away from a pure focus on instrumentality and profitability is a hard sell."
Ultimately, though, Gruman is willing to alienate one segment of his audience to inspire the rest.
"I don't want to live in a world where people are a resource, where profitability trumps living well, and I don't think I'm the only one," he says. "I'm encouraged by the movement I'm seeing with PHRM, but we're still not heading in the right direction fast enough. There is work to be done."