Miners say they are saving jobs, creating different roles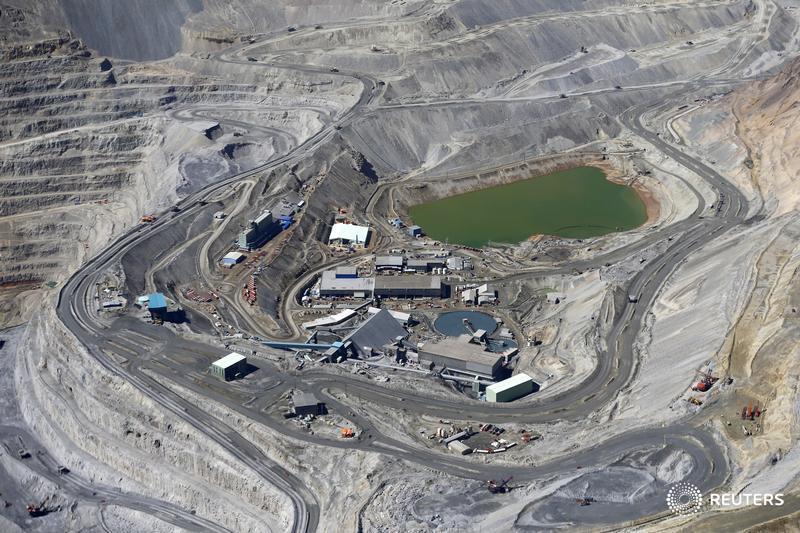 SANTIAGO/LONDON (Reuters) — Mining companies chasing the kind of technological breakthroughs made long ago in the manufacture of cars and mobile phones have unveiled eye-catching innovations ranging from vast drills and remote-controlled trucks to second-by-second data analysis.
Behind the scenes, however, there has so far been limited progress towards a transformation the companies say is more and more vital to their survival.
They are being jolted into action by volatile commodity prices and the increasing difficulty and danger of accessing remaining reserves in hot, narrow seams several kilometers below ground.
"There's a big awakening in mining. The time is ripe for things to begin to change," Anglo American's head of technology development Donovan Waller said by telephone.
A major obstacle is the massive upfront cost for innovation that firms such as Anglo, BHP Billiton and Rio Tinto must pay off over the life of a mine in contrast to incremental upgrades common to mobile phones.
Sandvik, one of the world's biggest suppliers of mining equipment, told Reuters it had doubled its installation of automation systems between 2015 and 2016.
But, asked what proportion of the loaders and trucks it sells are fully automated, it gave an estimate of five percent.
While automation represents a potential threat to jobs the world over, it is particularly sensitive in an industry employing hundreds of thousands of blue-collar workers in nations where mining represents a major chunk of GDP.
Extreme environments and logistical barriers to transferring technology from other industries were other issues experienced by three big mining companies, in South Africa, Chile and Australia, which shed light on the complexity of the task.
LABOUR RELATIONS
South Africa's South Deep started ahead of the pack back in 2008. Now the only fully mechanized large underground gold mine in South Africa, it broke even for the first time last year after years of losses and unveiled a new turnaround plan in February which cut production targets.
Mine owner Gold Fields blames unforgiving geology three kilometres (2 miles) beneath the operation south west of Johannesburg, says it has not had to fire anyone over mechanization and points to staff members who have readily embraced change.
"Our mining is going forward," said employee Margaret Motaung, describing training for remotely operated rock-breaking equipment imported from Australia as easy and reporting that she had had a pay rise, which she declined to specify.
The mine's trade union leader, Victor Mphore, takes a very different view, saying miners were being replaced by outsiders.
"We have seen a lot of forced dismissals in the form of constructive dismissals and high turnover in middle management at this mine," he said, citing language and literacy barriers and what he said was insufficient training to overcome them.
At a national level, the union will not discuss mechanization. "We won't participate in talks about mechanization because it will lead to job losses," said National Union of Mineworkersspokesman Livhuwani Mammburu. "They (the mine owners) mustn't rush only to make profits."
The chamber says some job losses are inevitable, but that without technology to extend the life of mines, some 200,000 people would lose their jobs by 2025, affecting 2 million people via families or related industries.
Lack of engagement is a problem, it said. "It is obviously impacting on the pace and the scale at which this can be done," said Sietse van der Woude, the chamber's modernisation specialist. "We hope that we can have a conversation in such a way that we can progress these matters and actually save those jobs."
Starting this month Pretoria is providing funding to develop ore processing techniques and related manufacturing to make up for lost jobs. But the sum, 150 million rand ($11 million) over three years, is modest.
It declined to answer questions and is in a standoff with the mines over black ownership requirements that show the political sensitivity of an industry accounting for up to 60 percent of foreign export earnings and roughly 420,000 jobs.
HEIGHT AND DEPTH
In Chile, the copper industry faces wage talks overshadowed by a long strike at BHP Billiton's Escondida mine, alongside other challenges.
At Anglo American's Los Bronces operations in Chile, which announced 140 job cuts last year, the altitude can interfere with remote navigation systems, and the company's Copper CEO Hennie Faul, is focused on systematic improvement of operations using data rather than on the latest drilling equipment.
Describing mining as "the most challenging culture to pull in" he says dwindling supplies of ore means the industry must adapt fast to catch up with a technological shift it took the car industry decades to enforce.
The company says an estimated four tonnes of earth now need to be moved to extract five kilograms of copper, increasing the need for the most efficient techniques.
Unexpected outages for maintenance can make a 30 per cent difference to productivity and cost. Using systematic analysis to conserve water is also crucial in an arid environment, Faul told Reuters at the CRU World Copper Conference in Santiago.
The remote Pilbara region of Australia has already entered the space age as autonomous trucks the size of houses trundle through vast open pits controlled by operators more than 1,000 kilometers away in Perth.
Rio says the change has improved productivity and put an end for many to a so-called FIFO (fly-in, fly-out) lifestyle as highly-paid workers were flown in to work the iron ore pits far from their homes.
But the next stage — Rio's $518 million autonomous train plan, under development since 2012 — has yet to be fully rolled out because of technical glitches, although Rio says it is confident it can expand use of autonomous trains this year and next.
($1 = 12.7356 rand)