Many new products, services more complicated than selling smartphones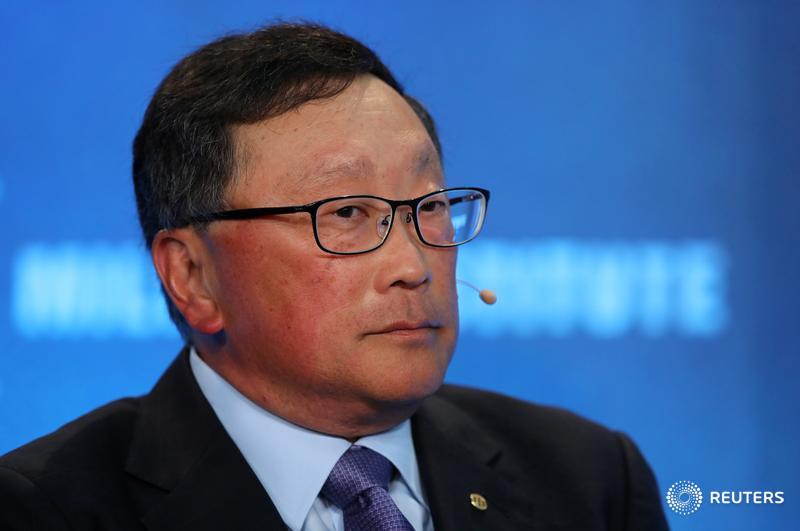 TORONTO (Reuters) - Software maker BlackBerry's long-running recovery effort has been slowed by a dearth of salespeople to promote its revamped and more complex products, with CEO John Chen pledging to hire more sales specialists to help achieve its growth target.
While BlackBerry's traditional customers were security executives in top global companies, its reboot from smartphone maker to seller of everything from automotive software to cyber security consulting and asset tracking for the trucking industry has seemingly moved faster than its sales force can keep up.
BlackBerry's revenue started declining in 2013 after Apple and Alphabet wrested control of the smartphone market from the Canadian company. Chen took over as chief executive to fashion a turnaround and has been adding new software businesses to boost revenue, which remains a fraction of what it was in its heyday.
Chen told analysts on Friday he planned to hire more salespeople for industrial software maker QNX, acquired in 2010, as well as for its Internet of Things business, which connects computing devices in everyday objects and includes the Radar asset tracking service for trucking.
"Our issue is get it out there and get the deal done," he said. "And so we really need to ramp up our distribution channels."
A sales force boost will likely eat into profit, at least in the short-term, as the metrics of success BlackBerry wants to achieve typically depend on higher commissions to motivate sales staff.
"Salespeople are coin-operated," said Berkeley Warburton, managing director of advanced customer strategy at Accenture. "If you want the right behaviors out of them you have to incentivize them in the right way."
BlackBerry, which ended February with just over 4,000 employees compared with more than 4,500 a year earlier, declined to say how many of them were involved in sales. Five years ago the company had 16,500 employees, with 1,500 working in sales and marketing.
BlackBerry on Friday disappointed investors with an unexpected software sales decline, pushing its shares down as much as 13 percent after a sharp rally in recent months.
BlackBerry's quarterly revenue miss prompted caution about Chen's efforts to revive growth.
"It's really different, in terms of who makes decisions about those things, it's no longer the IT (information technology) team. It's now the product design team," said Eric Johnson, the dean of Vanderbilt University's Owen School of Management.
Coupled with that, many of the products and services it is now pitching are much more complicated than selling smartphones.
"The product doesn't sell itself in the way that they used to. They have more complex products," so BlackBerry's salespeople need to shift focus and sell solutions instead, Accenture's Warburton said.
For example, BlackBerry's QNX unit must integrate its automotive software with that of many other vendors as well as the carmaker on a production timeline of years rather than months.
"It's a highly consultative sales process," Vanderbilt's Johnson said. "They're going to have to make significant investments in their sales force to make it work."
BlackBerry reached a deal to work directly with Ford Motor Co last year, but Chen told reporters in a briefing on Friday that talks with other automakers were taking a long time to bear fruit.
"The reason is they are going to have to adopt most of our technology for it to make sense," Chen said. "This is not a technology issue. ... The contractual terms and requirements are the long goal."
Chen also said he might buy companies to boost sales, with a focus on growth areas including cyber security, machine learning and artificial intelligence, connected cars, and in asset tracking to compliment its Radar product.