Half of London's construction employees not from Britain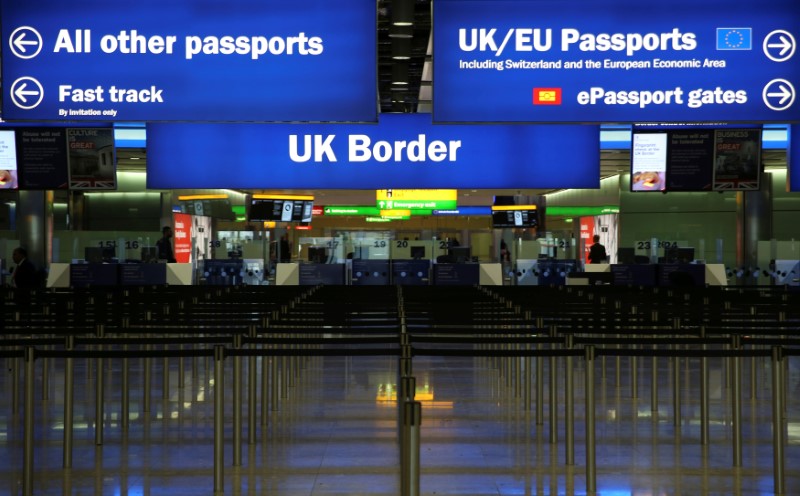 LONDON (Reuters) — Britain's leading employers' group said on Friday it accepted that Prime Minister Theresa May would need to impose controls on EU citizens working in the U.K. after Brexit, but new immigration rules must not stop companies from hiring the staff they need.
The Confederation of British Industry (CBI) — which has angered Brexit supporters with its pro-EU views — acknowledged the concerns many voters have about immigration.
"We accept freedom of movement is over. We accept there needs to be an element of control," said Josh Hardie, CBI deputy director-general. "But we are absolutely clear that immigration delivers huge economic value to the U.K., so it needs to be open."
With the government working on its post-Brexit immigration policies, the CBI said in a report that a careful balance had to be struck.
It said compulsory registration of EU citizens who enter the U.K. — which has not been required until now — would be an important step towards establishing firmer control of immigration and raising public trust that the issue was in hand.
"Registering EU nationals allows the U.K. to ensure that they are contributing to the economy and society if they want to stay for a longer period of time. The U.K. will need a way to ensure that only EU nationals that are contributing stay in the longer-term," the report said.
It acknowledged the difficulty and sensitivity of achieving that goal, but said "ensuring that everyone who comes to the U.K. is contributing is an important part of ending free movement as it has operated to date."
At the same time, local workers should be prioritized for jobs when unemployment in specific professions rose above a certain level.
In response to the report, the government said it was considering a range of options to control its borders while continuing to attract and retain workers who benefit Britain.
The CBI said the world's fifth-biggest economy would still need migrants from the EU and beyond after it leaves the bloc in March.
Half of London's construction workers are not from Britain and more than one in four employees in banking and finance in the capital are non-UK citizens — 17 per cent from the EU and 11 per cent from the rest of the world, it said.
A quarter of staff, or 113,000 people, who work in warehouses in Britain are EU nationals.
There are already signs that Brexit has put workers off coming to the country — in the 12 months to March this year, only 805 EU nurses and midwives registered to work in the health service, down sharply from 6,382 a year earlier, the report said.
The government had to change the often hostile debate about migration which most economists say has been positive, so far, for the economy and public finances, the CBI said.
"In these febrile times, it's vital that a policy of such importance for the U.K.'s future living standards can be discussed without ideology or an oversimplification of public attitudes," Hardie said.
The CBI said migration had to be part of future trade talks with countries around the world to help open up new markets.
That would mean an overhaul of Britain's complex visa system for non-EU workers.
The government should drop its target of cutting net migration below 100,000 people a year — which it has repeatedly missed — and replace it with a system that ensures migrant workers contribute to the economy, the CBI said.
The government said in its response to the CBI report that it was committed to bringing net migration down to "tens of thousands."