How to get a free Digital Work Passport courtesy of Workwolf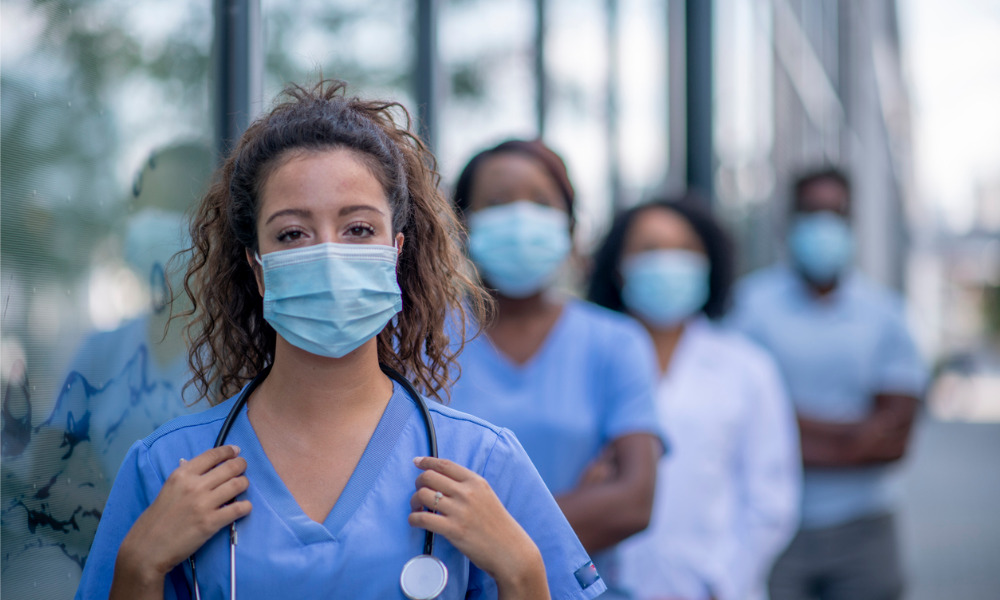 The government of Ontario announced in early April 2021 that the province is experiencing a third wave of COVID-19 — one significantly more saturated than the previous two — that is placing a threat on Ontario's healthcare capacity. With reported active case numbers as high as 34,000 across Ontario and the number of patients being admitted to the ICU rising, the province is seeking all qualified professionals to assist in understaffed hospitals and other care facilities.
To compensate for overworked and understaffed areas of hospitals and care facilities, doctors, nurses, and other healthcare workers are being shifted from other units to combat the lack of staff needed to provide the critical care patients are needing, particularly with the new, more aggressive variants of the virus.
More than 800 patients with COVID-19 are in critical care in ICUs across Ontario, and the cases are projected to reach beyond 1,000 by the end of the month, according to the CBC.
"There's no doubt this is the worst crisis we've seen in hospitals in Ontario in our lifetimes," says Irfan Dhalla, a physician and University of Toronto medical professor.
To support the community's needs, many initiatives are taking place across the province, including a recent donation of $10,000 from MAGNUS Healthcare Recruitment Solutions (HRS) that will offer free background checks, license and certification verifications and more to registered nurses and registered practical nurses in order to deploy them to the facilities that need qualified workers urgently.
These background checks are one of the many versions of "passports" that are being adopted to provide secure verifications in real-time, such as the vaccine passports used to ensure a traveler's vaccination and health status before boarding a plane, MAGNUS's verifications are being offered to healthcare workers in the form of a Digital Work Passport, as established by Workwolf.
These Digital Work Passports will provide hospitals and other care facilities with the urgent supply of nurses needed to support the rising number of patients in critical care. In addition to allowing workers to begin assisting these facilities sooner than a traditional background check would allow, Workwolf's Digital Work Passports will further allow nurses to be deployed between multiple facilities, offering real-time verification of a worker's healthcare qualifications, identity, and employment history.
Particularly sensitive to the pressures COVID-19 is placing on the healthcare industry, MAGNUS founder Erik Simins is ensuring that healthcare workers are being deployed safely to facilities with urgent need. In his history of leading the successful medical staffing practice, Simins has witnessed the damage that can be done when fraudulent credentials or licenses are missed during screening processes.
Workwolf's Digital Work Passports utilize blockchain technology to ensure that all credentials claimed by a worker are verifiable in real-time from the credential issuer, says Simins. Resume fraud is a systemic problem within the hiring market. It occurs in more than 60 per cent of job applications.
False credentials can be devastating to patients and their families, says MAGNUS advisor Candace Chartier, who also leads Ontario's COVID-19 task force for long-term care facilities.
This level of security clearance with healthcare workers is a step that should not be overlooked, she says, even in the urgent calls to action COVID-19 is demanding. Having been a witness in the 2019 trial of Elizabeth Wettlaufer, a registered nurse who murdered eight senior citizens under her care in a nine-year period, Chartier notes that vulnerabilities in the healthcare system should not continue to go unaddressed even in a global pandemic.
During the inquiry, MAGNUS reached out to Chartier, who was the CEO of the Ontario Long Term Care Association at the time, and received input on the technology. Chantier assisted our team in identifying areas of risk that could be mitigated by the technology as well as the impact on valuable time savings when onboarding health human resources, as the province was well into a national health human resource shortage. She stated, "The LTCHs are struggling with staffing our homes and this technology will absolutely free up time to care and even attract more registered staff to our sector, knowing the credentials of their peers have been authenticated."
As such, Simins is working with the team at Workwolf to ensure 1,000 nurses are screened to be deployed to critical COVID-19 care facilities — immediately, securely and for free.
"With the hysteria and shortage of front-line healthcare staff, it is of utmost importance that verifications of credentials, background checks, criminal history, and instances of malpractice are performed quickly and correctly," says Simins.
"This is when we need proven technology to help ensure patients are safe and that we are doing our best to maintain some level of certainty in such an uncertain time. We use the Digital Work Passport for our clients in healthcare and it is absolutely a game-changer when it comes to expediting the onboarding process. It saves clients at least two weeks in their time-to-hire."
If you are a registered nurse or registered practical nurse looking to be employed to assist in the COVID-19 crisis, you can receive your free Digital Work Passport at www.magnushrs.com.