Exclusive roundtable looks at challenges and potential solutions to disability management – or 'disability prevention'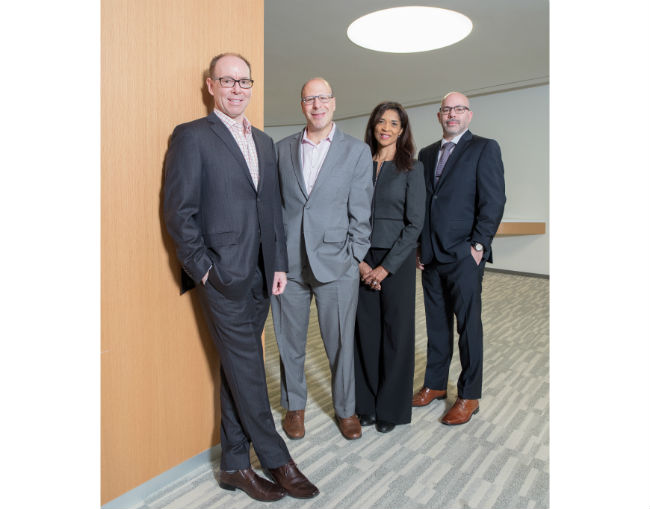 In a world where mental health issues are becoming more prevalent in employment settings, employers and HR professionals are striving to find preventative solutions around disability management.
In November, Canadian HR Reporter hosted an exclusive roundtable sponsored by Sun Life Financial that explored the issues behind the rise in mental health claims, including: What is driving the increase? Where can employers and employees turn for help? And what solutions exist to prevent workers from going off the job, but also having them return quickly?
What's behind the trend
Societal and demographic factors such as an aging workforce are driving today's disability claims, according to Paula Allen, vice-president of research and integrative solutions at Morneau Shepell in Toronto.
Reduced stigma surrounding mental health plays a role in increased claims, but so do risk factors such as isolation, she said.
"There's more Canadians living alone now than have ever been in history," said Allen. "It's hard to feel validated when you're by yourself."
"The last thing we want is for the workplace to exacerbate something that's already happening and that we know to be quite damaging for health."
The workplace is often the place where people find connection, though it can also be an issue for younger workers, according to Mike Aiken, assistant vice-president of disability operations at Sun Life Financial in Kitchener, Ont.
"That is not the diagnosis, but it's the trigger point that is leading to that mental health issue — that absence," he said.
Humans are social animals and isolation can have a harsh effect, said Tyler Amell, chief relationship officer at CoreHealth Technologies in Calgary.
"At the end of the day, work is essential for our good health and when we miss out on that interaction, that commonality, that sort of thing, it tends to feed into some negative feelings," he said.
Also behind the increase in incidents and longer durations of employee leave is the coupling of a chronic disease with a mental health incident such as anxiety or depression, said Amell.
"One of the things that we're seeing is that there are more comorbidities or polymorbidities taking place," he said. "So, it's not just one particular incident that is driving an episode of temporary work disability."
"This invariably leads to more incidents and longer durations, and more people are transitioning from short-term disability to long-term disability plans."
Employers need to shift towards an approach of disability prevention and investment in well-being, according to Allen.
"The workplace does have an impact on how people manage their own health," she said.
"Cultures of the workplace, self-care, resources that are available, whether there's conflict that's poorly managed — all of these have impact on people's physical well-being as well as mental well-being."
"There is an education as well for employees, because this is a joint accountability — it's employees as well as employers — to sort of avail yourself of resources."
Education needed
Education on benefits programming would be a good start, said Aiken.
"More and more, you're seeing the younger generation, and they are not understanding their benefits program," he said. "They don't even understand what their employers offer."
In that respect, society has a ways to go in terms of mental health literacy, and understanding ailments such as depression, anxiety and bipolar disorder, said Allen.
High-functioning mental disorders can be hidden behind a smile and continued work productivity, she said.
"It doesn't necessarily show the same way in every person. One person might show anger; another person might show self-induced isolation," said Allen.
"Without that understanding of the different ways that mental disorders can show themselves in people, then I think we end up missing a fair bit," she said. "People hang on until they absolutely crash."
Education is also needed around workplace accommodation, said Stuart Rudner, employment lawyer and founder of Rudner Law in Toronto.
"It's critical that employers and employees understand what the law says about accommodation — what's required from both parties, because it should be a bilateral or two-way process," he said. "When it comes to requests for accommodation, it's critical to have a very clear, defined process."
"It doesn't matter what the issue is, there should be one process for accommodation which involves the employee, makes sure the employee knows that they need to provide appropriate information."
Employers are not trying to catch employees in a lie, said Rudner.
Rather, they are simply determining whether there is a legitimate need for accommodation and how it can be provided — with the goal of having the employee return to work sooner through a modification of duties or other options, he said.
Options available in medicine, tech, data
Personalized medicine such as pharmacogenetics or pharmacogenomics could prove to be a major benefit in the mental health space, according to Aiken.
"We really need to actually continue to tout that and get the general practitioners onboard with that," he said.
"It sounds simple but it's very difficult to actually educate the general public on this trend."
The practice consists of an oral swab test, after which DNA is sent to a lab and screened to understand which drugs the patient would process best, said Amell.
"It's relatively inexpensive when you compare it to the disability costs associated with wage-loss replacement and other things," he said. "It's a way to leapfrog to the final drug that's going to have the best indication for treatment for one particular person."
"I foresee a time in the future where this will be part of our medicare program — funded by the provinces eventually — because the efficacy is clearly supported. The research is clearly there that this does make perfect sense."
Canada's public health-care system, while excellent, does have some drawbacks in terms of rapid resolution to mental health issues, said Rudner.
"There are flaws, including excessive delays to see specialists, get tests done," he said.
"It can be as simple as you've got someone who needs an MRI and you're waiting three months to have it done, and the employer's waiting three months to have them come back to work."
Telemedicine and telehealth also play a role in ensuring quicker turnaround times for employees with mental health issues, said Allen.
Cognitive behavioural therapy — delivered in an internet or digital format — is a possible solution and effective alternative to traditional face-to-face consultation, she said.
"There is a lot of power and there is a lot of choice in the hands of employers. It's not just 'Well, there's a system, it's impacting my people, it's impacting my disability rate and I'm passive about this.' Employers don't need to be passive."
As for employees who may fear participating in virtual care due to privacy issues, it is "extremely secure," said Allen.
"Personal health information is one of the most sensitive types of information."
Data availability can help drive decisions, but it needs to be actionable and applicable, said Aiken.
"There's a tremendous amount of data out here," he said. "Data is data unless you know how to bring it all together… Data isn't valuable unless you actually do something with it."
To many, data is the be all and end all, but that is simply not the case, said Amell.
"Data, in turn, leads to information. Information, in turn, leads to knowledge, which in turn leads to insight, which in turn leads to action if it's done and actioned appropriately," he said.
"But you need to make sense of it all. You have to have good capabilities with regards to aggregating the data, using common identifiers across the board."
Correlating productivity with the health experience of staff is a solid first step for employers seeking to leverage data, according to Amell.
"As you peel back layers of the onion around interpersonal relationships between the supervisors and the employers, and those microcultures that exist within larger parts of the organization… you begin to get to the point whereby you can dive pretty deep within."
Striving after a holistic understanding of wellness is vital, said Allen.
"This is critically important. This is not an off-the-side-of-your-desk type of thing," she said. "This isn't just something that is interesting to attend a conference and understand."
"Understanding the needs, the drivers, the opportunities, the trend — not of Canada, but of company X, of division Y — so you don't waste time, you don't waste money, you don't do things that are not going to help people. Because we all agree that we need to move forward from a personal medicine point of view, but also from an organizational point of view."
Organizational data can be broken down by division, department, manager and shift, said Rudner.
"Some of that data may reveal some very real trends," he said. "If 80 per cent of the people in one department have gone off on leave, maybe the manager is at fault, or at least is a part of the problem. So it's not really related to disability treatment, but it may help employers identify where there are issues. And I guess that's one form of prevention right there."
Focus on prevention
In the future, employers should shift their mindset to focus on a concept of disability prevention rather than simply disability management, said Amell.
"It's very much focusing on the concept of fitness for duty," he said.
"How fit are people truly? And what can we do to control and prevent and reduce the risk over time? Because, let's face it, chronic disease — and I'm including anxiety and depression here given the relatively large number of people impacted by that — are significant issues driving Canadians. And it's impacting their disability experience."
Focusing on diet, exercise and overall fitness is crucial towards health and well-being, said Amell.
"In focusing on improving that — those well-being investments — earlier on, we'll reduce the impact of work disability, of temporary work disability down the line, and help people return to work much quicker, or in fact stay engaged through focusing on stay-at-work programs."
Total prevention, education and simplification will help the insurance industry, according to Aiken.
"We all know that we can't prevent it all," he said.
"When we build a digital solution, that solution needs to be easy. You're already working with someone who is not well. If it's complex, they won't engage."
Adopting a two-pronged strategy around both prevention and support will need to be a part of any employer response, said Allen.
"Don't assume that the problems of the past are the problems of the present or will be in the future," she said.
Employers must continuously have open minds and be aware that there are solutions that can help them with this, according to Allen.
"That whole idea of being passive doesn't apply anymore," she said.
"Employers have a lot of power, a lot of positive control. There are a lot of tools that are available to them through a number of different providers to enable them to solve problems."
---
COMMENTARY FROM SUN LIFE FINANCIAL
---
Improving access to care through innovation
There are many factors causing an increase in disability claims in Canada including an aging population and increasing instances of mental health issues. Group benefits (GB) carriers have an opportunity to develop innovative solutions that will help with prevention and improve disability outcomes.
Improving access to care:
Improving access to care is integral to both prevention efforts and returning employees to full health and work. Sun Life is innovating in several ways in this space:
Health-care system navigation: Sun Life has partnered with a health-care navigation provider to offer employees on disability one-on-one support, accelerated access to physicians and specialists, and guidance though their treatment and recovery.
Virtual care & Virtual Cognitive Behavioural Therapy (CBT): To help overcome barriers to treatment such as long wait times and travel, Sun Life launched the first Canada-wide virtual care network.
Pharmacogenomics: Pharmacogenomics is the study of how genes affect a person's response to different medications. Sun Life has partnered with one of Canada's leading mental health research institutions in a study focused on using personalized medicine, to help facilitate faster, more effective mental health treatment.
Big data: Data has a role to play in disability innovation, but it is only useful when used to identify causes/drives and treatment options for the member, employer or industry. For plan members, Sun Life is now offering Best Doctors' Oncology Insight through extended health-care plans. With Oncology Insight, members facing cancer diagnoses can request a medical opinion by an expert oncologist who reviews medical records, retests pathology results, and reviews the latest clinical research using augmented intelligence from IBM Watson for Oncology. After thorough case review, the Best Doctors expert oncologist validates the diagnosis and provides the patient with evidence-based, personalized treatment recommendations.
These innovations are just the beginning, as Sun Life continues to pioneer new and exciting absence management solutions.
The importance of employer-employee trust and education when dealing with disability management:
Disability can be a sensitive subject in the workplace. It is important the work environment includes trust, education and open communication between employers and employees where disability is concerned.
Improving employer education and reducing stigma around topics such as mental health and feelings of isolation is necessary to foster a healthy workforce, and helps ensure Canadians have access to the care they need.
Another opportunity for education in this space is changing the common misconception that returning to work is always an "all or nothing" proposition. GB carriers can help by educating employers and employees on the many accommodation and return-to-work options that fall between "fully at work" and "fully disabled."
It is when the employer and employee both act in good faith and work together towards a common goal — returning the employee to full health and back to work — that we see absence management services work most effectively.
To find out more about our solutions, visit www.sunlife.ca/carrythetorch.
---
Videos
Episode 1 - What's driving increases in long-term disability?
---
Episode 2 - Combating isolation for work-at-home staff
---
Episode 3 - What can employers do when a worker goes on stress leave?
---
Episode 4 - Pharmacogenetics - what is it?
---
Episode 5 - Navigating Canada's clogged health-care system
---
Episode 6 - The role of AI
---
Episode 7 - Using data to create a strategic disability management plan