'We found a huge negative impact on workers and on enterprises and on the economy'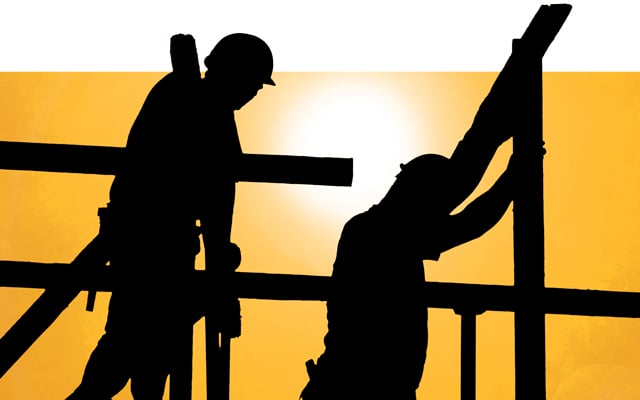 The continued warming of the planet will dramatically change the world of work by 2030, according to a report by the International Labour Organization (ILO).
Global warming is expected to result in an increase in work-related heat stress, damaging productivity and causing job losses equivalent to 80 million full-time positions, says Catherine Saget, ILO research chief in Geneva, Switzerland and co-author of Working on a Warmer Planet.
"Heat stress is an issue more for workers doing physical efforts and more for outdoor workers, workers in agriculture and construction, in refuse collection, in tourism, sport," she says. "Heat stress is more prevalent in countries where there's already a lack of decent work, where social protection is weak or [non-existent], informal employment is widespread and there's more working poverty."
"But it also affects workers in textile factories in the hot countries where there's no air conditioning. And it can also affect us office workers."
Workers in tropical or sub-tropical regions face far more serious effects, but northern countries in North America and Europe are not immune, says Saget.
The 2003 heat wave that swept Europe with eight straight days of temperatures above 40 C — killing thousands of people — is a prime example, she says.
A stifling heat wave also swept the southern United States this past August, with temperatures in the high 40s, restricting work opportunities.
'The science is pretty clear'
Such events signal that climate change effects are powerful and real, says Tiff Macklem, chairman of Canada's expert panel on sustainable finance, which published its findings in June, pushing for climate change risk management to become more mainstream when it comes to decision-making.
Canada has endured its share of forest fires and flooding incidents as a result of higher temperatures, and employers should brace for more extreme weather, alongside shifting economic and commerce patterns, he says.
"Even under the most optimistic scenarios, there will be further warming of the planet and that will have consequences to our economy and Canadians," says Macklem, dean of the University of Toronto's Rotman School of Management. "There's no doubt climate change is going to have a big impact.
"The science is pretty clear," he says. "And while perhaps you can't be 100-per-cent certain, there is overwhelming evidence that global temperatures are rising, and that is directly linked to human activity and, particularly, emissions of greenhouse gases.
"Even if you weren't totally convinced, it would seem completely reckless to ignore all that evidence and take the risk. The evidence is pretty compelling."
The Canadian government thinks so, too, says Samantha Bayard, spokesperson for Environment and Climate Change Canada in Ottawa.
"The impacts of climate change are already being felt — increased floods, wildfires, droughts, extreme weather events — and Canadians are paying for the costs," she says, citing increases in insurance claims as an example.
The Pan-Canadian Framework on Clean Growth and Climate Change, developed in 2016, is working to reduce emissions in workplaces across Canada. This includes improved building codes and funding for energy efficiency programs, says Bayard.
Rising temperatures
Even when using a conservative estimate of a rise by 1.5 C by the end of the century, 2.2 per cent of total worldwide working hours will be lost by 2030 — equivalent to $3.2 trillion in global economic loss, says Saget of the ILO.
Most experts believe this figure will more likely be 2.5 or three degrees globally, she says.
"Even with a conservative, minimalist approach to climate change — which is the one we take in this report, because we know it's a controversial issue — even with that, we find that the results are pretty heartbreaking," says Saget. "We found a huge negative impact on workers and on enterprises and on the economy.
"The impact of heat stress on labour productivity is a serious consequence of climate change, which adds to other adverse impacts such as changing rain patterns, rising sea levels and loss of biodiversity," she says.
"In addition to the massive economic costs of heat stress, we can expect to see more inequality between low- and high-income countries and worsening working conditions for the most vulnerable, as well as displacement of people."
Heat stress refers to temperatures in excess of what the body can tolerate without suffering physiological impairment, and it generally occurs at temperatures above 35 C in high humidity, according to the ILO report.
It increases discomfort, limits physical functions and can lead to injuries, including fatal heatstroke. Workers begin to slow down when temperatures hit 24 C, and productivity is reduced to half when mercury rises past 33 C, says Saget.
Southern Asia and western Africa will be most affected, with as many as six per cent of working hours being lost, she says.
As temperatures rise, migration will increase, which could influence Canadian immigration, she says.
"There is a relationship between heat stress and the fact that people leave their country. Heat stress is affecting not only the living environment but also the possibility to make a gainful living, to earn a living… So, we see a linkage to migration, which is important to mention when talking about Canada."
And while Canada may face less heat stress due to its geographical location, larger cities may still be affected, says Saget.
"They can get significantly warmer than surrounding rural areas, and that is because of the accumulation of heat in buildings and also the lack of vegetable cover," she says, noting a downtown core could be six to eight degrees warmer than the outskirts.
Effect on employers
Employers and workers are in the best position to assess risks and take appropriate action, says Saget.
"To adapt to this new reality, appropriate measures by governments, employers and workers — focusing on protecting the most vulnerable — are urgently needed," she says.
"It's not just a question of employers — workers can protect themselves by dressing more appropriately and drinking regularly."
Improving the energy efficiency of buildings can also boost employee productivity, says Bayard.
"Retrofitting for better insulation, for example, can improve employee comfort and well-being," she says. "Likewise, emission reductions from improved efficiency can help reduce the impacts of climate change, which has negative health impacts, including increasing the risk of conditions like heatstroke, asthma and allergies that could reduce productivity."
It's also the key to succeeding in the developing low-carbon economy, says Bayard.
"Meeting the global challenge of climate change is an opportunity to mobilize skilled workers, natural resources and [the] fast-growing tech sector to fight climate change while creating jobs for Canadians."
The true impact of a warming planet spans much wider than employees working outdoors in countries near the equator, says Macklem.
Aside from the direct physical effects, employers must also be aware of social effects in terms of recruitment and corporate social responsibility, he says.
Younger workers are acutely aware of climate change, for example, as they have many prime working years still ahead of them, he says.
"They're really looking for companies that align with their values," says Macklem. "And, increasingly, companies that have a proactive strategy to address climate change, those are companies that millennials want to work at. So, having a clearly articulated and proactive approach to climate change is good for attracting workers."
Compared to 15 or 20 years ago, there's greater willingness from organizations to act on climate change, says Saget. Even a minor change — such as allowing staff opportunities to telework — can prove beneficial.
"Many enterprises are taking initiative to answer the consequences of climate change on their business," she says. "Ideally, we would like member states… to adopt a national policy for occupational safety and health — something that most industrialized developed countries have but not our member states."
Global efforts such as the Paris Agreement — signed in 2016 in an effort to keep this century's temperature gains to below two per cent — are much needed, says Macklem.
Industry adjustment is also necessary, he says.
"Our buildings need to be more resilient to extreme weather… our transportation systems, our energy systems. If we don't make them more resilient, we will face more disruptions to them, which will affect all our lives, and it will also disrupt the economy."