As the unheralded saviours of the COVID-19 era, grocery store workers are finally getting their dues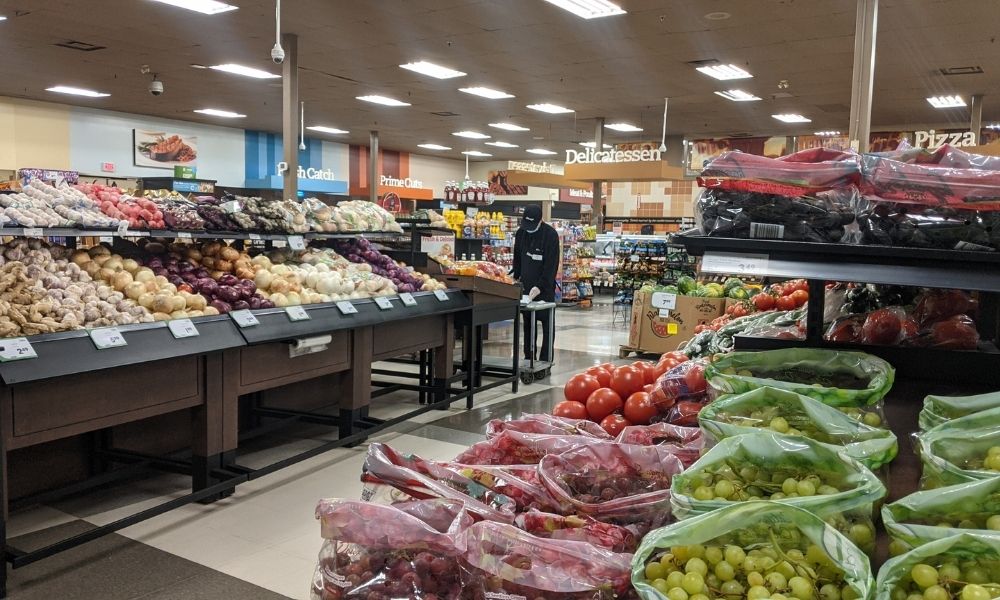 Nurses and doctors have long been acknowledged and respected for their roles in keeping Canadians healthy. And since the pandemic began, that reverence has only increased. But during this time, another new (and rather unexpected) group of heroes emerged as well: grocery store workers. Yes, the same people who we once criticized for improperly bagging eggs and bread have never been more valued or discussed.
"If you asked me personally and a lot of other individuals 18 months ago, we didn't know that a food supplier or grocery store employee was an essential worker. We didn't realize how important it was until we were all fighting over toilet paper," says Ross Taylor, Sobeys' mental health program manager.
But since March 2020, everything has changed. Many of us have been able to work remotely. And that means eating at home more often. Suddenly, the grocery store became more essential than ever — along with the employees. Yet, they've had to deal with long shifts, irate shoppers and, of course, the risk of contracting the virus themselves. It's no wonder that it has been taking a toll on their mental health and perhaps led to increased cases of addiction.
'It was time to get something more formal in place'
Sobeys, Canada's second largest grocery chain, has 130,000 employees at 1,500 stores across 10 provinces. Even before the pandemic began, it was already taking steps to improve employees' mental health and offer recovery options.
"Morneau Shepell [the human resources firm now known as LifeWorks] actually helped Sobeys write a mental health strategy in September 2019, about six months before the start of the pandemic," says Taylor.
What led to their need to take action? "Sobeys, like most organizations, had seen rising claims around mental health, absence and stigma," he says. "It was time to get something more formal in place."
Whether we like to admit it or not, business is business. And it often takes a decrease in productivity to recognize that there is a problem. According to the Mental Health Commission of Canada, mental illness costs the Canadian economy over $50 billion per year in lost productivity.
"Most organizations know mental health is an issue. Most organizations see rising claim numbers, see rising absenteeism, see incidents in the workplace and know that stigma is an issue. But most organizations don't know where to start. It's an intimidating topic to tackle because you can't just put out the fire, and you can't just wait until help arrives," says Taylor.
So, Sobeys decided to do something about it — first by engaging Morneau Shepell, and then by bringing the help in-house. Commitment to the initiative required a full-time team member dedicated to implementing the new program, a role that Taylor brought to life.
"I've been lucky enough to work with some really progressive employers in the past — large telecommunications companies, oil and gas, and a few others who are really forward-thinking in the area of mental health. And it's been obvious since day one that Sobeys can't wait to do more around mental health," he says.
'It's really about starting conversations'
But launching the program for a national grocery chain provided some challenges, says Taylor.
"One of our biggest challenges was communicating with our people. Most of our employees don't have Sobeys contact information, don't have corporate email addresses, don't have company-issued phones."
So, to get the word out to employees across Canada, the company created a mental wellbeing hub that can be accessed by anyone.
"We were still relying on store managers and department managers to get the word out to most of our people around benefits programs. So, we actually launched a public website — to avoid barriers like intranet and logins. It's there to provide information around mental health, all the resources that they have available to them whether they have benefits or not, government resources and community resources," he says.
While the new site served the practical means of getting the right information to employees, Sobeys also needed to add a human connection. It knew that to affect real change, it had to lead by example and that meant having leaders at the company come forward with their own very personal struggles.
"Storytelling is so powerful and such a big part of any mental health initiative," says Taylor. "So, in May of this year, one of our vice presidents of operations in Ontario shared her personal story with mental health and her family's struggle with depression and anxiety. We filmed it and put it on the website where everyone has access to it."
And they got results almost immediately, he says. "Within the first hour, we had people coming forward saying, 'I'd be happy to share my story.' It's really about starting conversations."
While Sobeys' commitment to creating a family-like work environment is essential, that doesn't necessarily make it easier to come forward to a manager or colleague about mental health struggles. What is the key to removing the stigma that makes it hard for workers to come forward?
"The one word I've been hearing a lot lately is 'vulnerability,'" says Taylor.
"I think the pandemic has been an opportunity to realize that we are all just human beings… whether you're an executive or a frontline worker, we are just people coming to work every day. And I think that is one of the key components around education: helping people be vulnerable, sharing more about themselves, and being more open to hearing about the people on your team."
And it's a process that starts at the top, with leaders at the company setting an example and knowing how to help, he says: "It's not blurring the lines between being a manager and being a counsellor, it's about being a link to resources and knowing how to have that conversation about mental health."
'It's all around healthy bodies, healthy minds'
Sobeys' commitment to mental health isn't just within its own walls — it has taken the cause outside of the organization as well.
Much talk around mental health focuses on adults. But 20 per cent of Canadian youth are affected by mental illness, yet only one in five gets the help they need, according to the Canadian Mental Health Association. That's why, last year, Sobeys announced a partnership with Canada's Children's Hospital Foundation to create "A Family of Support," an initiative that builds a Canada-wide circle of care.
"When we make investments in the communities that we serve, it's all-around healthy bodies, healthy minds," says Taylor.
As a result of support from Sobeys, 13 children's hospitals across Canada will launch new early intervention mental health and education programs to support their local communities' most urgent child and youth mental health needs.
Intensive mental health treatment — while staying on the job
Many people across Canada who are struggling with mental health or addiction avoid seeking treatment for many reasons. And that often includes feeling like they cannot step away from professional and family obligations. Others may have sought out resources from work, community support or individual therapy services, but feel like they need more to get better.
That's why EHN Canada, a network of treatment facilities across Canada that works closely with progressive employers to enhance strong workplace mental health solutions, launched Intensive Outpatient Programs (IOPs). While these are virtual programs for treating depression and anxiety, substance use disorders and workplace trauma, treatment is more than simply online counselling. An IOP is a structured blend of individual and group therapy sessions spanning eight weeks, followed by 10 months of online aftercare designed to help clients stay on track.
Also included is access to EHN Online's Wagon app to help set goals, track recovery progress and monitor triggers; a team of strong clinical experts, specifically trained in providing online treatment; and the flexibility and convenience of therapy that can accommodate busy lifestyles.
Employees in need of treatment?
If you recognize an employee struggling with their mental health, work-related trauma or a substance use disorder, there is help. EHN Canada offers quality programs at inpatient facilities across Canada, along with virtual Intensive Outpatient Programs. Find out how the referral relations team helps both local and national organizations build comprehensive mental health strategies: call (866) 226-6037 or email [email protected] or visit www.ehncanada.com.