HR's central role in addressing chronic disease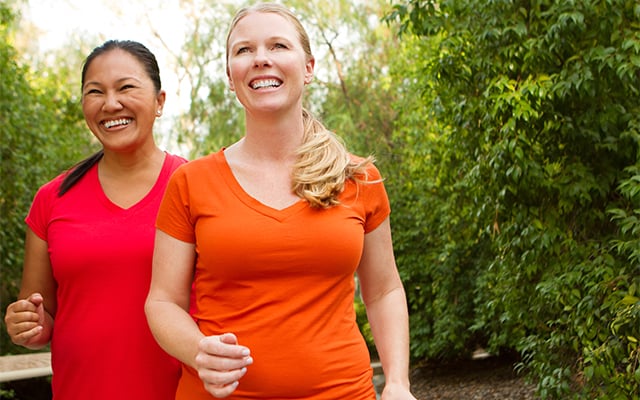 Chronic diseases like diabetes, asthma and hypertension are the largest drivers of health plan spending, costing our economy $190 billion annually in lost income and productivity. Much of that cost ends up on the shoulders of employers.
So it's little wonder that chronic disease is often described as the "silent strain" on the employer's bottom line. However, there are ways employers can help reduce the incidence of chronic disease, improve health outcomes – and optimize their plan spends – especially when they have a strong relationship with their benefits carrier.
Most important is to take a holistic and collaborative approach to chronic disease management that empowers employees to self-manage their treatment plan – and potentially delay or reverse the onset of disease. For example, research by the Heart and Stroke Foundation shows that at-risk employees can slow the onset of heart disease or stroke by as much as 14 years by seeking specialized supports and adopting healthy behaviours.
Answering a need
We know that employees are looking for expert help. In fact, 87 per cent of plan members who responded to the recent 2019 Sanofi Canada Health Care Survey were interested in knowing more about their chronic conditions and how to treat them.
Given that two in three Canadians will develop a chronic disease in their lifetime, according to the Public Health Agency of Canada, employers would be wise to invest in health coaching and education services for their employees. Medavie Blue Cross' Managing Chronic Disease benefit – a first for Canada – covers these services to support employees with asthma, COPD, high cholesterol, blood pressure and diabetes. The objective is to help employees gain the knowledge and confidence they need to take charge of their health.
Spotlight on diabetes
Smart solutions for chronic disease management are taking on greater urgency as more high-cost treatments enter the market to address the complexities of this disease, and claims continue to rise. The challenges of diabetes encapsulate how a chronic disease can put increasing pressure on plans and their members.
At Medavie Blue Cross, our internal data shows that the annual direct cost of a claimant living with diabetes is $2,650 – three times higher than the cost per claimant without diabetes. We project this gap to accelerate due to industry inflation and new technologies, like the emergence of new blood glucose monitoring systems. These systems make diabetes management easier, but at a higher cost. This number also doesn't include the downstream risk factors, such as heart disease, blindness and depression, which add significant additional costs to the plan and member.
And of course, as the infographic shows, diabetes, like other chronic diseases, is increasing in prevalence at an alarming rate.
No silver bullet
To address this challenge effectively, employers need to take a multi-faceted approach:
Consider your culture – Turn your workplace into a positive support for your employees, including:
• Be accommodating for employees who may need time or resources to manage their health on-site
• Have healthy food on hand during events or in cafeteria/vending machines
• Your workplace health and wellness program should make the connection between chronic diseases and a healthy lifestyle and encourage employees to reduce risk behaviours, such as smoking and overeating
• Raise awareness and help employees learn the risks and effects of diabetes by making the disease a focus of your education and awareness activities.
Expand your coverage – Ask about additional supports, especially those that reimburse members for making proactive health and wellness choices, such as:
• A Health Spending Account or Personal Spending Account
• Flu shots and other vaccines
• Health coaching and education through programs available through your benefits carrier.
Assess the risk – Biometric screening in the workplace is an effective early detection and disease management tool that can warn employees if they are at risk of developing diabetes. This may motivate them to take action to prevent, or even reverse, the onset of the disease.
Analyze and apply data – Your benefit provider should be able to project the future incidence of all chronic diseases for your employee group. Along with self-reporting options like a Health Risk Assessment tool, employers and individual employees can get a clear picture of where they are headed. Employers can draw on this data to develop an evidence-based prevention management plan.
Leverage technology – Next generation tools include:
•Metabolic sensors that detect when an employee may be at-risk of developing diabetes. If the employee acts on the warning, they could possibly stop the disease from developing.
•Mobile apps can also help employees take their drugs as prescribed; today, our own data shows that 12 months after diagnosis, only 72 per cent of claimants with diabetes are drug adherent.
Bridging the awareness gap
The 2019 Sanofi Canada Healthcare Survey shows that 54 per cent of plan members report being diagnosed with at least one chronic condition – a figure that increases to 69 per cent among members aged 55 to 64.
Yet, according to this same survey, employers estimate that only 39 per cent of their employees have a chronic disease. You can play a crucial role in helping your leaders understand the current and future impacts of chronic diseases on your organization.
Consider resources like Medavie Blue Cross's Insights blog and webinars at medaviebc.ca/insights to stay on top of trends and tools around employee health and health benefits.
Shane Reid is Director of Product, Pharmacy and Provider Management at Medavie Blue Cross, an all-in-one carrier providing health, dental, travel, life and disability benefits to individuals and organizations nationwide.