Company says it has implemented additional safety measures after outbreaks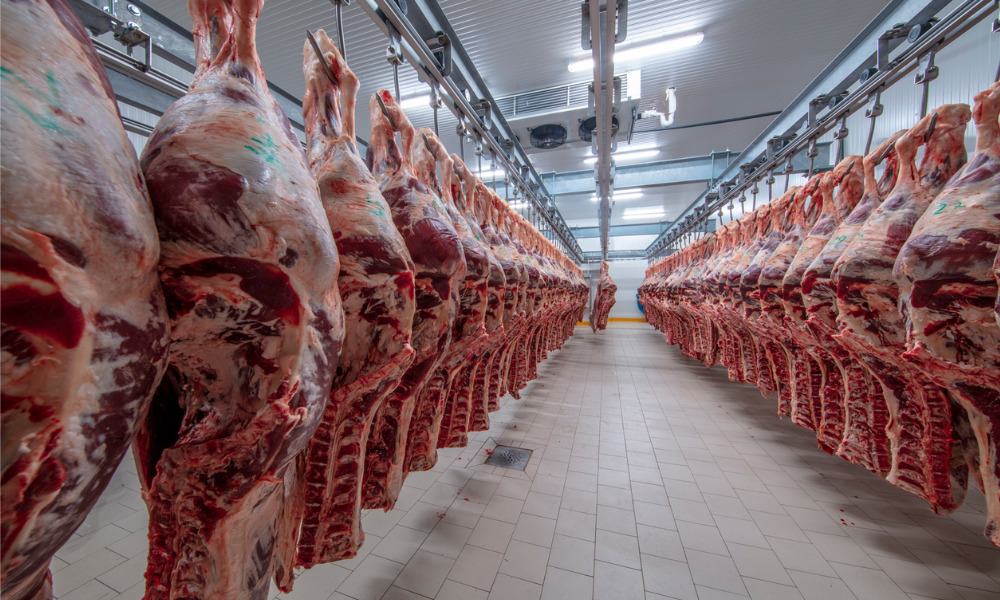 United Food and Commercial Workers Canada (UFCW) is calling for the continued closure of beef processing company Cargill until it says appropriate steps are taken to better protect workers amidst the COVID-19 pandemic.
The High River, Alberta facility was temporarily closed for 14 days and set to reopen May 4. As of April 28, there were seven hospitalizations of Cargill employees, including five employees admitted to ICU, according to the union.
UFCW requested that Alberta Labour and Immigration and Alberta Occupational Health and Safety issue an order directing that Cargill stop work until such time as:
Cargill has complied with all its obligations under the Occupational Health and Safety Act
Cargill, in participation with the union, has identified all hazards posed by COVID-19 in the worksite and established satisfactory written policies and procedures to mitigate those hazards
Alberta OHS has completed its investigation and made its report public
Alberta OHS has addressed the deficiencies of Cargill's safety measures.
If not, UFCW is asking that an OHS officer be assigned to observe Cargill's workplace to observe physical distancing employee transportation, during breaks, during lunch, and at shift change; collect documentation of Cargill's safety policies and procedures; and address all other outstanding health and safety matters.
The union is also requesting that the Alberta government find that Cargill has not complied with Occupational Health and Safety Act and direct the employer to comply with those sections. UFCW says Cargill has failed to conduct an investigation or produce a report on the injuries and death from COVID-19 in connection with its worksite with the participation of the Joint Worksite Health and Safety Committee.
In March, Ontario saw 1,440 complaints about workplace safety related to COVID-19, up from just 14 in February, according to the Ministry of Labour, Training and Skills Development.
Additional safety measures
However, Cargill went ahead with the opening of its facility today, saying it has implemented additional safety measures during the temporary closure, that included:
reduced use of carpooling
busses retrofitted with protective barriers between seats
in-person and virtual tours for safety inspectors
additional barriers in the bathrooms and spaced-out lockers
extensive sanitation processes
And since the beginning of March, Cargill has implemented screening questions and temperature screening for workers entering the plan around COVID-19 symptoms; prohibiting all unnecessary visitors; increased space and dividers in break rooms; protective barriers or full-face shields on the production floor.
The company is also providing up to 80 hours of paid leave to those requiring time off work to deal with the illness, and a weekly guarantee of 36 hours of pay each week.
"We look forward to welcoming our employees back and are focused on our ongoing commitment to safety. We know being an essential worker is challenging and we thank our team for working so hard to deliver food for local families, access to markets for ranchers and products for our customers' shelves," says Jon Nash, North America protein lead.
Alberta
The government of Alberta has announced a stage-by-stage approach to reopening the province's economy. Under the plan, by May 4, Alberta Health Services can resume some scheduled, non-urgent surgeries. Dental and other regulated health-care workers including physiotherapists, speech language pathologists, respiratory therapists, audiologists, social workers, occupational therapists, dieticians and more can also resume services as long as they follow approved guidelines set by their professional colleges.
On May 14, Alberta Parks' online campground reservation system will open for bookings at select campgrounds starting June 1 onward with some restrictions in place. Out-of-province bookings will not be processed.
Stage 2 of the plan will allow additional businesses and services to reopen and resume operations with two-metre physical distancing requirements and other public health guidelines in place. Stage 3 timing will be determined based on health indicators, and some restrictions and enhanced protection controls will remain in place.