Employees have stepped up, with guarantees that principal is safe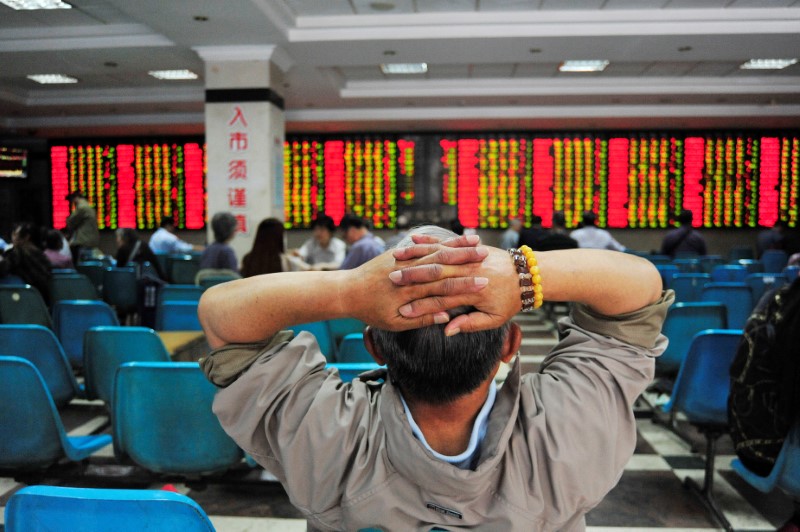 SHANGHAI (Reuters) — Around two dozen mainly small listed Chinese companies have taken the unusual step of urging their employees to buy shares in a bid to prop up stock prices and help fend off collateral calls on stock-backed loans.
In many cases, workers are stepping up, attracted in part by guarantees that their principal is safe.
It's far from clear how these guarantees would work, with employees in some cases being asked to buy shares and hold them for at least 12 months.
The Shenzhen Stock Exchange — where all but one of the companies are listed — has taken notice, and has issued guidelines requiring companies to provide details on their guarantee plans, the Securities Times reported.
Wu Kan, head of equity trading at Shanshan Finance, says that however well-intentioned these efforts are, usually by the companies' founders or big shareholders, there is a question mark over their financial ability to make such guarantees.
"It could be driven by the genuine belief that the stocks are worth investing in. But it could be a desperate move to prop up share prices to avoid margin calls," he said.
"The promise to take any losses isn't legally binding and largely depends on big shareholders' virtue. And you can't rule out insider trading during the process, which is why regulators are demanding better disclosure,' he added.
There were similar efforts during the 2015 China stock market crash, but then it was the government appealing to major shareholders' patriotism to buy and hold shares in what Beijing framed as a battle against speculators, both domestic and foreign.
The scramble to raise share prices highlights the risks in using securities as loan collateral, a practice that by some estimates has quadrupled in China over the past two years.
For the most part, the companies involved are private, small, and have seen their founders or major shareholders post large batches of stock as loan collateral in recent months.
But falling share prices have eroded the value of that collateral, raising the specter of forced liquidation — where lenders, often Chinese brokerages, make borrowers sell the pledged shares. Selling the stock can further dent share prices, triggering a downward spiral.
SHARE BOUNCE
Shenzhen Fenda Technology, which makes speakers and electronic accessories, was among the first to issue a statement, a week ago, encouraging staff to buy shares.
At the end of March, Xiao Fen, the company's chairman and top shareholder with a 44.5 per cent stake, or 416.4 million shares, had put up 84 per cent of his holding as collateral for a loan, the company said. It did not say what the loan was for.
Trading in the company's shares was suspended in late December pending reorganization, but resumed in mid-April, when the stock price slumped to near their 2015 market crash low.
Last Friday, Xiao promised any employee who bought shares in the company by June 6 and held them for at least a year would be shielded from losses.
"A lot of colleagues I know have bought shares. I have too," said one worker, who gave only his family name, Li. "The company is quite good and the chairman has guaranteed principal, so, of course, we're interested. I know some colleagues even bought shares with borrowed money."
Shenzhen Fenda Technology shares jumped by a tenth after the announcement, but have since edged back down.
The price of Guangdong Biolight Meditech stock fell by a quarter this year, undercutting the value of the 14.6 million shares that its chairman Yan Jinyuan posted as collateral as of the end of the first quarter.
On Monday, Yan made a promise like Fenda's Xiao, and the share price also rose.
Sun Xishan, a sales worker at Biolight, said he missed the chance to buy stock on the day of the announcement, but would try to get in on the shares later.
"I know the company well, it's in pretty good shape and its performance is growing. The chairman promised to cover losses if any, so it's hard not to be interested if one has money," Sun said.